Stuart Knox and Alex from Edinburgh's GSA Bathroom Specialists will be on your TV screens at the end of May appearing in Channel 5's Dream Kitchens and Bathrooms.
The programme is hosted by Mark Millar of DIY SOS fame, and the Edinburgh company who have just finished the tiling at the new Civerino's in Portobello, features in the fifth episode which will air on 25 May 2021.
The duo set up their business in 2009, and while they have worked together for years, neither of them have ever been on TV before. They are eagerly waiting for their TV debut when their work on three bathrooms in one house is in the spotlight.
The bathroom specialists were approached by the show's production company who had seen examples of their bathroom makeovers on Instagram. Stuart keeps the firm's social media up to date and in this instance that paid off handsomely.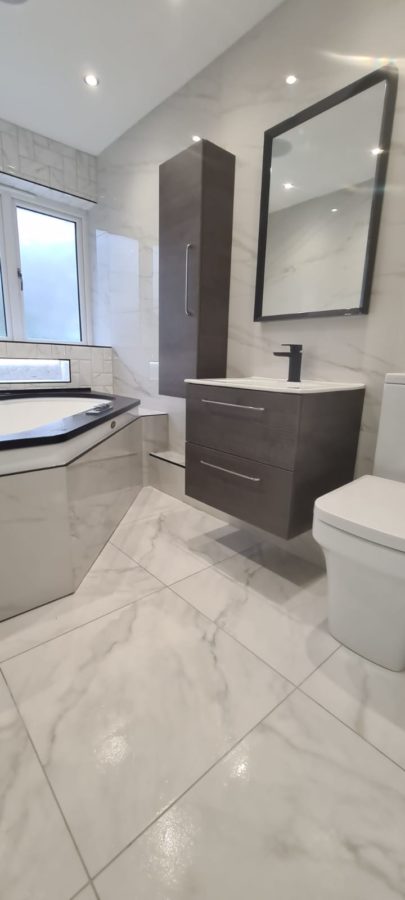 The house at Gallolee in Edinburgh which is shown in the programme is owned by Billie Jo Harris (29) and Tarek Hamad (39) who works as a producer in the video game industry. They have lived there for three years, with their 8-year-old daughter, Rhianne, and their five cats.
Tarek and Billie decided that it was time to change the outdated bathrooms which they had inherited when they bought the house.
Billie said: "The main bathroom had an abundance of storage and cupboards that we did not need. There was something wrong with every bathroom – we have a main bathroom, an ensuite and a downstairs shower room.
"I did a lot of research on Facebook and Google and came across GSA Bathrooms and just loved their work. I got in touch with Stuart and from the first he was brilliant to deal with, so helpful and I knew he was the right guy for the job.
"Then Stuart got in contact with us and said that a TV company had asked to film one of his jobs – they needed an exciting project and he suggested us. It was mainly because of the Jacuzzi bath which was made to order for us in Italy. There were some delays in getting that bath here to Edinburgh, and when it arrived it was a lot bigger than we thought it would be, so it was a struggle. Stuart and Alex had to carry it up the stairs and in the middle of doing so they had to cut out a bit of the ceiling to get it in – but of course they repaired the hole.
"At one point I was at the bottom of the stairs and the bath was resting on one guy's shoulder while they were sorting out the ceiling.
"All of our bathrooms have a monochrome theme – black, grey and white. They are quite neutral, but with lots of different combinations.
"When the crew arrived to film it was really good fun, and an experience that we had never had before. For Stuart and Alex I think it added extra pressure when the guys were working. And of course it was all happening during the pandemic, and so we had to make sure the house was well ventilated and that everyone was socially distanced.
"Filming lasted for a couple of weeks on and off, thankfully not all the time, but as and when they decided they needed some shots."
And the overall result?
Billie said: "I am overjoyed. It has transformed our bathing experience and our house. It is so comfortable and easy to keep clean, and there is not a single flaw. GSA did a fantastic job. Their attention to detail was everything, and nothing was too much. Stuart and Alex came back and made a change to the downstairs bathroom we asked for when we had used it a few times. They were incredible and so friendly – in fact we are still in touch with them. They have become friends."
Stuart explained that he is very particular about all the jobs the company does, measuring everything more than once and ensuring that any new sanitary ware will fit in place. In this house the owners wanted to install the jacuzzi bath upstairs, and he explained there were a couple of problems with the bath. One was that it was coming from Italy, the second was it was "pretty big".
Mark Millar who presents the programme was on set for a day, and Stuart said Mark was pretty concerned about the size of the new bath.
Stuart said: "Mark gave us advice, and he was particularly concerned about the size of the bath, so we taped the footprint out to show him that it would work.
"It did turn out how I expected. I am pretty particular about my jobs but my main concern was getting this bath into the property.
"Five of us had to get it into the bathroom and we had to be quite close
"That wasn't the only problem – we had to be quite mindful of our language.
"It was a strange experience to have somebody constantly filming our work, and we had about three to four days of filming, along with guys from a number of other trades – tilers, plasterers etc.
"The tilers, KK Tiling from Edinburgh, were under huge pressure as these were pretty rare marble wall tiles. It got to the stage where this was the last tile in the whole UK which was 1200mm by 600mm and luckily it worked."