The latest figures detailing the number of people diagnosed with Covid-19 in the last 24 hours in Scotland have been announced.
The next weekly review of restrictions in all 32 Scottish local authority areas will be announced on Tuesday at The Scottish Parliament after a meeting of the Scottish Cabinet.
There has been much discussion in Edinburgh about the level of restrictions applied here, but as shown in our article over the weekend, the number of cases and the test positivity rate (while not strictly within Level Three parameters) have been rising.
Vaccinations began this morning at Scotland's care homes. People who live and work there are at the front of the queue on the prioritisation list set by Joint Committee on Vaccination and Immunisation. The first person to receive the vaccine was 90 year-old Annie Innes who is a previous care worker, and who lives in Abercorn House in Hamilton.
The First Minister mentioned the proposed relaxation of the rules for the Christmas period. She said: "Meeting up with other households indoors is not risk-free. Just because we can meet indoors on a limited basis at Christmas does not mean that we have to."
From today all secondary school pupils can download the Protect Scotland app to their phones and the First Minister recommended that all people over the age of 11 years old should do so.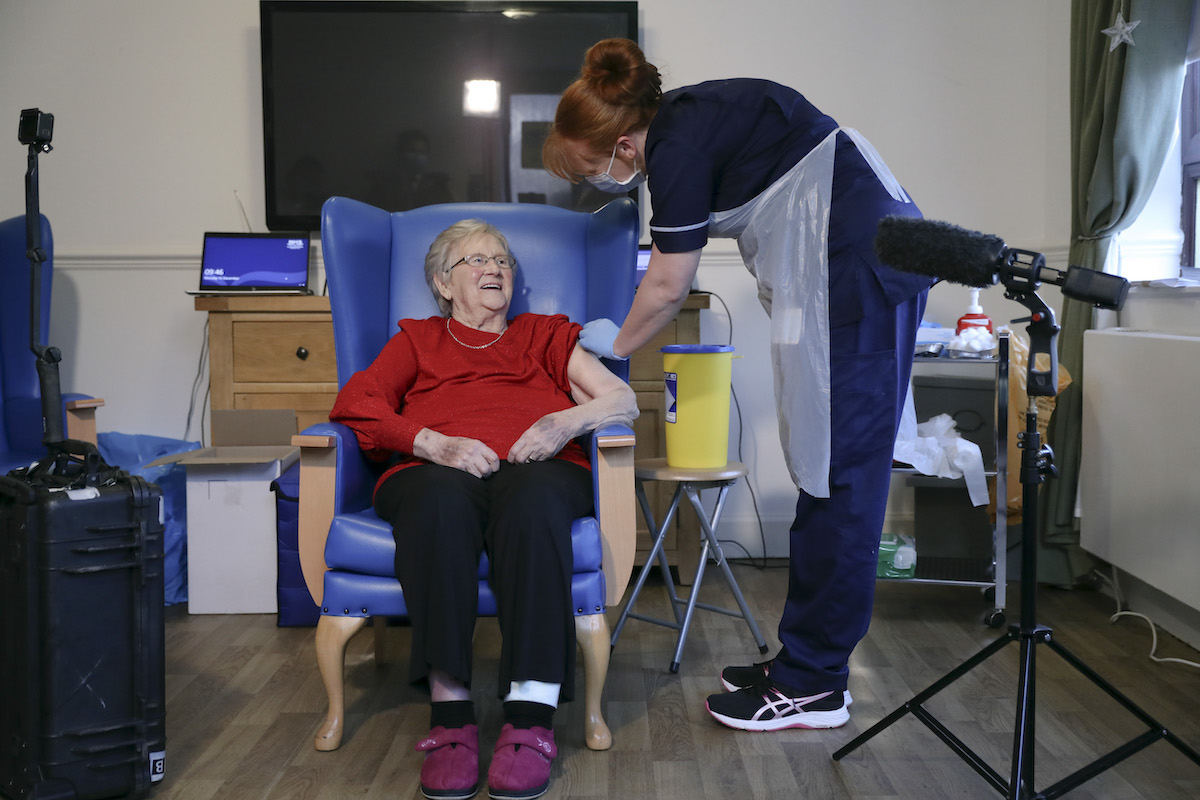 The figures in Scotland as at 14 December 2020 are as follows:
734 new cases of Covid-19 reported which equates to 7.6% of those newly tested.
135 of these were in Lothian, 213 in Greater Glasgow & Clyde and 95 in Lanarkshire.
No newly reported deaths have been announced today of people who have tested positive within the last 28 days, but there have been 41 deaths reported since Friday. There is often a time lag over the weekend in deaths being registered as registry offices are closed.
46 people were in intensive care yesterday with recently confirmed Covid-19 which is 1 fewer than yesterday.
1,012 people were in hospital yesterday with recently confirmed Covid-19 which is 3 fewer than yesterday
The number of deaths under this daily measurement is now 4,111
National Records of Scotland announced their weekly figures on Wednesday stating that the total number of Covid-19 related deaths to 6 December 2020 is 5,868. This figure is calculated on a wider definition of deaths relating to Covid-19 than the daily figure reported by The Scottish Government.
You can also see the latest numbers laid out visually on the Travelling Tabby website here. It is updated at 3pm daily.
LEVEL THREE RESTRICTIONS: