Former Hibs and Scotland striker Garry O'Connor has opened up on his struggle with depression and thoughts of suicide in last night's documentary ' Playing the game: Garry O'Connor' which was broadcast on BBC Scotland.
The programme which also featured contributions from former team mates Ian Murray and John Hughes plus agent Jim McArthur and coach Donald Park reflected on Garry's career and life after football and detailed his issues with drugs, injuries and mental health.
He spoke of his upbringing in East Lothian crediting the man who played a major role in his progress and pondering whether things would have turned out differently but for his untimely death.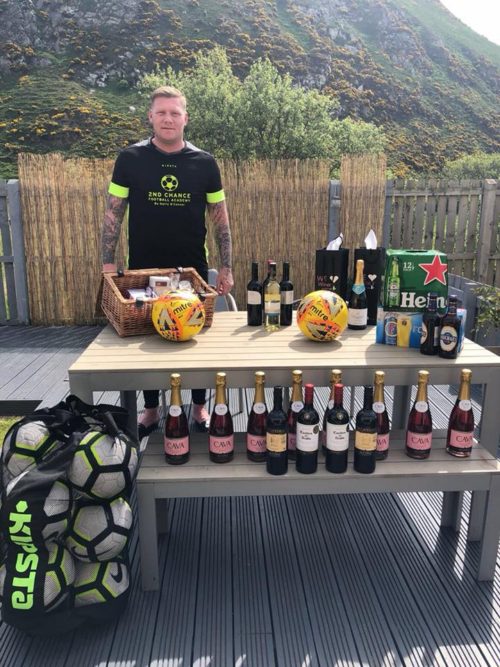 He said: "My mum and dad were always out working so my Uncle Mark was more of a father figure. He would always take me to training and pick me up because my dad used to work backshift quite a lot as well. My Uncle Mark was always there to give me a boot up the bum basically, because he was the one who was always there for me, pushing me forward.
"He got knocked over by a drunk driver and killed instantly. I didn't particularly understand it at the time because I was only 14. There's not a day goes past that I don't think about him, and I think he would have guided my career a lot better and things would have been a lot different if he was still there. Basically I wanted to try and achieve something for him."
Garry was one of the 'golden generation' of youngsters who came through at Easter Road including close friend Derek Riordan, Scott Brown, Steven Whittaker, Kevin Thomson and Tam McManus and he was one of the brightest prospects in Scottish football when he first emerged on to the scene as a teenager with Hibs.
He made a lucrative move to Lokomotiv Moscow in 2006, earning a reported £16,000 per week but the money did not make up for the the pressures and isolation.
He added: 'In Russia there was no social life whatsoever. I was quite isolated to the training ground and to the apartment. At the beginning the family was over there but Lisa got homesick so that was kind of a problem.
'My mum would come over for a month and then she would go back, and then Lisa would come over with Josh for a month and then they would go back, so I wasn't always there myself on my own but it got lonely. When you're locked up and you're isolated I think maybe that came on a bit of the depression then.
'You couldn't really speak to anybody back then. I would always keep my emotions inside, and not work them out.
Garry returned to Britain at Birmingham City, but injuries and a failed drugs test for cocaine blighted his time in England's second city. He was banned for two months and sent to the United States for rehab, with a cover story was that he was suffering from a groin injury.
He continued: "If you're not playing you're not training, you're just trying to fill your days and that's where most of my problems came from. I started drinking, took some drugs and that was probably my lowest part, about that time. I've not really touched any other drug apart from cocaine because if you're injured or you're not playing, you're low in confidence and obviously cocaine gives you that little bit of a boost. It gives you that little upper and then obviously you crash back down to reality again after it.
"In 2009, I failed a drugs test at the training ground. The club could have sacked me on the spot but they tried to help me and I think that's the way it should be, especially now with what people go through."
He also told of the support from mental health charity 'Back Onside' which helps footballers and ex-players and about how his two sons and daughter stopped him from taking his own life.
He added: "I'm not scared to admit it, I've thought about committing suicide a few times. You just think you're worthless at times and it's not the answer. I've got three lovely kids to look after and that's the thing that probably stopped me from doing it. I made it a priority, when they get to an age, that I would tell them: "Look, your dad's kind of different and I've made a few silly mistakes, but at the end of the day I'm still your dad. You're going to get comments, I'll just tell them to basically "just rise above it and just move on."
"It wasn't until further down my career I really sought help and got help about how I was feeling, and looked back on things and really started to understand more about situations and depression, mental health and things that had happened in my life.
"I'm no angel. I've made a few mistakes, I hold my hands up to them. Having depression and anxiety is not nice and it's trying to find ways of dealing with it. Now that I'm out of football I've managed to find a support network. Libby's been a tremendous help to me, just someone to speak to when you're having your bad days basically.'
"I've got this bad-boy image but I'm not that kind of person which is portrayed in the media. That's what I'm trying to do with my life at this moment in time – I'm trying to change and make up for the mistakes I've made."
*Playing The Game: Garry O' Connor was on BBC Scotland, Tuesday 18 August at 10pm and available on catch up.