UK Chancellor Rishi Sunak delivered his summer statement to the House of Commons today, and predictably it was met with some approval while others said he did not go far enough.
In the speech he laid out his strategy to create jobs in every part of the country, saying he wants to give young people a better start and to give everyone the opportunity of a fresh start.
Mr Sunak said: "Four months on, as we carefully reopen our economy, we are entering the second phase of our economic response.
"Despite the extraordinary support we've already provided, we face profound economic challenges:
world economic activity has slowed, with the IMF expecting the deepest global recession since records began
household consumption – the biggest component of our economy – has fallen steeply
businesses have stopped trading and stopped hiring
taken together, in just two months our economy contracted by 25% – the same amount it grew in the previous eighteen years.
"And the independent Office for Budget Responsibility and Bank of England are both projecting significant job losses – the most urgent challenge we now face.
"I want every person in this House and in the country to know that I will never accept unemployment as an unavoidable outcome."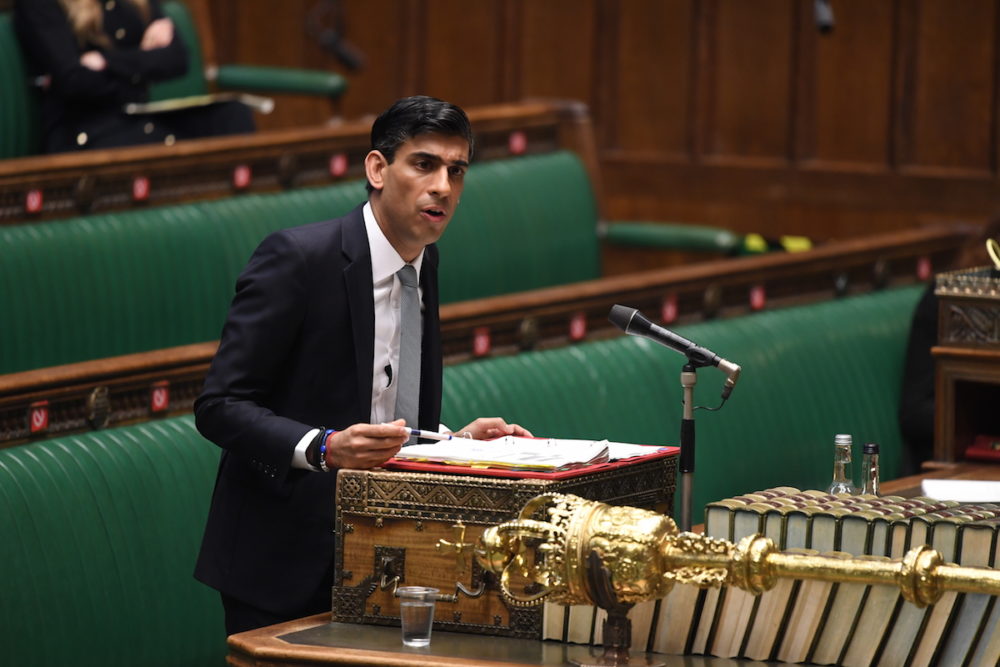 The Plan for Jobs is only the next step in a phased recovery process, and as well as providing grants for businesses who take back their furloughed employees there are plans for £5 billion worth of additional investment projects which the Prime Minister announced last week.
While this strategy is welcome it was the cut in VAT for tourism and hospitality firms from 20% to 5% that may be of most importance to the tourism businesses in Edinburgh which form such a large part of the city's economy. The Chancellor has cut the VAT rate for all food, accommodation and attractions.
This will include:
Eat-in or hot takeaway food from restaurants, cafes and pubs
Accommodation in hotels, B&Bs, campsites and caravan sites
Attractions like cinemas, theme parks and zoos
In addition the Chancellor introduced a new scheme to get customers back into restaurants, cafes and pubs, and protect the 1.8 million people who work in them.
He explained: "I can announce today that, for the month of August, we will give everyone in the country an Eat Out to Help Out discount.
"Meals eaten at any participating business, Monday to Wednesday, will be 50% off, up to a maximum discount of £10 per head for everyone, including children.
"Businesses will need to register, and can do so through a simple website, open next Monday.
"Each week in August, businesses can then claim the money back, with the funds in their bank account within 5 working days.
"1.8 million people work in this industry. They need our support and with this measure we can all eat out to help out."
Scottish Government Finance Secretary Kate Forbes said:"We called for an £80bn stimulus package to build a strong, green and inclusive economic recovery and while there are elements in this announcement to be welcomed, in particular the measures on VAT for tourism and hospitality, overall this package is a huge opportunity missed. It falls well short of delivering what is needed to boost the economy and protect jobs.
"There is no new capital spend, no extension to the furlough scheme for hard-hit sectors and no further support for households in financial difficulty. A half price meal out does not help those struggling to put food on the table.
"Many of the initiatives are short-lived and do not provide long term certainty for business or households. Instead they will simply push the problems back to the end of the year when we will also have to deal with the end of the transition period with the EU.
"Despite announcing new funding measures worth up to £30bn today, most of it bypasses devolution and does not provide the Scottish Government with the funding we need to enable us to tailor an economic response that meets Scotland's needs.
"Like all governments, we are facing huge spending pressures but we do not have the tools that others have to meet them. Along with the Governments of Wales and Northern Ireland, we set out a reasonable, proportionate set of new financial powers that would enable the Scottish Government to respond effectively. Regrettably, the UK Government has turned a deaf ear to those needs."
---
Scottish Conservative leader Jackson Carlaw said: "Yet again in this crisis the UK Government has stepped up for Scotland and put its money where its mouth is.
"These measures will provide an enormous boost to our economy at the most desperate of times.
"Right across Scotland businesses have adapted, revolutionised and worked their fingers to the bone to survive and ensure services can continue.
"Now the UK Government is stepping up to ensure that work doesn't go to waste and our economy can bounce back in as strong a way as possible.
"The level of commitment and support shown by this UK Government is nothing short of astonishing.
"Now the SNP needs to do its bit to ensure Scotland doesn't get left behind as the rest of the world gets back to business."
---
Scottish Liberal Democrat leader Willie Rennie said:"This mini budget contains some measures such as the VAT cut for hospitality and tourism that Liberal Democrats have been campaigning for. The green home grants is a start but not enough to kickstart a real green recovery.
"However for those who have fallen through the gaps in the existing system there is scant comfort. Countless families are facing severe financial hardship or worrying about the months ahead. The Chancellor must ensure they are excluded no longer. He needs to listen to the over 150 MPs, thanks to the Liberal Democrats, that have now teamed up with Excluded UK to make the case for the forgotten 3 million who have not been entitled to support.
"The Chancellor also needs to go further in developing a green recovery plan by delivering serious investment in projects such as carbon capture and storage and moving to 80% renewable energy by 2030.
"The broad shoulders of the UK economy have already given out billions in support of individuals and businesses. The two governments need to renew their cooperation to keep us safe and build a strong recovery."
---
Kat Brogan, managing director of Mercat Tours welcomed the announcement from Chancellor, Rishi Sunak this afternoon, as VAT will be slashed from 20% to 5% for hospitality and tourism businesses from Wednesday,15 July 2020 until 12, January 2021.
"The government needs to do all it can do to revive the economy and the VAT reduction is a good place to start. It will help us support our team and invest in our future.
"Tourism has been hit hard but we have faith that local communities will show trust and support for ethical, family businesses again. We've had so many lovely messages of support during the last few months, we know people want to start reconnecting with their city and we'll help them do it safely.
"We'll re-launch Mercat Tours when the time is right and with the approach required to instil confidence in our team and visitors. As a Living Wage employer and 5-star tour company we have, and always will, put our people first.
"Right now, until then, we are urging consumers to buy ahead, so we can build towards opening and offering the personal, storytelling experience visitors expect.