Shops which have direct street access will reopen tomorrow in accordance with The Scottish Government's relaxation of lockdown measures.
In a statement to Holyrood earlier in the week, First Minister, Nicola Sturgeon explained that the number of Covid-19 deaths had fallen for the eighth week in a row.
She said: "The trends are clear and, for all the pain that the virus is still causing and the real risk that it still poses, they are positive and give us confidence now to set some firmer milestones for our route out of lockdown."
She then announced proposed dates for the introduction of Phase 3 of the Route map for moving out of lockdown. And to underline the imminent reopening of non-essential shops, she visited Fort Kinnaird Retail Park to see for herself what plans will be put in place.
Ms Sturgeon said: "The sacrifices that have been made – and I know how hard and at times painful they have been – have suppressed the virus. They have also protected the NHS, and have undoubtedly saved a significant number of lives.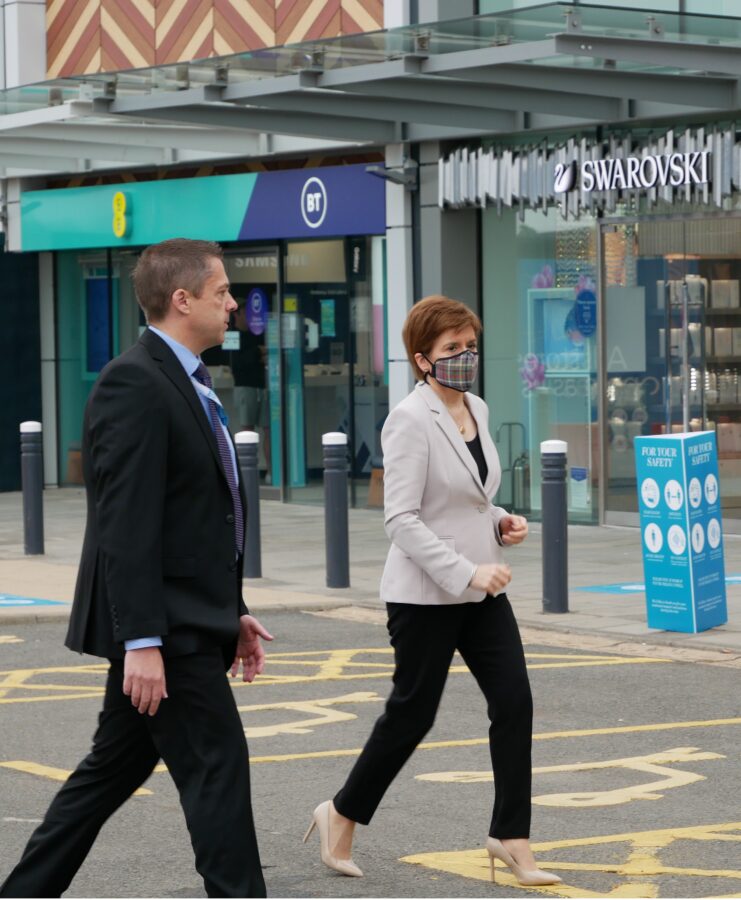 "They have also brought us to the position where we can now look ahead with a bit more clarity to our path out of lockdown, and I hope details announced today will provide people and businesses with more certainty in their forward planning.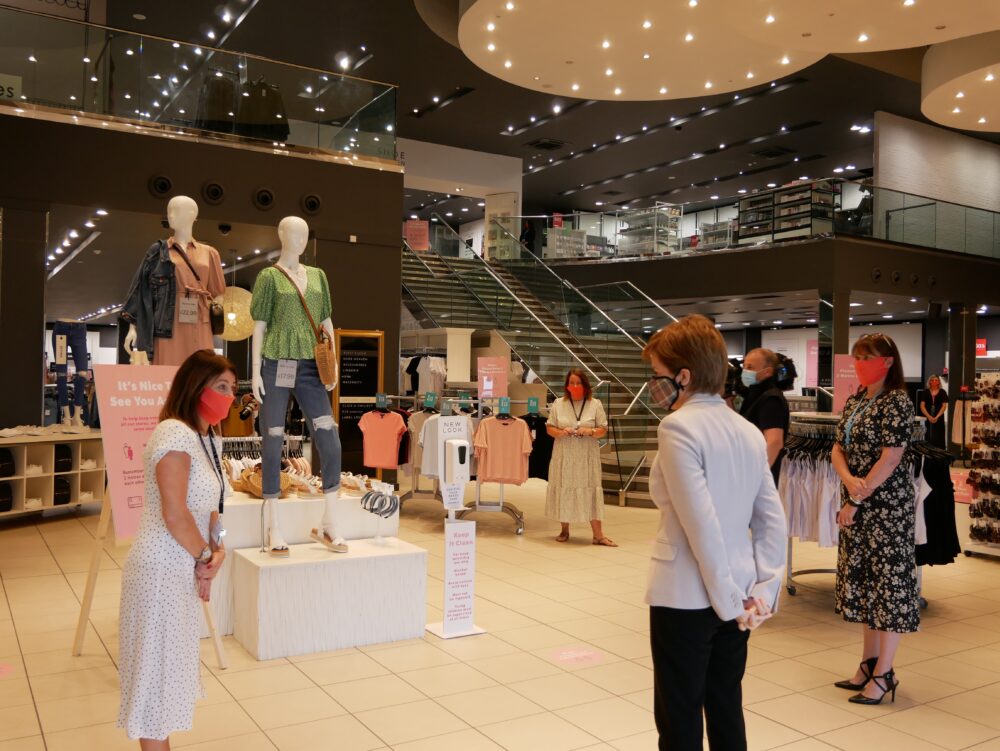 "But let me be clear that each step on this path depends on us continuing to beat the virus back. That is why we must do everything in our power to avoid steps being reversed.
"The central point in all of this is the virus has not – and it will not – go away of its own accord. It will pose a real and significant threat to us for some time to come.
"Maintaining our progress also means all of us abiding by public health guidance. Wearing face coverings in enclosed spaces, avoiding crowded places, washing our hands and cleaning surfaces regularly, maintaining physical distancing, agreeing to immediately self-isolate and get a test if we have symptoms – all of these basic protections matter now more than ever as we all get out and about a bit more."
From Monday 29 June these measures will come into place:
indoor (non-office) workplaces resume once relevant guidance is implemented. This includes: factories, warehouses, labs and research facilities. But excludes: indoor workplaces due to open in Phase 3 (e.g. nonessential offices and call-centres)
street-access retail can re-open once guidance is implemented. Interiors of shopping centres/malls remain closed for non-essential shops until Phase 3
outdoor markets can re-open once guidance is implemented
relaxation on restrictions on housing moves
outdoor sports courts can re-open
playgrounds can re-open
registration offices open for high priority tasks
marriages and civil partnerships allowed with minimal attendees, strictly outdoors only
zoos and garden attractions can open for local access only (broadly within 5 miles) until 3 July
The First Minister was wearing a face covering from Slanj Kilts in their Homeless Tartan and part of the sale proceeds go to Shelter Scotland.
Had some people asking about this face covering. It is @slanjkilts homeless tartan. Part of the sale proceeds go to support @shelterscotland You can find details here https://t.co/UwLjQRCHRY pic.twitter.com/rf4EKrRCaD

— Nicola Sturgeon (@NicolaSturgeon) June 27, 2020