Watching Susan Boyle standing on the empty Usher Hall stage, the silence is deafening.
It would be almost impossible not to be ever so slightly nervous.
"When I look out there I think, 'oh my god' but once you get past that and get on with what you're doing, it'll come." 
Ten years since her outstanding audition for Britain's Got Talent, she surely must be contemplating that life changing moment. So what have been the highlights of the last ten years? "One very special time was meeting the Pope last December and performing with Lionel Ritchie and Bonnie Tyler at the Vatican City.
Also in 2009 when I first went to America and sang Wild Horses for first time on America's Got Talent."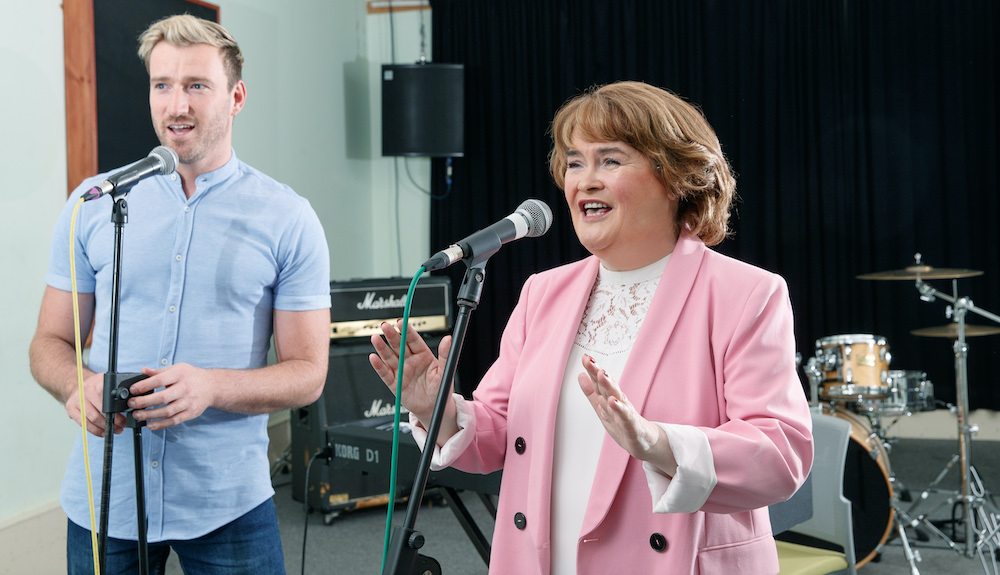 Susan's forthcoming tour coincides with the release of her new album, appropriately titled Ten where Susan has explored some new genres including her version of the Proclaimers' 500 Miles.
"It's an iconic song by some nice lads! I had the pleasure to meet them a few years back. Haven't heard yet what they think of it though!"
Another surprise is her haunting rendition of Tears For Fears' Mad World. "Well when you stop and think about it, it is a mad world. It has been for me: I feel in the middle of it and it's all going on round about me."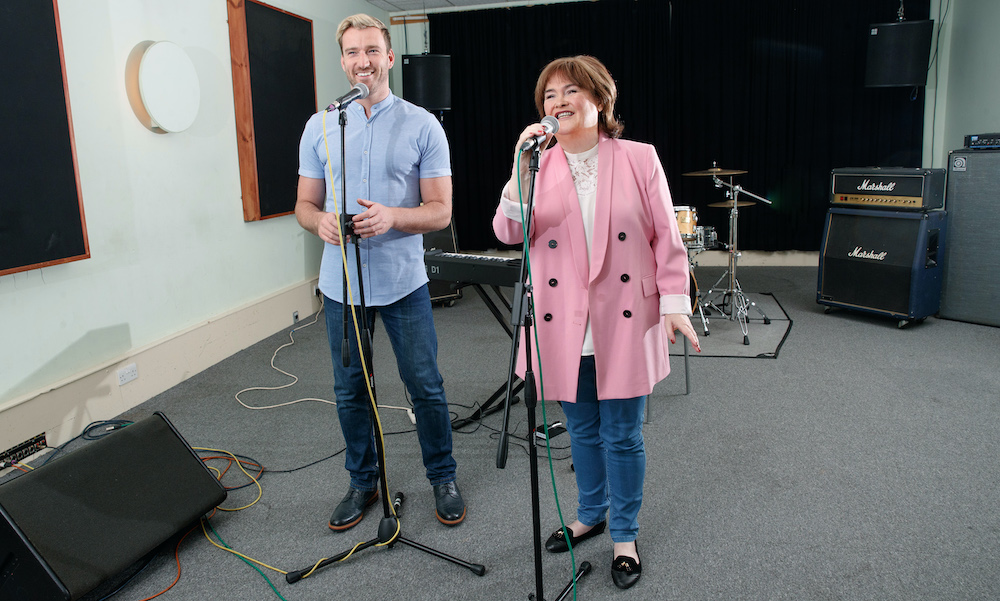 For her fans, one of the most endearing aspects of Susan's personality is her enduring down to earth nature. Even recording her new album, where many a superstar might have opted for the bright lights of LA. She explained : "Ten was recorded in the Gorbals Studio in Glasgow, so fairly local. I enjoyed working with my producer Steve Anderson, who's produced several of my albums."
Although the Ten tour and album is a celebration of her success, it also marks a comeback for Susan who, over the last few years has taken a sabbatical. "I had to go away and think about things but I've come back refreshed with new material and a new approach, which I hope people will enjoy."
Susan has been doing plenty of preparation in anticipation of her tour. "I do a lot of voice training, practice and hard work. I'm always learning, it's endless."
And home life has stayed normal for Susan. "To relax it's fairly quiet, I meet people, watch the soaps, have a good bubble at them sometimes." Emmerdale, Corrie and even River City are firm favourites. So what about an appearance in Shieldinch? "Oh yes, I'd be up for a cameo!"
Having experienced instant fame on a global scale, how does Susan 'keep it real'? She answered : "It's very difficult to stay normal, whatever normal is. When people treat me differently I say, 'come on, you've been my neighbour for 20 odd years!' I'm still the same person and although everything around me has changed, I've not changed any."
As well as looking forward to her debut at the Usher Hall Susan is particularly excited to return to Glasgow's Armadillo and the stage where it all started: "That goes right back to my roots. There'll be no judges this time though!"
Perhaps Piers Morgan might sneak in at the back, surely? Susan exclaimed : "Well that would be a treat!" So she still has a soft spot for old Piers then? "Doesn't everyone?" I don't have the heart to tell her.
Susan will be supported on tour by BGT winner Jai McDowall, so are we to expect a duet or two? "I've met him a few times and he's a lovely laddie. Yes we'll be singing together but it will be a surprise on the night." 
A woman who keeps her cards close to her chest, however she does promise her fans plenty of fun and dancing in her show with perhaps a bit of rock and roll thrown in for good measure. Her favourite song to listen to at the moment is Dance Monkey. "I like a boogie to that. It's definitely original!"
Could more dancing be in her future? "Yeah, I'd give Strictly Come Dancing a go, I could steal Anton for a little while!" Although Susan often reflects on the moment she first stepped out on stage ten years ago, she doesn't watch it very often. "I've watched it once or twice but I think, oh dear that dress! I've matured since then."
Indeed Susan is looking rather trendy these days.Of all the songs she'll perform live, which is the one that has the most meaning for her? "It'll always be I Dreamed A Dream. When I was singing that song a lot of things had happened to me personally. The story slotted in and without making too many people sorry for me I thought that song mirrored what was happening to me at the time."
In the future Susan is determined to keep performing. "I'll keep doing this in my bathchair. There's no such word as retirement. I like doing the recordings because it's a bit more intimate, it's just you and the producer.
"But I enjoy doing the live work and having that connection with the audience. When it's live it's just you, the whole naked truth!"
No doubt Susan's fans are delighted to have her back and watching her dream come true once again. Susan Boyle performs at The Usher Hall on 1st March 2020.