Cramond Kirk are holding their annual Jumble Sale next month.
They have chosen a small Scottish charity providing comfort kits for parents of children rushed to hospital in an emergency.
Finlay's Friends is an organisation set up in memory of eight year-old Finlay Bennett from Dunfermline, who died in 2014 from meningitis. It provides support when it is most needed with comfort kits to help parents or carers to cope and also take in information.
The kits contain a notepad and pencil as it is often hard to retain information in a traumatic situationAs well as toothbrush, toothpaste, wet wipes, flannel and shower gel, warm socks and blanket, and snacks, and a teddy bear.
According to Jenny Bennett, Finlay's mum and trustee of the charity, kits are designed to make parents or carers feel reassured and provide a little emotional resilience.
Jenny explained: "It can be a bewildering, disorientating experience which parents are often thrust into without preparation or experience, adding to their anxiety and worry. By anticipating practical needs, we hope the parent or carer can focus their emotional energy on caring for their child.
"Having rushed Finlay to hospital in our pyjamas, without a chance to do teeth, brush hair or collect warm clothing or wallets, we wanted to do something to support other parents or guardians in a similar situation.
"Finlay was only eight years old but in his short life he always put the needs of others before himself. We started the charity to honour his kindness."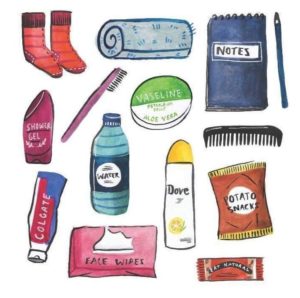 While the charity currently works with Edinburgh Sick Kids' Hospital, Glasgow's Royal Hospital for Children, and Victoria Hospital, Kirkcaldy, the long term plan is for Finlay's Friends to support all relevant Scottish hospitals.
The Jumble Sale is on Saturday 14 March 2020, from 11.00am-1.00pm, at Cramond Kirk Hall, Cramond Glebe Road, Edinburgh.
Proceeds will be shared between Finlay's Friends, Fresh Start and Cramond Kirk.