Dumfries Saints made the long trip up to Edinburgh at the weekend to face a familiar looking Stewarts Melville. This was a pleasing situation, consistency being key, with the only notable, home side change being Cormac McCracken coming in for the injured Joe Bailey.
It was a cloudy, but dry, day at Inverleith as Stew Mel kicked off towards Ferry Road. Dumfries collected well and enjoyed a reasonable spell of possession, going through the phases meticulously and making good progress until a knock-on and the first scrum of the afternoon just outside the home 22.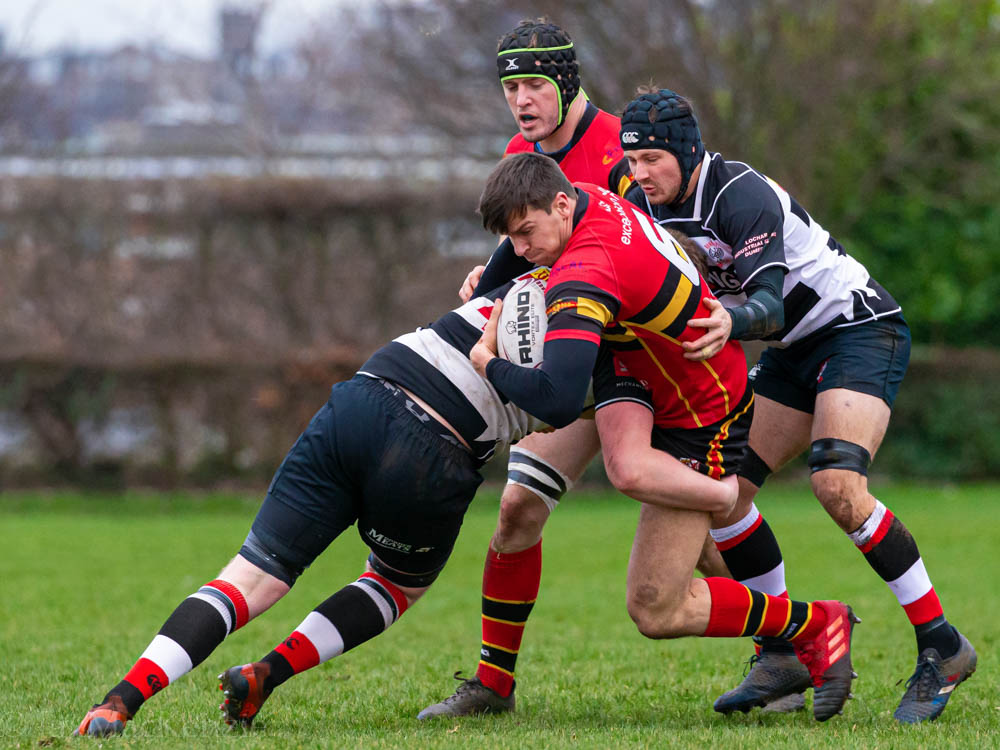 The packs appeared to be evenly matched at this stage but the kick from the base of the scrum was well fielded by Dumfries, who once more launched an attack that was well marshalled by the Stew Mel forwards, winning another scrum. The long kick and chase was on, but the unpredictability of the bounce didn't go Stew Mel's way.
Nonetheless pressure on the visitors' 22 led to a kickable penalty and Euan Morrison secured the three points. 8 minutes played, Stew Mel 3 Dumfries 0.
The majority of possession had been with Dumfries up until this point so it was good to see Stew Mel edge into the lead. A big boot downfield following the restart put Dumfries back into their own 22, but, again, they attacked once more and, for the first time, perhaps took the wrong option by kicking, immediately giving Stew Mel possession. With Fraser Strachan seeing the space, a clever kick into the away 22 drifted nicely into touch.
The line-out was well taken by Dumfries but their possession was short lived, giving Stew Mel the impetus to attack the line. Some good defending and a knock-on gave the visitors some breathing space. Again, with ball in hand, they attacked relentlessly, and, despite Stew Mel trying to hold onto possession, managed to gather and were soon over for a well deserved try. 20 minutes played, Stew Mel 3 Dumfries 5.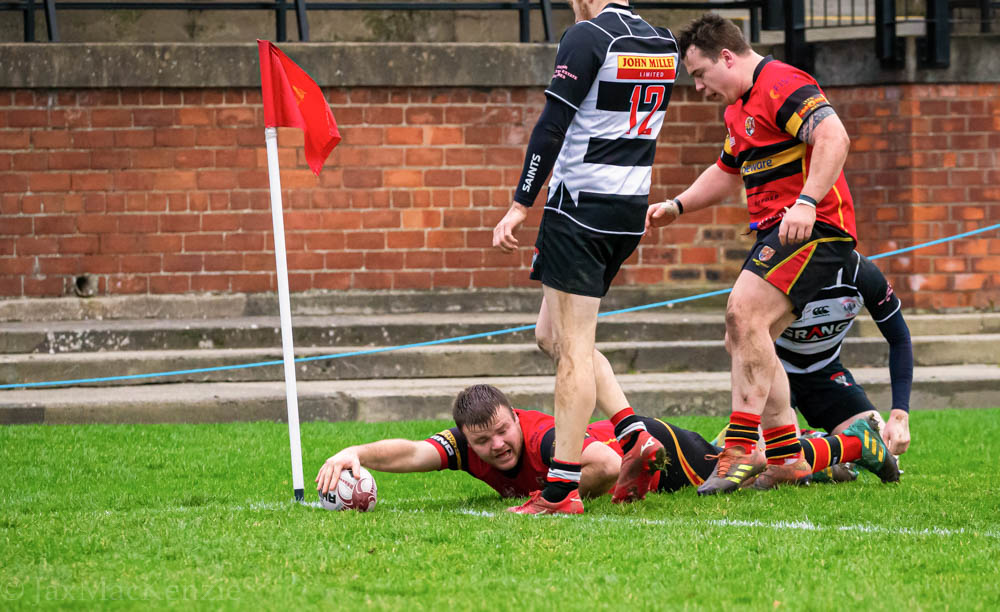 It wasn't long, however, before Stew Mel were back in the driving seat and more sustained pressure in a similar fashion lead to another penalty and Euan Morrison again slotted home the 3 points. 25 minutes played, Stew Mel 6 Dumfries 5.
With a marginal lead established, our confidence was beginning to show and a further period of pressure led to another score, this time courtesy of Doug Randall. This was certainly a relief, given the scoring opportunities that had been on offer, and, although our tries were a long time coming, Dumfries certainly deserved credit for their defensive efforts. With 37 minutes gone the score was Stew Mel 11 Dumfries 5.
With a bit of time left on the clock due to injuries, there was time to launch another attack and, this time, some good pressure on the left wing by Adam Greig and James Ferguson allowed Charlie Simmonds to wriggle his way over. Half time Stew Mel 16 Dumfries 5.
Whilst the score line was reassuring, the nature of the game was such that it could easily change if Dumfries were allowed to get their hands on the ball – and this is exactly what happened early on in the second half (3 minutes in, to be precise) when veteran substitute Rory Steele ran a great line, closing the margin immediately to Stew Mel 16 Dumfries 12.
This kind of score makes a big difference in confidence if chasing the game but it can also be a catalyst for the team who are being pursued. We duly upped our game, and, after more pressure on the Dumfries line, James Ferguson eventually powered his way over in the corner.
The try came after some good hands between the forwards, particularly Scott Alldritt, with Sean Murchie and Charlie, once more, being involved in the penultimate passages of play. 50 minutes played, Stew Mel 21 Dumfries 12.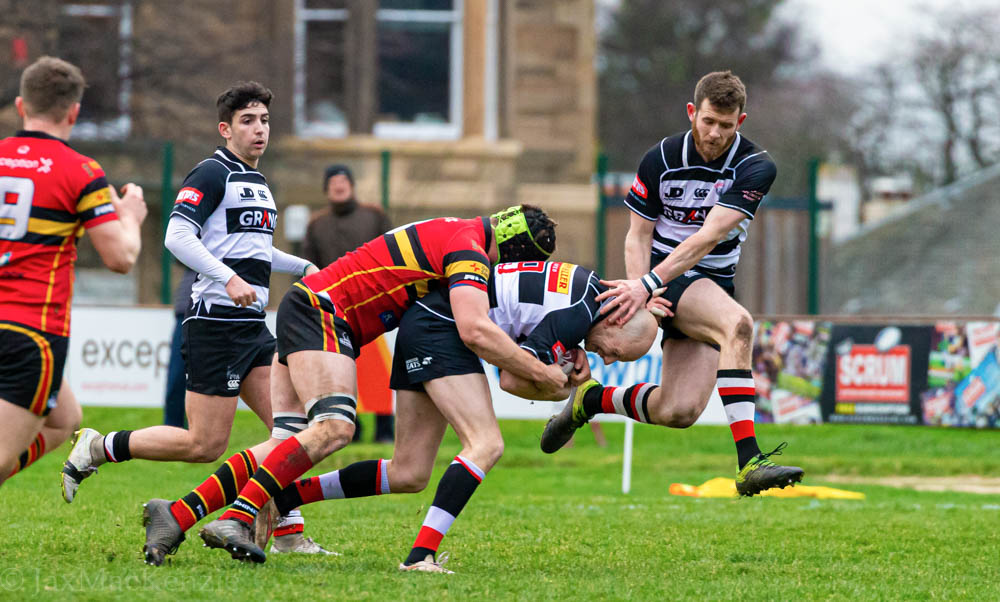 As Dumfries got things underway an uncharacteristic mistake by Stew Mel gave them a short lived advantage which, ultimately, led to a scrum at the half way line. Dumfries attacked once more with ball in hand but a text book tackle in midfield by Connor McKay (who was on fire all afternoon, his Galloway blood clearly stirred) put a stop to their progress and, even better, allowed Stew Mel to regain possession.
With more territorial advantage and relentless attacking from the forwards on the visitors' line, the score was inevitable, Scott Alldritt driving over. 60 minutes played, Stew Mel 26 Dumfries 12.
It was not long, however, before Dumfries took advantage of a poor Stew Mel kick and an opportunistic try followed with a successful conversion. 65 minutes played, Stew Mel 26 Dumfries 19.
With around 15 tense minutes left, Dumfries were taking every opportunity available to attack, but Stew Mel were holding on well to possession and ensuring that the pressure on the Dumfries line was sustained. The fifth try eventually came, Scott Alldritt again claiming it. 75 minutes gone, Stew Mel 33 Dumfries 19
With time on Stew Mel's side, it was really game over at this stage, although Dumfries had the last say with an impressive try in the corner after some good hands through their back line. Final score Stew Mel 33 Dumfries 24.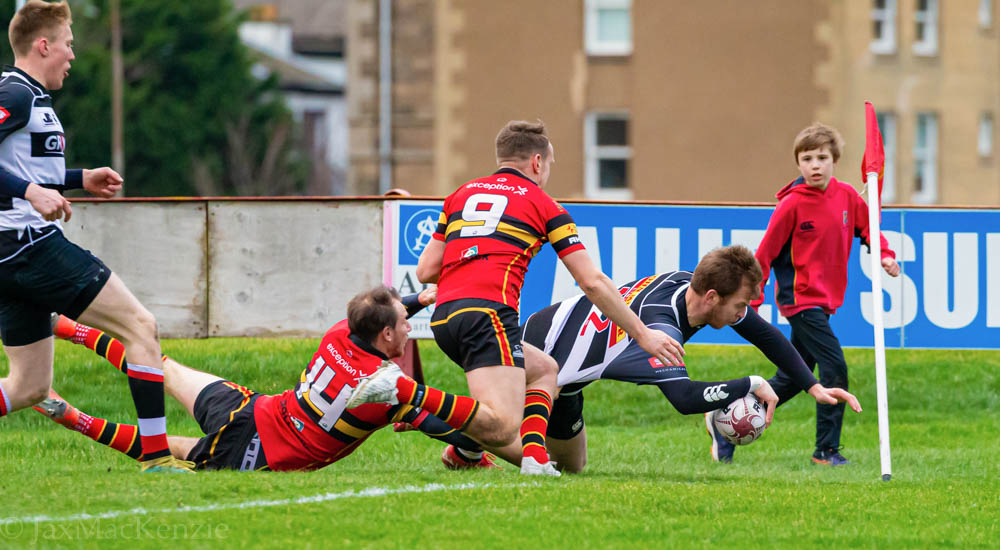 A good afternoon of rugby and a great result, it being most pleasing to see Stew Mel top of the league for the first time this season – although it must be stressed that the table is extremely tight and there is still so much to play for. The expectation of this team, given their recent performances, plus their previous Cup encounter with Dumfries, is extremely high and it is, therefore, easy to be critical over elements of play which were either poorly executed or managed.
Stew Mel had the opportunity to score more tries on Saturday but credit must go to Dumfries's defence. That said, at least two of Dumfries's tries were opportunistic and gifted by Stew Mel – but that, perhaps, was partly due to the spells of pressure they were under.
Match report courtesy of Stewarts Melville RFC
Images courtesy of Jackie McKenzie and are available to view here