Silverwood Baked Trout Recipe from the chef at Silverwood Lodges Bistro and Wedding Barn in the Carse of Gowrie.
With the facility to fish the trout loch, which is currently on a "catch and release" basis, Silverwood is offering fishermen the opportunity to have their trout cooked to order in the new Bistro.
"Our food here is very clean and modern – simple and unfussy, focusing on good quality produce and seasonality," said Managing Director Rod Sim. 
"We have a great chef who is providing a stunning, varied menu showcasing local fish, meat, and fresh local vegetables and berries. We've also teamed up with renowned artisan bakery, Wild Hearth of Comrie, who are providing their signature sourdough breads and sourdough pastries. We hope to become known for delicious homebaking too, for the many local customers who will pop in for coffee and cake."
Serves 4
Ingredients
1 x Rainbow Trout (fresh caught from Silverwood Loch)
3 x Garlic Cloves
25g Basil Leaves
4 – 6 cherry tomatoes
100g Purple Sprouting Broccoli
100g Asparagus Spears
150g Baby New Potatoes
20g Garlic Butter
Pesto Ingredients
2 x Red Bell Pepper
1 x Garlic Clove
50g Pine Nuts
30g Basil Leaves
Salt & Pepper to season
Olive Oil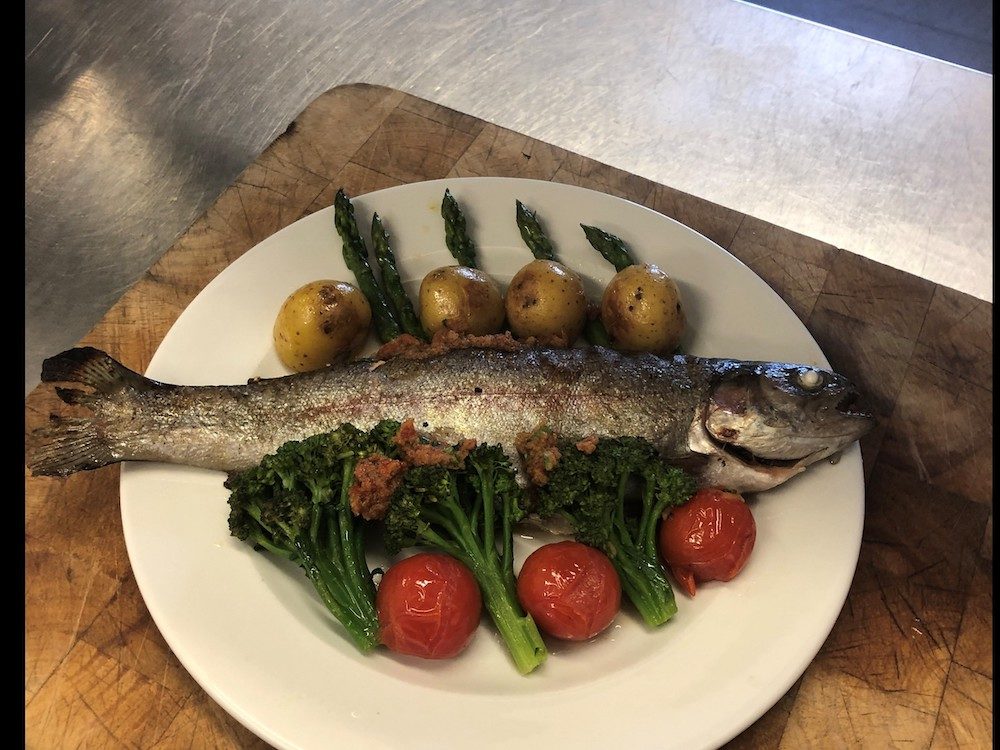 Method – Pesto Dressing
Preheat oven to 200C/180C (fan)
Deseed Bell Peppers and Slice into large sections.
Place skin side down on baking sheet and drizzle with olive oil and a sprinkle of salt. Place in oven until peppers are soft to touch and skins start to blacken where touching the baking sheet.
Toast pine nuts gently in skillet/frying pan on medium heat.
Put garlic, basil, roasted peppers & pine nuts in a food processor and blitz together adding olive oil until a smooth consistency. Season to taste with salt and pepper.
Method – Baked Trout
Clean trout and remove innards
Mince Garlic gloves and basil leaves and mix together. Stuff cavity of trout with the mixture.
Baste with olive oil and season with salt and pepper. Wrap in tin foil and bake in oven at 200C/180C (fan) for 15 mins until cooked through.
Trim ends of asparagus and broccoli and blanch in boiling salted water until tender.
Boil new potatoes in salted water for 5 – 8 minutes until fork tender. Drain and coat in garlic butter
Roast cherry tomatoes under a grill on high heat for 3 – 5 mins until skins start to burst.
Carefully unwrap trout and plate with vegetables before drizzling with pesto.