Saturday's visitors to Inverleith for the latest round in the Tennent's National League, Div. 2 were Glasgow's GHK. Having swept aside their opponents when the played earlier in the season, Stewart's Melville were hoping for a similar outcome. GHK, for their part, were determined that option wasn't on the cards.
Stew-Mel kicked off towards the castle, GHK retrieved, and right from the start, attempted to run out of their own 22. Each thrust was, however, well marshalled, and this eventually persuaded them that a better option might be to clear their lines This was, however, unsuccessful, as the ball landed nicely into Freddie Roddick's hands.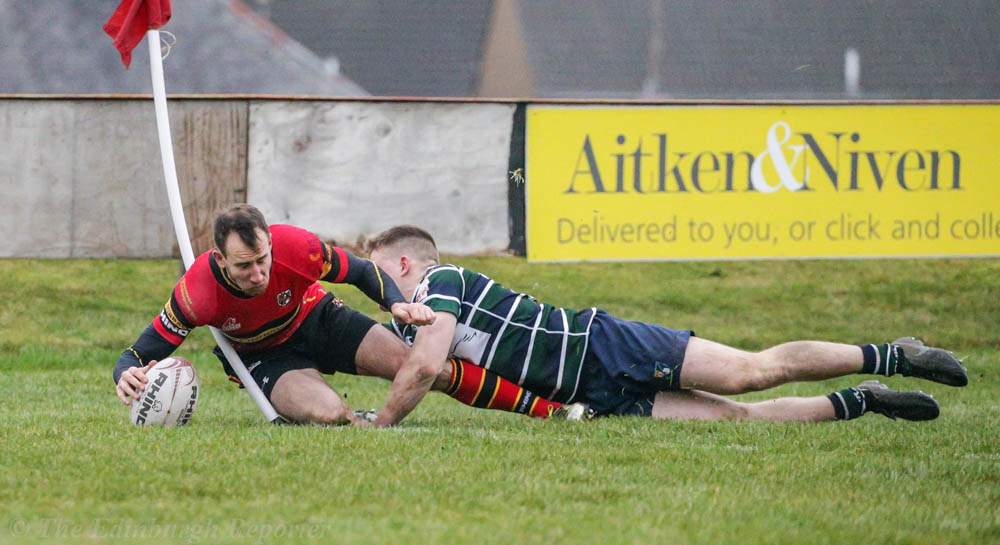 He duly took off before offloading to Sean Murchie, who had a bit of work to do before touching down in the corner. It was a difficult kick for Euan Morrison as it glanced off the post – but this was the only one he failed to convert. With less than 5 minutes played, SM 5 GHK 0. A promising start?
Following the restart, the SM forwards made some ground before Euan Bowen kicked long downfield, resulting in the first lineout of the afternoon within GHK's 22. Again they illustrated their appetite to run rather than kick for field position, although SM regained possession and moved upfield once more after some fine interplay between backs and forwards and another lineout in our favour, this time 10m out from GHK's line. Clean and quick ball provided James Ferguson with the opportunity to power over and Euan M was successful with the conversion. 10 minutes in, SM 12 GHK 0.
Once more at the restart the forwards collected well, with Rappestad, Malcolm, Randall and (latterly) Allan making the hard yards. GHK had the scrum, but a great drive by the SM pack pushed their opponents back, putting them on the back foot. The result was a lineout in our favour, from which good technique and quick ball from Fraser Strachan allowed Matthew Watson to cover a good bit of ground, well supported by Freddie.
Euan M was also involved, offloading to his cousin Fraser Morrison who set things up for another attack. A long, ambitious weighty pass unfortunately fell nicely into the hands of GHK's number 13, who pinned his ears back and ran the 50 meters for GHK's opening try of the afternoon. This was successfully converted to make it SM 12 GHK 7 with 15 minutes played.
What a difference a score makes to a team who were previously under the cosh, and, with their new found confidence and vigour, GHK were off again, trying to run out of their own half. They were, once again, thwarted by the presence of a robust SM defence, and, in particular, Joe Bailey, who made a nuisance of himself all afternoon.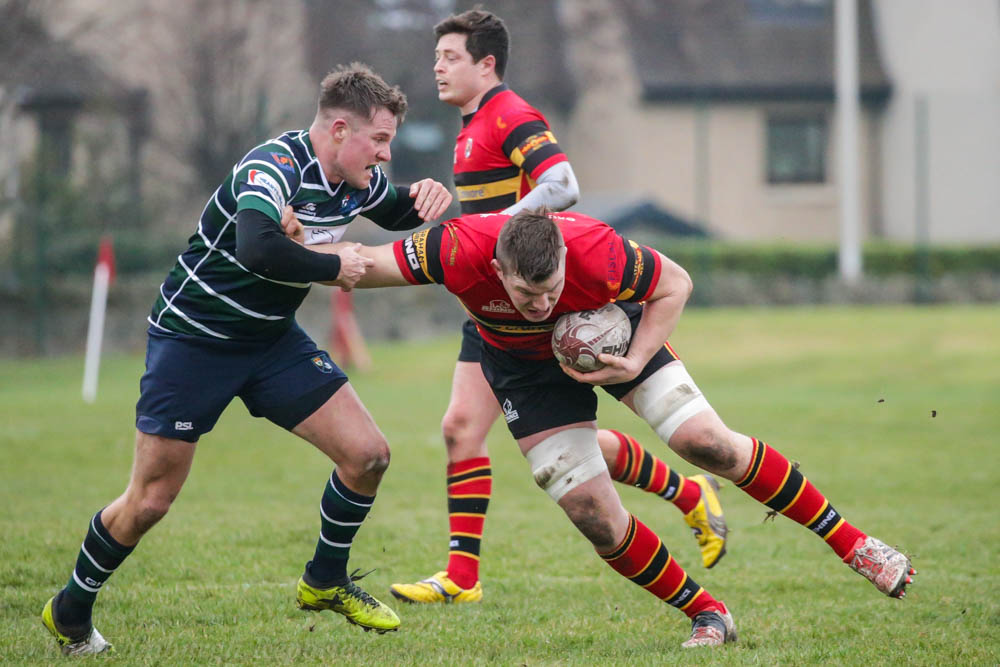 GHK then reverted to kicking once again, but the touch finder was well fielded and dealt with by the back three. Good hands from Freddie and Connor McKay then allowed us to make more progress; although a score didn't result, we were, at least, showing a pleasing desire to play positive rugby.
A scrum at the half way line then lead to a penalty to GHK, despite SM's tremendous drive. At this stage GHK were starting to find some rhythm in their play and enjoyed a spell within SM's half – but they lacked the penetration they were clearly seeking, primarily due to SM's defensive efforts.
A penalty then came SM's way and a clearance kick gave them more control. GHK were enjoying more possession and using the width of the pitch well, though mistakes were beginning to creep in as the home side continued to close them down quickly.
The scrums were certainly going SM's way, although an injury to Connor (who was having his usual belligerent afternoon in both the set piece and open play) brought on the first change. Given the strength in depth of the Stew Mel pack, particularly in the front row, it wasn't long before their forwards were, once again, driving through their opposition.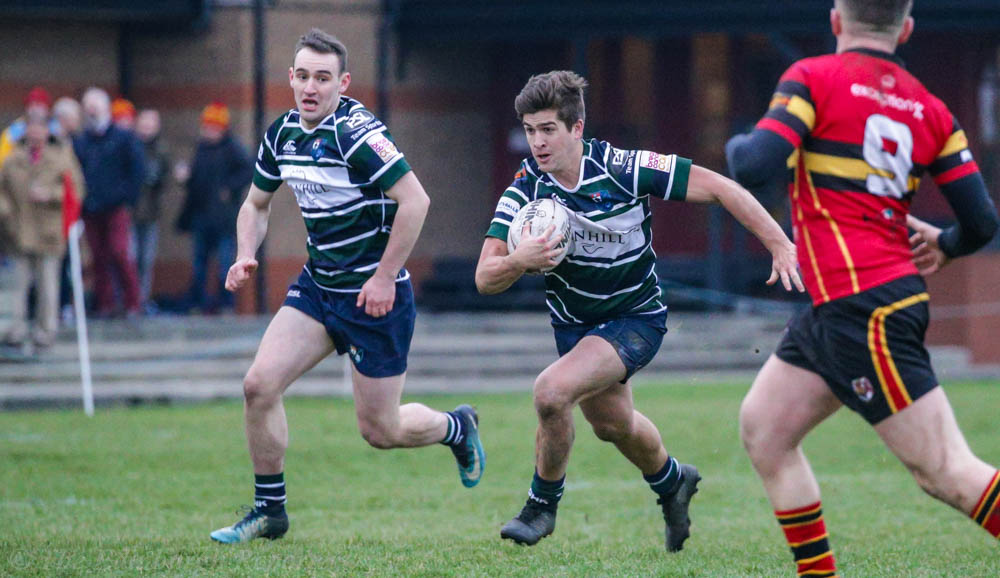 Following a scrappy period, GHK managed to gain and hold on to possession and put themselves in a good position some 10m out from the SM line. The defence had to be commended as, once again, it wasn't long before the tables were turned, and, after good hands and pace from the back three, this time Freddie was in for the try, again converted by Euan M. With about 35 minutes on the clock, SM 19 GHK 7.
With a decisive lead established once more, Stew Mel kept up the pressure, another massive drive by the forwards illustrating their prowess – the confidence running through the Stew Mel ranks was clear to see. With this platform, Fraser Morrison was soon given the opportunity to claim one for the pack, which he duly did just before half time. Euan Morrison's boot added the extras once again to make it SM 26 GHK 7 at the break.
With a fairly significant lead already, SM seemed to start the second half with a momentary lapse of concentration, which was immediately exploited by the rather more focussed GHK players, and, within a minute of the restart, the home side's otherwise intransigent defence was breached as the visitors scored an unconverted try. 41 minutes gone, SM 26 GHK 12. This gave more confidence to GHK and it was not long before they played some more good attacking rugby to score again, the successful conversion making it SM 26 GHK 19 with 55 minutes played.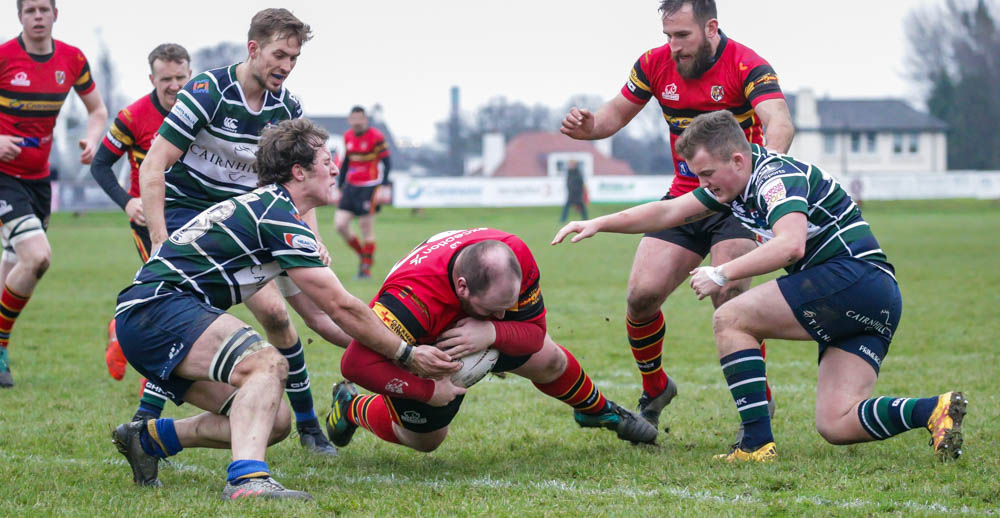 SM were startled that they had conceded two tries in a relatively short period but they then appeared to settle back into the second half, aware that GHK were certainly 'having a go'. SM were not enjoying as much possession as they would have liked but they continued to attack whenever possible, effectively moving the ball wide both left and right and varying play as Fraser Strachan orchestrated proceedings.
Matthew Watson was making some decisive breaks but, regrettably, his afternoon soon came to an end, allowing the experienced Dave Hampton to move into the number 13 position while James Ferguson shuffled out to the left wing.
SM were still under a bit of pressure within their own 22 at this stage, although a scrum gave them the opportunity to fight back – which they did, replacement Jamie Sword putting his physique to good use. Ball retention was key at this stage, and, as a result, Alex Rappestad lead the charge with his fellow forwards. There was no stopping Ruaridh Mitchell from 5m out. 65 minutes played, SM 33 GHK 19.
With the clock ticking and GHK aware that two converted tries would result in a draw (or that one would give them a losing bonus point), the fight back was on, although, to their credit, SM managed to corral their spirited opponents and kept them within their own 22. Play was frantic, with phases of relentless attacking, and their sixth try almost came via a nicely weighted pass to Sean Murchie, who sprinted for the corner looking for his second of the afternoon. Sean's foot was, however, adjudged by the esteemed linesman to be in touch. Final score SM 33 GHK 19.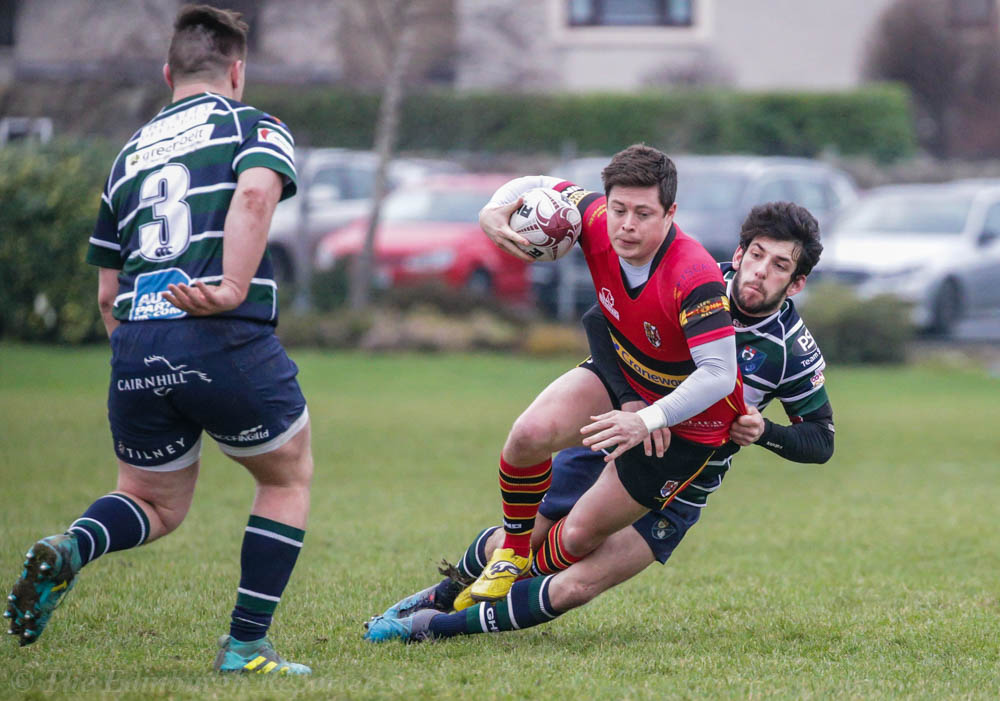 This was an exciting game, and all credit to GHK, who never threw in the towel and demonstrated remarkable fitness levels as they attacked relentlessly once in possession. In particular, their point scorers – number 13 Finlay Callaghan and number 12 Danny Campbell — deserve great credit.
This was an exciting game, and all credit to GHK, who never threw in the towel and demonstrated remarkable fitness levels as they attacked relentlessly once in possession. In particular, their point scorers – number 13 Finlay Callaghan and number 12 Danny Campbell — deserve great credit.
Match report courtesy of SM's Kevin Murchie
Images courtesy of Jackie MacKenzie