Proceedings commenced with Stew Mel kicking off towards the Castle on an overcast damp day. Their starting line-up was more or less as it has been on recent Saturdays, showcasing probably the best they had and their strength in depth, with Charlie Simmonds starting at 9 for the unavailable Fraser Strachan.
The game started with a high tempo from both sides, although the damp conditions rather restricted the pace and sleight of hand, with knock-ons by both sides leading to a couple of early scrums, a penalty to Biggar and a lineout at the halfway line.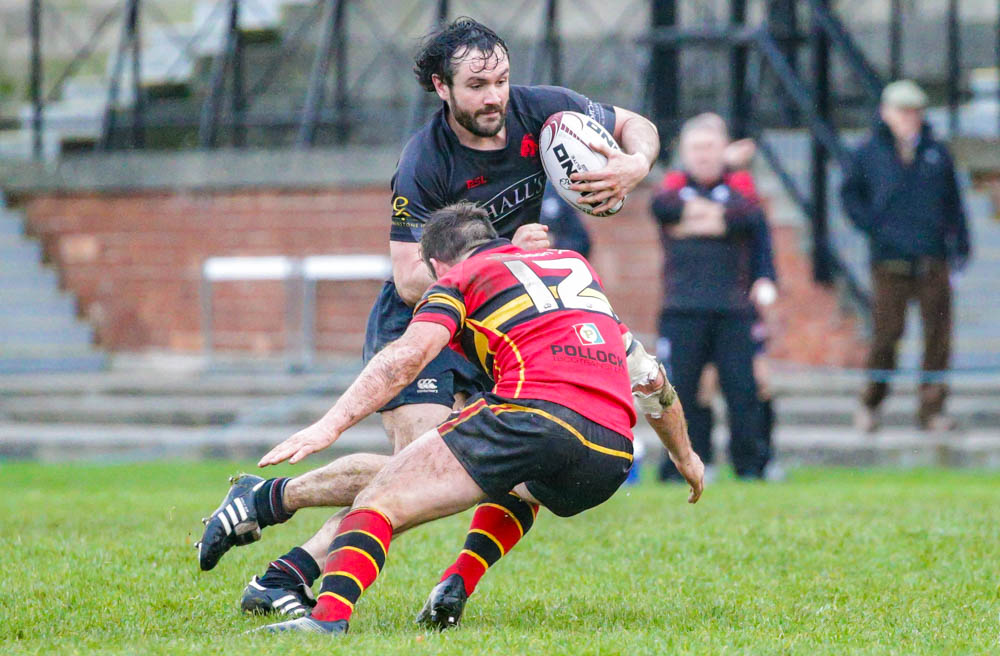 A further penalty gave the away side more territory, although the lineout 10 metres out resulted in a knock-on and the opportunity for Stew Mel to clear their lines. A clean lineout by Biggar led to the ball being moved quickly wide, and, with a clever grubber kick going beyond the defence, the touch down was inevitable. The successful conversion made the score Stew Mel 0 Biggar 7 with less than 10 minutes played.
As the game resumed there were further penalties, exchanges in possession and scrums during a period of scrappy, frantic, loose play. Although Stew Mel were enjoying the majority of possession and were slightly dominant, pressing within Biggar's 22, they could not breach the line.
The tables then turned and Biggar attacked, gaining the upper hand after another frantic passage of play. It wasn't long before they were over for their second try with around 25 minutes played – Stew Mel 0 Biggar 14.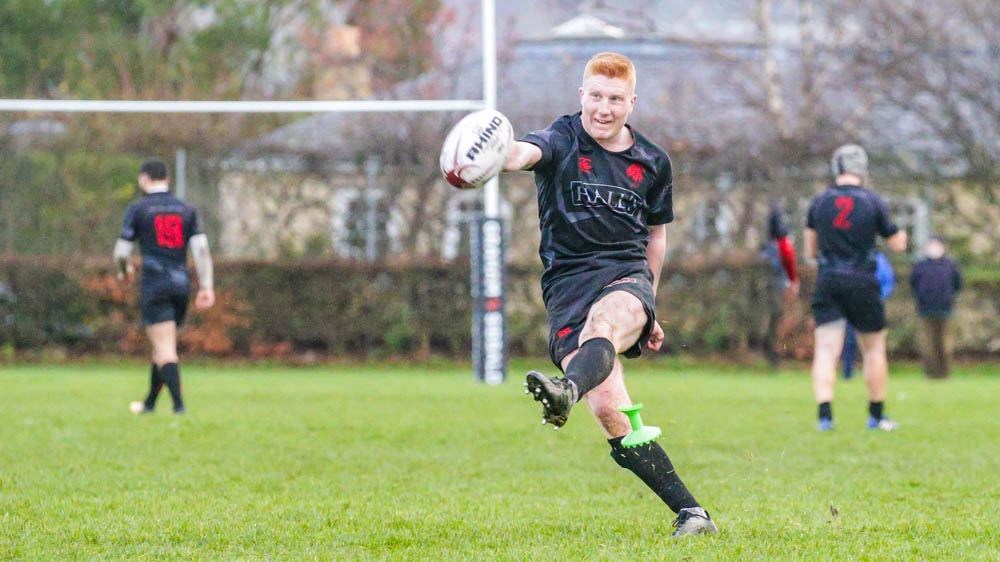 As the first half drew to a close, Stew Mel were again encamped in the Biggar half, with some good kicking from Michael Miller giving favourable field position, but there was still an inability to get over the line. A score at this time would have made all the difference as, although Biggar were ahead by 14 points, Stew Mel were still in the game at this point.
As the second half got underway, the knock-ons and scrums chopped and changed until Biggar managed to win back possession with a clever kick through, resulting in a lineout 5 metres out from Stew Mel's line. The home lineout had been functioning reasonably well up to this point but an unfortunate mistake lead to an opportunistic try for Biggar, bringing the score at around the 45 minute mark to Stew Mel 0 Biggar 19.
Around this time Alex Rappestad was introduced after a bit of shuffling between the back row and second row, bringing, in addition to his Gaelic football skills, a much needed ball-carrying element into the mix.
It wasn't long, however, before Biggar again seized a scoring opportunity due to a Stew Mel error, and got over for their fourth try of the afternoon. With 55 minutes played, and the visitors beginning to show their superiority, it was Stew Mel 0 Biggar 26.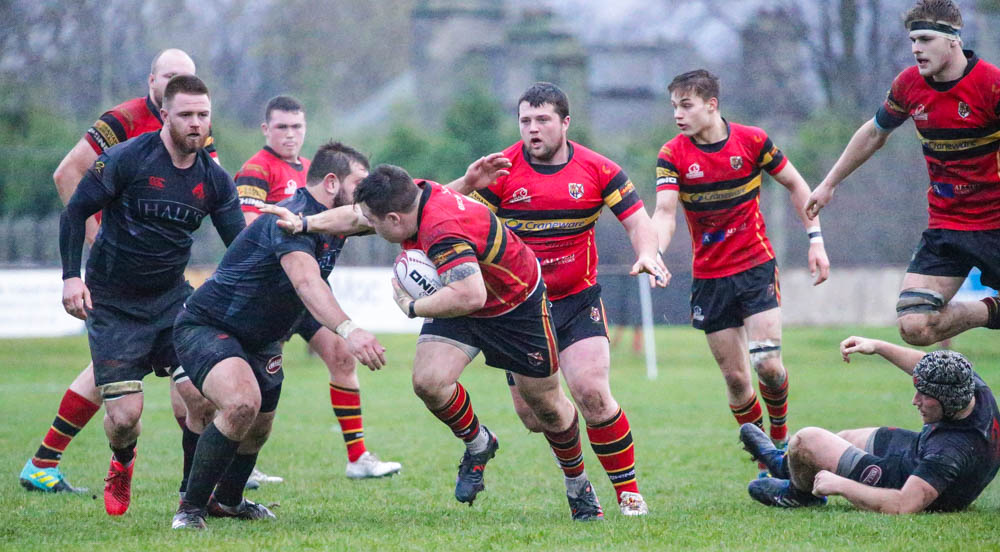 Further substitutions followed, with Freddie Roddick replacing Matthew Watson to add some spark and attacking flair, although, once again, as the slippery ball evaded the grasp of Stew Mel's eager hands, Biggar took advantage with some quick hands of their own and a clever cross field kick by Lavery brought their fifth and final try of the afternoon. With around 70 minutes having been played, it was Stew Mel 0 Biggar 31.
With 10 minutes to go and with the remaining subs on, Stew Mel were again enjoying a reasonable spell of possession. Although they were getting closer and closer to the visitors' line, they just couldn't get over for at least one score which they were probably deserving of. Final score Stew Mel 0 Biggar 31.
The harsh reality was that Biggar scored five tries and Stew Mel scored none. Two were clearly soft and as a result of home side mistakes. The others were cleverly created and one in particular – after a cross field kick – would have made even Finn Russell proud.
Stew Mel, on the other hand, failed to capitalise in the first half when they clearly had the majority of possession, with a similar scenario unfolding towards the end of the second half. Opportunities must be taken but, of course, defence is as equally important as attack, and Biggar certainly showed their strength in that department.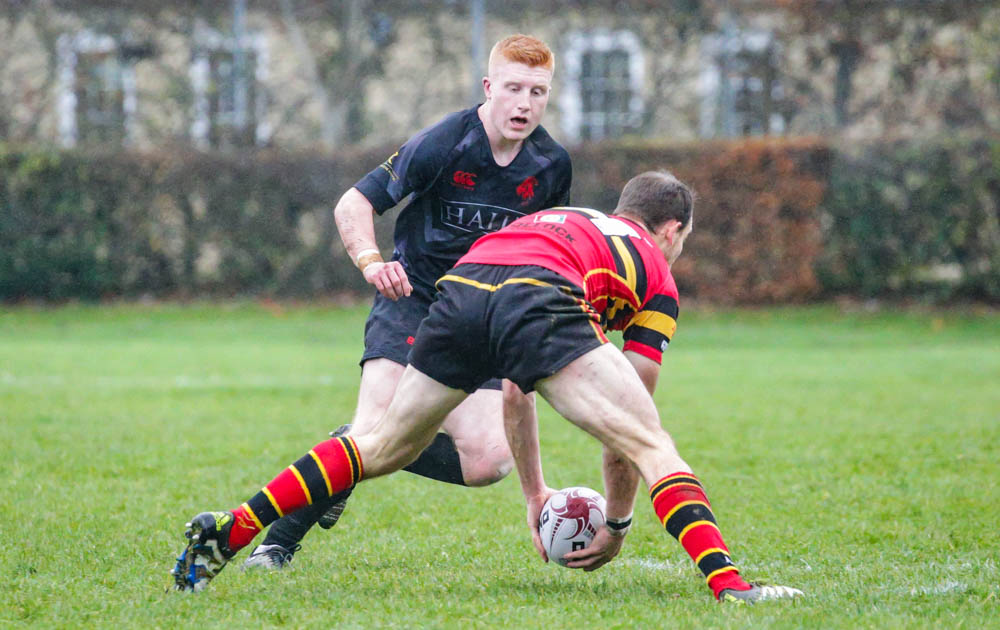 Having a 14 point advantage at half time, the second half was more of a defining period for Biggar, with their key player being the number 10, Conor Lavery, who ran proceedings most of the afternoon and was always well supported by a strong and mobile pack that gave him an enviable platform from which to launch attacks.
Regrettably Stew Mel didn't have that luxury, and, although they did have periods where the forwards competed well in the set piece and in loose play, a little bit of luck was not on their side to get them over the gain line. There were some penetrating runs, particularly in the second half, from James Ferguson and Adam Greig but they still couldn't breach that robust away defence.
Report courtesy of Stewarts Melville's Kevin Murchie
Images from the match courtesy of Jackie MacKenzie. Images from the match will appear here over the next few days.