Unique Events are putting the tickets for Burns&Beyond on sale tomorrow morning. This is the new six-day Burns Festival for Edinburgh which will take place  in January 2019, and it contains elements of the Scot:lands trail which used to be part of Edinburgh's Hogmanay and which was so enjoyable.
Burns&Beyond celebrates the life and work of Robert Burns, Scotland's National Bard, inviting audiences to discover the very best in creative talents from across Scotland in some of the capital's most well-known buildings and a few of its more secretive spaces.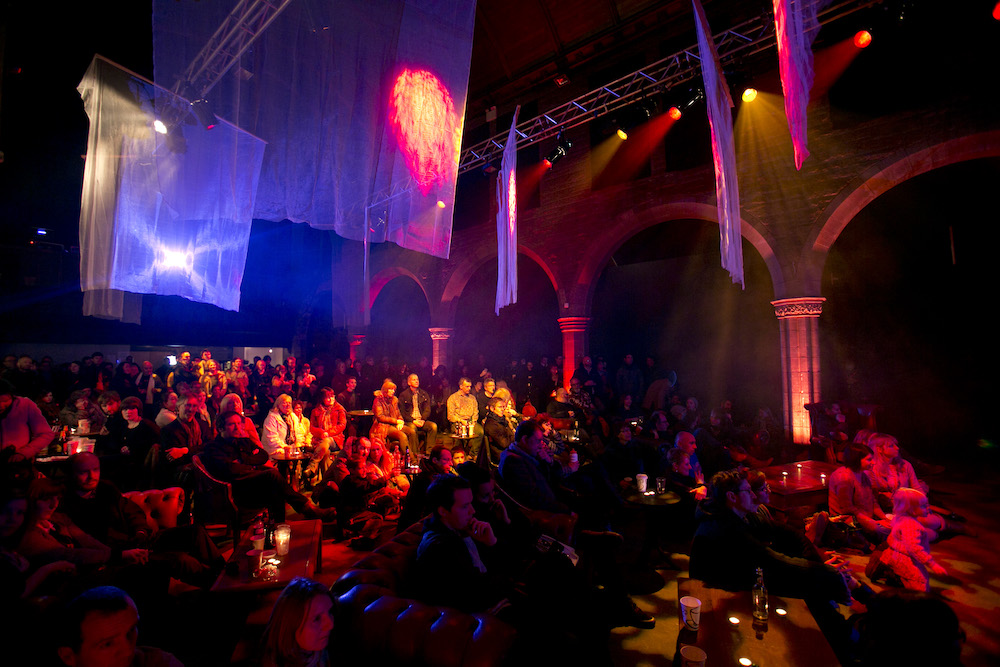 With support from City of Edinburgh Council, Essential Edinburgh, Scotland's Winter Festivals and Marketing Edinburgh, Burns&Beyond runs from Tuesday 22 January to Sunday 27 January offering something for all ages including dancing, music, theatre, comedy, a family activity along Rose Street and a not-so-traditional Burns Supper, in an exciting and vibrant programme of events across the New and Old Towns.
The flagship Burns&Beyond Culture Trail will take place on the evening of Saturday 26 January, reminiscent of the New Year's Day event Scot:Lands, where audiences will embark on a cultural journey, discovering hidden performances on a trail leading them to eight landmark buildings and secret spaces spread across the city centre. Venues such as St Giles' Cathedral, Freemason's Hall, and Assembly Roxy will be transformed, providing surprises throughout the night, as audiences will only find out who is performing in each venue when they get there.
At Lucky Middlemiss's Tavern audiences will discover Lau fiddler and composer Aidan O'Rourke and a stellar cast of artists and musicians (including piper Brighde Chaimbeul and singer Alasdair Roberts) recreating the atmosphere and the unstructured conviviality of an Edinburgh Old Town tavern at the time of Scotland's Enlightenment, where the claret and ale flowed along with progressive discussion and apposite music. This will be both an uproarious and thought-provoking assembly of song, poetry, dance and rollicking tunes.
The Lost Map's Howlin' Fling! curated by Pictish Trail, will present a recreation of Eigg's legendary Ceilidh Hall and a feast of Hebridean music and Highland hospitality. Edinburgh art collective Neu! Reekie! presents an ebullient evening of live music and poetry, their annual twist on Burns is always one of their most eagerly anticipated happenings. Expect the unexpected: the sinister, sanguine and surreal. Alongside some of the top names in the Scottish music and poetry scenes, there will be a dark, erotic, explosive performance of Tam o' Shanter performed by Kevin Williamson with the musicians and dancers of the Kixx Collective.
A special viewing of Museum of the Moon @St Giles' Cathedral will be accompanied by Disarming Reverberations, a live performance from the award-winning composer Martin Green (Lau), bringing together the heart-breaking sounds of the Dublin cappella quartet Landless with the rich sound of Alba Brass and electronic manipulation to create a sonic world that is both entirely contemporary and immediately at home in the historic building.
The List Hot 100 presents The Red Rose Club, a night of electronic music featuring some of Scotland's finest female DJ's featuring Nightwave with special guests, Sofay and Ribeka. Edinburgh's legendary comedy promoters Gilded Balloon presents a line-up of top Scottish comedy including Glasgow's Gary Meikle, alongside Jay Lafferty, Rosco McClelland, Billy Kirkland and Susan Riddle and other surprises on the night.
Audiences will also enjoy a crash course Speed Whisky Tasting, participate in Scotland vs The World, a silent disco DJ battle in a secret outdoor space with Silent Adventures. The Culture Trail has been co-curated with Unique Events founder and Edinburgh's Hogmanay originator Pete Irvine, who has been at the heart of Scottish culture and events for over 40 years. The Culture Trail runs from 6.30pm until 10.45pm on Saturday 26 January.  Tickets cost £25.00 (incl. booking fee) and give holders the opportunity to visit all eight venues.  Ticket buyers will be sent their secret starting location closer to the event.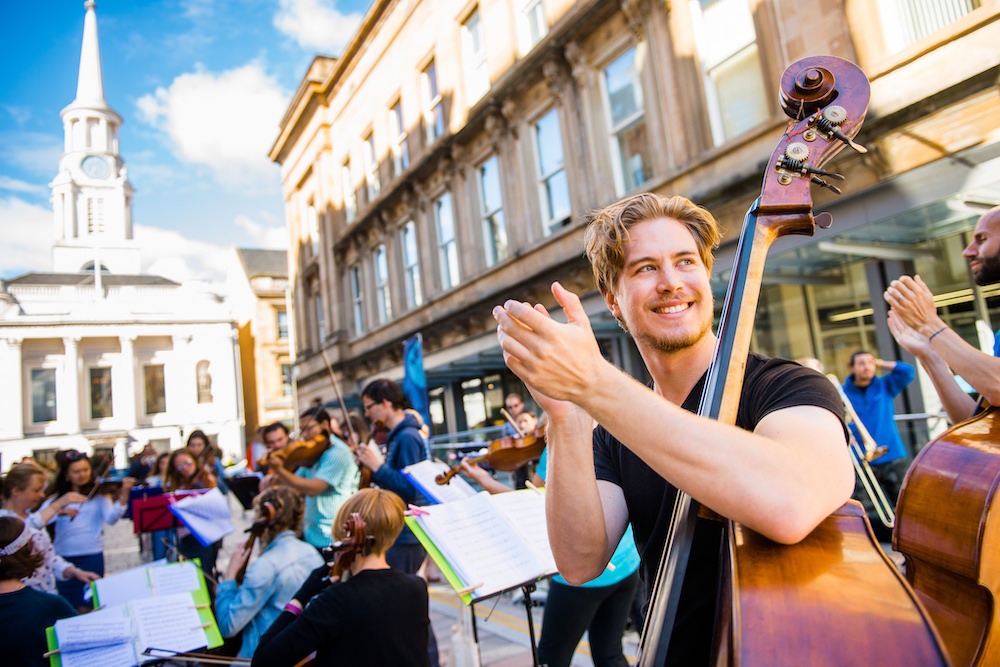 Alan Thomson, Director of Unique Events, said: "We love our rich cultural landscape, and are proud of our heritage and notoriously warm hospitality – what better way to bring it all together than around Burns Night?    However, we were keen to take this a little bit further, and while activities in the New Town will be centred around all things 'Burns' in our Red, Red Rose Street district, in the Old Town we will be looking '& Beyond' with Museum of the Moon and elements of the Culture Trail."
Freemason's Hall on George Street becomes the New Town Hub for Burns&Beyond hosting the not-so-traditional take on a Burns Supper on Friday 25 January.  Offering an evening of music, laughter, food and drink to celebrate the life and work of our National Bard, revellers can savour a delicious Burns Supper produced by the local award-winning restaurant Urban Angel, while witnessing the traditional Burns speeches.  They can enjoy an immersive performance from the 40 strong Nevis Ensemble, and take part in a spot of energetic ceilidh dancing with Kilter Ceilidh Band.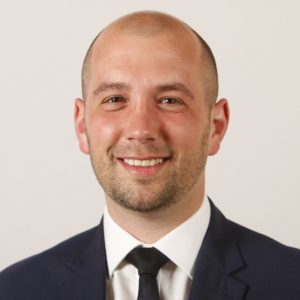 Minister for Europe, Migration and International Development Ben Macpherson, said: "Burns Night is one of Scotland's most well-known and best loved national days, celebrated by millions around the world. Our national bard is one of our favourite icons, and each year Burns Night is a chance for us to come together, celebrate his poetry, enjoy the occasion and affirm some of our country's most important values – fairness, equality and internationalism."
Red, Red Rose Street returns as an integral part of Burns&Beyond with a Rabbie Ramble running the length of Rose Street and a programme of musical performances in a number of the pubs and restaurants.  In collaboration with Gilded Balloon, a week of entertainment and performance comes to the Rose Theatre including the return of Captivate with their sell-out musical performance of Rabbie and, new for 2019, The Ghosting of Rabbie Burns featuring the great songs and poems of our National Bard.    Gilded Balloon also present the Burns Night Comedy Club on Friday 25 January.
Scotland's street orchestra Nevis Ensemble's vision is music for everyone, everywhere, and on 25th and 26th January the collective will be popping up in locations and venues throughout Edinburgh city centre including scheduled stops at schools and community centres.
On Saturday 26 January a Free Family Ceilidh, featuring renowned Edinburgh performers the Kilter Ceilidh Band,­ brings together all the traditional dances for a family audience and the Major Minor Music Club offers parents and children the opportunity to enjoy great music together. This performance of the Major Minor Music Club will feature Pictish Trail in a special family-friendly performance.
Roddy Smith, Chief Executive of Essential Edinburgh, said: "We are delighted to support Burns&Beyond build on the success of Red, Red Rose Street. We have such a rich cultural heritage it is fitting that the city centre is hosting much of the celebration of the life of our national Bard. Like many Scots, and many visitors to our city, he would have loved the vibrancy and fun of all that our city centre hospitality and retail businesses offer.  With a great mix of free and paid for events, I'm certain that this will be a great success."
Councillor Donald Wilson, Culture and Communities Convener, said: "Commemorating the life and legacy of Scotland's Bard, I'm pleased the Council's funding has helped to secure this new event. The full and varied programme will rightly celebrate the considerable achievements of Rabbie Burns and I'm sure Luke Jerram's lunar-inspired showpiece in the Old Town will be a glowing highlight.  The programme will also reimagine the popular Red, Red Rose Street and Scot:Lands Culture Trail, alongside a new free family ceilidh, and has been designed to ensure a warm day or night out on even the dreichest of January days."
The centrepiece of Burns&Beyond is the installation of the spectacular Museum of the Moon in St Giles' Cathedral.    This touring artwork by UK artist Luke Jerram measures seven metres in diameter and features incredibly detailed NASA imagery of the lunar surface. Museum of the Moon will be free to visit during daylight hours from Tuesday 22 January to Saturday 26 January, but really comes into its own during the dark evening hours when the full majesty of the artwork can be enjoyed accompanied by a specially commissioned musical score.
Each evening, in collaboration with St. Giles' Cathedral, Burns&Beyond will host a unique special event around Museum of the Moon including a 'Moon Lecture' by Dr William Taylor from the Royal Observatory Edinburgh on Tuesday 22 January, an intimate acoustic show and Burns Songs by critically acclaimed Folk-Noir balladeer Rachel Sermanni on Wednesday 23 January and the multi-award winning songwriter and legendary Idlewild frontman Roddy Woomble on Friday 25 January. A special moonlight performance by St Giles' Cathedral Choir on Thursday 24 January promises to provide a haunting and unique performance, with a 'Moon by Candlelight' evening and a specially commissioned soundscape for piano and electronics composed by Napier University's Dr John Hails entitled Claire de Lune, completing the weeklong programme. Tickets for all special events and performances include Museum of the Moon viewing.
Tickets for all Burns&Beyond events go on sale on Friday 7 December at 10.00am from www.burnsandbeyond.com.  Burns&Beyond runs from Tuesday 22 January to Sunday 27 January 2019.  Museum of the Moon runs daily at St Giles Cathedral; The Burns Supper takes place on Friday 25 January; the Free Family Ceilidh, the Major Minor Music Club and the Burns&Beyond Culture Trail all take place on Saturday 26 January.  Full details of the programme can be found at www.burnsandbeyond.com.