Book Week Scotland's Digital Festival got off to a splendid start on Monday evening when the Scottish Book Trust got together with Nutmeg magazine to present a lively and hugely entertaining discussion about who is Scotland's 'greatest football rebel'
The event, appropriately held at the Scottish Storytelling Centre on Edinburgh's High Street, was chaired by one of Scotland's leading authors, Daniel Gray. The impressive panellists included former Chelsea and Scotland internationalist Pat Nevin, former Sports Editor of Scotland on Sunday Ginny Clark, renowned Scottish sports journalist Alan Pattullo and the author Chris McQueer. Their opinions on who should be acclaimed Scotland's 'greatest football rebel' were interluded with poems from Thomas Clark, Scotland's first ever poet-in-residence.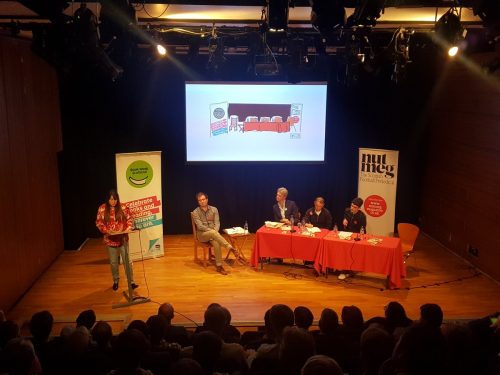 Alan Pattullo was first up, and he offered former Dundee United, Rangers and Everton striker Duncan Ferguson as his suggestion. Ginny Clark told the heart-warming story of Rose Reilly who defied the odds to become a star in Italy, while Pat Nevin went for his former Scotland team mate Brian McClair. The most surprising nominee, however, came from Celtic fan Chris McQueer who put forward the name of Hearts manager Craig Levein – perhaps his tongue was firmly in his cheek!
At the end of the evening the audience voted for Rose Reilly. She was one of the best players in Scotland at a time when women's football was given little encouragement back in the 1980s and went on to play for both Scotland and Italy. Reilly moved to France and then Italy such was her desire to play football professionally. Despite having no formal links to Italy prior to her move to A.C.F. Milan, Reilly was selected for the Italian women's national team and was voted the best player in the Italian team which won the (then unofficial) women's world cup in 1984.
There were some cracking stories from the panellists, particularly Pat Nevin while Thomas Clark's poems were humorous and inspiring. The 90 minutes raced by faster than a Nevin free-kick.
A very enjoyable evening and one, hopefully, that will be repeated again soon.