One of the many disturbing aspects of the Brexit saga is how the tail always seems to end up wagging the dog.  Who ever thought a small rump of right-wing Tories would force David Cameron into calling a referendum and then losing it?
Who ever thought that the small off-shore colony of Northern Ireland would end up requiring us, ironically, to stay in what is, in effect, the Customs Union ?   And in Scotland's case, it's the tail of the fish that's doing the wagging.  All 19 Scottish Tory MPs say they won't support Theresa May's Brexit deal if it involves staying in the Common Fisheries Policy beyond 2020, which it may well do.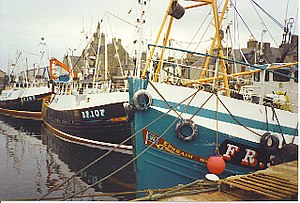 During the 2016 referendum many voters in the North East of Scotland became persuaded that staying in the European Union was bad for the fishing and farming industries.  Brexiteer Tories benefited from their support in the subsequent general election. Since then though, it's become clear that there are disadvantages to leaving the EU.  In the farmers' case, their subsidies and their ability to sell their produce into Europe are under threat.   In the fishermen's case, the shell-fish industry may lose its lucrative market in Spain unless there is a trade-off to allow Spanish fishing boats some access to Scottish waters.
How all this plays out in the Westminster parliament will make fascinating viewing over the next few weeks.  Will Theresa May's soft-Brexit deal survive or be amended ?  Will she survive as prime minister ?  How many more ministers will resign ? Will we crash out of the EU without a deal ?  Will it all end up in a stalemate and another general election ? Will there be a second referendum ?  One thing we can be pretty sure of is that it will end in tears.
On Thursday, it all played out in noisy scenes in The Scottish Parliament.  The First Minister, Nicola Sturgeon, accused the British Government of sidelining Scotland in the whole Brexit process. She called on the two senior leaders of the Conservatives in Scotland David Mundell and Ruth Davidson to honour their promise to resign if Scotland didn't get the same special status as Northern Ireland in the Brexit arrangements.  The Conservatives, for their part,  said Ms Sturgeon was using the Brexit issue to promote the SNP's own agenda of Scottish independence.
I was in Dundee last week where there was a strong independence vote in the Scottish referendum, and a strong Remain vote in the EU referendum, both caused by concerns over jobs and the economy.  The city has lost much of its industrial base over the last 20 years and there was more bad news last week.  Michelin announced it is to close its tyre-making factory, with the loss of 845 jobs.   This week the Finance Secretary Derek Mackay chaired a task force to draw up a plan to save the factory. But it's not going to be easy. The Dundee plant needs massive new investment to make the larger tyres now demanded and the market is being flooded with cheaper imports.

There are brave efforts going on to reinvent Dundee as a stylish, modern city based on high-tech and bio-science industries.  Both the UK and Scottish governments have weighed in with a Tay Cities Deal worth £350m and the old waterfront is being redeveloped.  I visited the new £80m V&A Museum of Design which, shall we say, is a challenge to the eye. Its main exhibition, on the Cunard ocean liners built on the Clyde in the early years of the 20th century, was not what I expected in down-to-earth Dundee.  I gave it 5 out of 10.
On the jobs front, there is hope this week that a new use has been found for the old coal-fired power station at Longannet in Fife. The Spanish train builder Talgo announced plans to open a new factory on the site, employing a thousand people.  But only if it wins the contract to build 50 trains for Britain's new high speed line between London and the north of England (and possibly Scotland).
Our current train services are not exactly perfect. Scot Rail has had to be bailed out with a £23m advance on its government subsidy because of delays to the electrification of the Edinburgh-Glasgow line and disruption to services caused by Storm Ali in September.  The Labour Party held a debate in parliament on Wednesday calling for the franchise, currently held by the Dutch state-owned company Abellio, to be ended and for Scot Rail to be re-nationalised.  But the motion was defeated by 85 to 34.
We were somewhat shocked this week by news of an unwelcome European import….money laundering and slave trading, which we assumed had died out in the 18th century.   It all came to light in a 14-week long trial at Edinburgh Sheriff Court.  Four men from Latvia were found guilty of trafficking workers into West Lothian, keeping them under threat in poor accommodation and forcing them to allow their bank accounts to be used to launder money stolen in on-line banking scams.  Several million pounds is thought to be involved.  All four men have been remanded in custody and will be sentenced at a later stage.
As the Brexit saga comes to its crisis point, I'm left wondering why we are so obsessed by our neighbours across the sea.  The two issues of Europe and Ireland have loomed over British politics for centuries.  And both have been toxic.