Young people gathered in Scotland's capital earlier this week to debate and celebrate the rights of young people in a digital world at the first ever Young Scot 5Rights summit.
The summit was hosted in Edinburgh by the Young Scot 5Rights Leadership Group, a team of 30 young people from across Scotland who champion the cause. They are supported by Young Scot and the Scottish Government to deliver the 5Rights programme in Scotland to enable children and young people to access the digital world creatively, knowledgeably and fearlessly.
The 5Rights initiative promotes the five fundamental digital rights of children and young people – the right to remove, the right to know, the right to safety and support, the right to informed and conscious use, and the right to digital literacy. It is co-developed and co-delivered by the young digital rights champions.
Their work has influenced public policy of the Scottish Government including Realising Scotland's full potential in a digital world: a digital strategy for Scotland and the National Action Plan on Internet Safety for Children and Young People. At a UK level, the young leader's work supported the development of new laws called the Age Appropriate Design Code, which set standards for websites and app makers on privacy for young people under the age of 16.
At the summit, Scotland's Minister for Public Finance and Digital Economy, Kate Forbes MSP, met the young people alongside representatives of the British-Irish Council and Baroness Beeban Kidron, the founder of 5Rights, to discuss the important work of the project. The summit kicked off with a speech from the Minister followed by a group round table, digital workshops and an interactive seminar.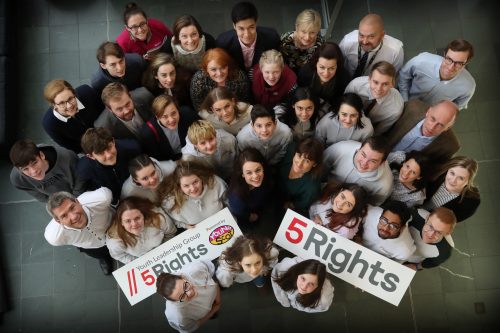 Minister for Public Finances and the Digital Economy Kate Forbes said: "It is more important than ever, in this, the year of young people, that the voices and opinions of our young people in Scotland are heard and respected. The 5Rights summit is a fantastic opportunity for the youth leaders to take the 5Rights agenda forward for Scotland and beyond.
"Huge efforts are being made to recognise the digital rights not only for young people but for all internet users. It is the intention of the Scottish Government to use the 5Rights work as the basis of a future proof and inclusive ethical framework, underpinning digital rights that will affect not only young people but everyone in Scotland."
Baroness Beeban Kidron, Founder of 5Rights, said: "The Young Scot 5Rights Youth Leaders have led the way in co-designing better digital policies and practice. Their vision has been extraordinary, and their voices speak on behalf of millions of children across the UK. Many of their recommendations form part of the thinking behind the Age Appropriate Design Code, recently introduced into UK law. We hope that they will bring the same thoughtful consideration to our consultations on behalf of the Committee of the Rights of the Child as we work towards a General Comment on the Digital Environment.
"Whenever I come to Scotland to meet the Youth Leaders I am energised and excited, and I talk about their work with policy makers across the world. I am proud to celebrate the Year of Young People 2018 with them in Edinburgh and commend the Scottish Government for their incredible support and engagement with the Youth Leaders."
Louise Macdonald, Chief Executive of Young Scot, said: "The 5Rights Youth Leadership Group's work is vital to how we see young people's rights online and off. The 5Rights Youth Summit is a fantastic way to bring everyone together for the Year of Young People 2018 as the 5Rights Youth Leadership Group continue to find new and exciting ways to support young people in a digital world."
For more information on the 5Rights Youth Leadership Group, please visit www.young.scot/5Rights