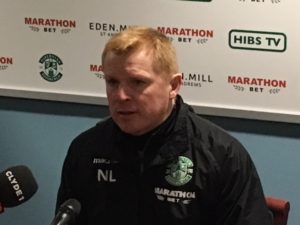 Hibs' Head Coach Neil Lennon is looking forward to returning to the stadium where he achieved tremendous success as a player and manager and he believes his players should be as well.
Speaking at the pre-match press conference, Lennon said: "I am looking forward to the game. It's a game that the players should look to on the fixture list.
"You are playing the champions at Celtic Park, which is a great stadium and it is a great pitch and great opposition. That is what you are in the game for.
"I felt as a player subconsciously in the English Premier League when I went to Old Trafford or Anfield it lifts you automatically.
"That is the stuff you dreamed of when you were young.
"I don't think there is anything to fear but there are concerns about playing a quality team and what they could to you.
"We are in good form and the boys are in good condition. I want them to compete, as we did that well in the four games against Celtic last season and we are looking for more of the same, but we could go to Celtic Park and get dismantled.
"Celtic can do that to anybody or we can go there and with the best will in the world perform to a level above what we are capable of."
The Northern Irishman also hit back at pundits who suggest that Hibs are mounting a title challenge and insists that it is much too early in the season to even consider such a possibility.
He continued: "We are only eight games into the season, not even a quarter of the way through, and people are talking about title contenders. Sorry, I don't buy that. We are not buying that. We will continue on as we are.
"You are looking at 33 games before the split and if you are in or about it then, with five games to go, then you have to say that you are in with a shout, apart from that, any time before that is just folly for me. I'm not sure we have the experience yet to go the whole way.
"We had a good season last year and if we can end around that or emulate it or better it then I will be absolutely delighted considering the quality we lost during the summer."