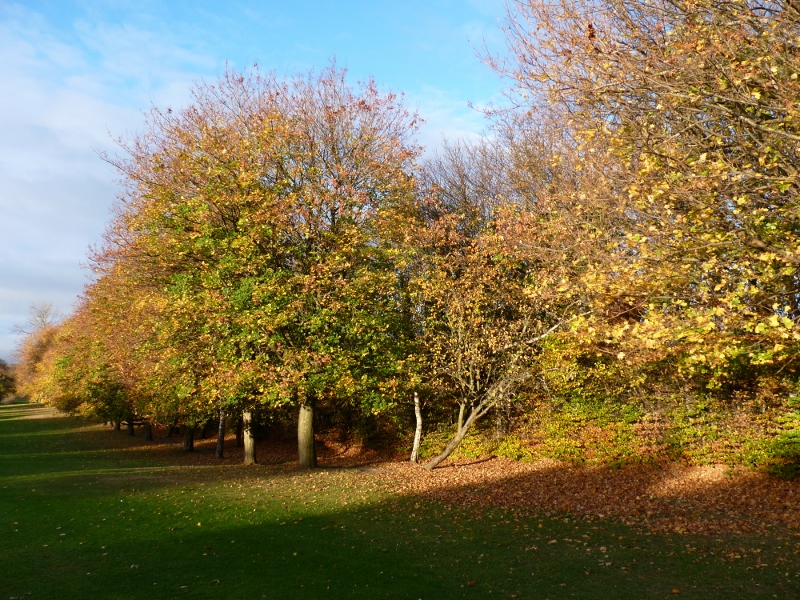 We Scots used to call it "the fall" until the Americans took possession of the phrase. The real Scots word "hairst" or harvest time is better. But actually "autumn" is the best of all, with its deep, calming sound suggesting a gradual decline into winter.  This weekend, it's all about falling leaves, Halloween, the clocks going back an hour and a chilly wind from the north.
It's not been a particularly happy week. There has been a lot of falling and failing.  We are especially worried about the National Health Service.  It's missed all of its eight targets on waiting times. The Auditor General has warned that it's "not financially sustainable".  The government has rushed in with a £850m rescue package.
Everyone is agreed that what is really needed is a shift from expensive hospital treatment to preventative medicine delivered at home. Some strides have been made in that direction, with the formation of local health partnerships with council care services and the establishment of local treatment centres in GP practices.  But a decade of striding has not resulted in a major shift away from hospital treatment.
And this week we had a case in point, Monklands Hospital in Lanarkshire.  Instead of asking, "should we be building a new replacement hospital ?" parliament was debating exactly where, within a 5 miles radius,  it should be built.  All parties have been pandering to the old belief that a hospital on our doorstep is the way to better health.
Another fall from grace we've been hearing about this week is on equal pay for women.  It was all supposed to be settled 12 years ago but Glasgow City Council has been dragging its feet on introducing a fairer grading system to ensure that jobs in care, cleaning and catering, largely done by women, are paid the same as dustbin collecting, janitorial work and gardening, largely done by men.  There is also a substantial backlog of compensation due to women for the years they have been underpaid. Some say it could amount to £500,000.
The anger among women finally boiled over into a 48 hour strike by some 8,000 school and care staff and Glasgow saw one of the biggest marches on equal pay ever to have been held in the UK.  Nurseries and primary schools were closed for the two days, care homes were disrupted and families had to provide their own care for elderly relatives at home.
The SNP administration on Glasgow council said they are in the process of implementing the new system of pay. But no one knows where the compensation money is going to come from.  Other councils across Scotland are looking on with some alarm because they could be next.
Brexit, of course, is all about falling and failing.  The latest twist in Scotland is that the Conservatives have fallen out with their leaders in London over the treatment of the fishing industry.  Theresa May has suggested that the transition period, under which Britain would  abide by EU rules, could be extended beyond 2020. This has annoyed the Tory-voting fishermen in the North East so much that David Mundell, the party's cabinet minister for Scotland, has threatened to vote against Mrs May's Brexit plans.  As Gilbert and Sullivan would say: "What a pretty kettle of fish."
Talking of comic opera, a glamorous lady from America has been posting pictures on her website of a hunting trip she made to the island of Islay to shoot…….sheep and goats.  Dressed in army camouflage, Larysa Switlyk, a TV huntress, is seen lying on the ground pointing a heavy-duty rifle at the "wild" animals of the island and claiming to be "having the time of our lives" hunting in Scotland.
If she thinks Scottish sheep and goats are some sort of Gaelic deer or mystic wild boar and can be a hunter's tourist attraction, she is riding for a fall.  MSPs in the Scottish parliament condemned this new American sport and began muttering that there must be a law they can make against it.
And the final fall from grace was the discovery this week that the number of fast-food outlets in Scotland has risen by a third in the last eight years.  There are 560 take-aways in Glasgow and 395 in Edinburgh. The chairman of the National Obesity Forum, Tam Fry (I kid you not) has called on someone, anyone, to make a law against them.
But getting back to the leaf fall, this is the season of sweeping up the leaves and building Halloween bonfires. I'll be doing both this weekend. As Robert Louis Stevenson put it:
"Sing a song of seasons
Something bright in all
Flowers in the summer
Fires in the fall."