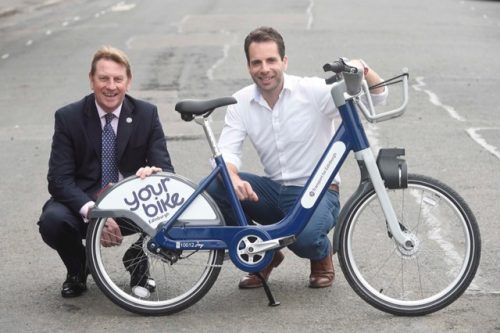 Mark Beaumont, who went round the world in a record breaking 79 days on two wheels, was confirmed last month as the face of the capital's Your Bike scheme.
The ultra-endurance cyclist and Edinburgh resident is the scheme's ambassador after receiving his own cobalt blue Pashley hire bike, named Joy. He will be testing the app, geo-docking technology and bike ahead of the official launch in September.
The scheme's operator, Serco signed a concession agreement with Transport for Edinburgh (TfE) earlier this year to introduce and operate the new cycle hire scheme for the City of Edinburgh. The initial three-year agreement will deliver at least 500 manual bikes by April 2019.
Operators Serco will launch the scheme with an initial 200 cobalt blue bikes in September. There will be 3 ways to hire a bike using a smartphone app:
Single trip
Day subscription
Annual membership
The scheme's hire charges will be as follows:
►    £1.50 for a single trip of up to 1 hour
►    £3 for a day subscription, allowing unlimited hires of up to 1 hour each in a 24 hour period
►    For £90 users can sign up for an annual membership, allowing hires of up to 1 hour each for 365 days
For each of the charging options, hirers can enable 'extended rentals' to enable trips of more than 1 hour.  Trips of over 1 hour will incur an additional £1 charge for each extra 30 minutes.