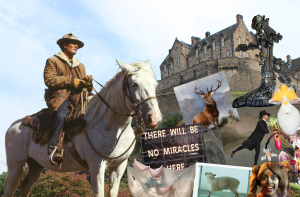 The month before the Fringe hits is a time for art lovers to prepare and rest before the full absurdity of festival.  It might be the quiet before the storm, but that doesn't mean you'll be bored.  From clay mountains to indie campouts, there's a chance for everyone to create.
July starts with a bang at the Fruitmarket Gallery and Tacita Dean's Woman with a Red Hat from 7 July to 30 September. Dean's use of pioneering techniques to play with truth and fiction and the element of performance behind this themes, has produced pieces only more weighty in today's society.
ECA's Dead Images exhibition continues with talks and tours showcasing the exploration into collected skulls.  The lunchtime talks begin with a deep questioning of the duplicitous side of western museum collections 'From touch to taboo: The ethics of handling human remains' 5 July, 12pm-1.
While it was sad to say goodbye to the Talbot Rice's impressive Trading Zones, the gallery's next exhibition Lucy Skaer |The Green Man, 26 July to 6 October, promises to be a stimulating look into the historical collection through reinvention, referencing Pagan and Christian religions, and the natural world.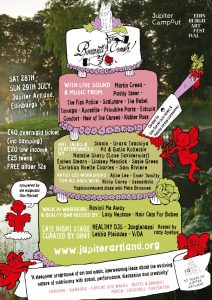 Maybe take a trip on the wild side and check out Jupiter Artland Campout Romanti-Crash!  From 3pm till early morning on July 28 campers can see music from Martin Creed, The Fish Police, Tomaga, and many more.  Talks and workshops from contemporary artists will also take place in the striking Jupiter sculpture park.
Ingleby Gallery continues to take advantage of their dramatic new gallery space in Broughton with Jacob's Ladder, 26 July to 20 October.  The exhibition includes artists like Cornelia Parker, Alicja Kwade, and Georges Méliès, whose work can be used to traverse the imaginative territory between the interstellar, the Heavens, and earth.
This month Rhubaba will be presenting a listening lounge curated by Andrea Zarza, a place where visitors can listen to archival and contemporary recordings which explore 'labours of love'.  All in a Day's Work, 28 July till 19 August, and will allow visitors to sit within in the gallery in listening stations and explore domestic struggle.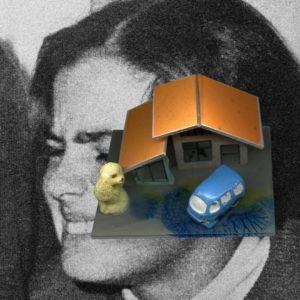 A look at current design and art processes can be found at Custom Lane where studio residents have been asked to relocate to the gallery where visitors can engage with the artists at work, 2 July to 2 August.
Dovecot Gallery presents the hotly anticipated LIBERTY Art Fabrics and Fashion from 28 July until 31 August.  Before this exhibition starts, visitors can enjoy a 3-Day Tapestry Weaving Workshop, with tickets still available to buy online, starting on 10 July.
Visitors to Edinburgh Sculpture Workshop can take part in Clay Mountain from 29 July to 12 August.  The experimental clay piece is a uniquely collaborative piece where it is free for anyone to alter the evolving four-tonne clay sculpture. This process will run for the first two weeks of Charlotte Barker's Flotilla also being shown at ESW.