What would you change if you could travel through time?
Remember PE kit. Cancel free trial. Call mum. Everyone writes instructions to their future selves. But what happens if the future starts writing back? Fringe first-timer Doctor Rosy Carrick is about to find out…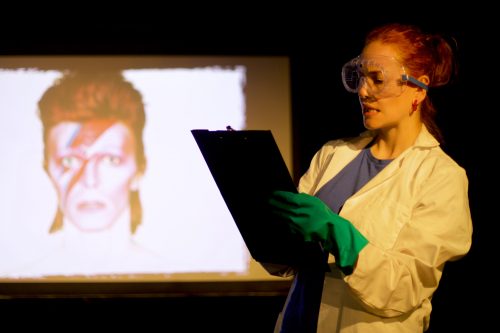 Pipping Jodie Whittaker to the post as the world's first female time travelling doctor, Rosy has been charged with the task of building a time machine. Why? Because her future self has already done so and is stranded 100 years in the past.
Thus begins a high-octane mission of science, sci-fi and serious attention to Arnold Schwarzenegger, as Rosy weighs up the glory of being a time travelling superstar against the fear that every decision she makes might take her into a parallel timeline and away from her predestined path. What if she's doing it all wrong?
Encompassing ideas around fate, destiny and self-determination, the narrative is told as a true story, weaving itself into real-life events until fact and fiction become indistinguishable. The magical realism of Passionate Machine does not require a suspension of disbelief – it invokes one.
Featuring a diverse cast of real-life characters including David Bowie, Vladimir Mayakovsky and Rocky Balboa, and set against the questionable theoretical framework of all your favourite time travel movies, Passionate Machine is an exhilarating, thought provoking and terrifically funny story about letting go, having the courage to take the untrodden path, and finding yourself – literally.
In preview at Brighton Fringe, Passionate Machine won the Best New Play Award. It is directed by Kate Bonna, Fringe First winner and Most Promising New Playwright at the 2018 Off West End Awards.
Dr. Rosy Carrick is a writer, performer and translator and one of the UK's most unusual
and exciting contemporary poets. She has co-hosted the Latitude Festival poetry stage since 2010, and is co-curator, alongside Luke Wright, of the Port Eliot Festival poetry stage. She has a PhD on the poetry of Vladimir Mayakovsky, and has published two books of his work in translation. Rosy's debut poetry collection Chokey is published by Burning Eye Books in June 2018.
Venue: ZOO
Charteris (Venue 124)
Dates:  3-27 Aug (not 4th)
Time:   15.30 (60 mins)
Tickets:
£8 – £10 (preview 3 Aug £6)
Venue Box
Office: 0131 662 6892 www.zoofestival.co.uk