A literal spin on the concept of women taking up space, critically-acclaimed Sleepless Theatre Company's Les Enfants Terribles Award-nominated play interrogates gender politics, power imbalance and the very notions of 'masculinity' and 'femininity' as a young couple find themselves in a world full of larger than life women.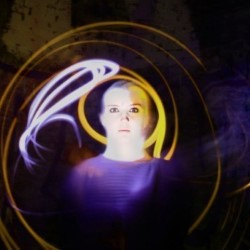 Earlier this year, Nine Foot Nine was showcased at the Royal Court Theatre as part of
their International Women's Day programme.
Across the world, something terrifying is happening: countless women are growing at an impossible rate, immune to the powers of science.
The patriarchal structures entrenched within governments, communities, families and the media are swamped by the shadows of these giants. Cara and Nate, a young couple trying for a baby, must adjust to their surreal new reality in which these 'sprouters' tower over their male counterparts, and confront their own
warped understandings of gender.
Sleepless Theatre Company take hyperbolic size differences as a playful and thought-provoking metaphor for the gender disparities ubiquitous in society, from pay gaps to the people in power, and examine it through the intimate eyes of a couple trying to grow a family of their own.