Army@TheFringe returns to the world's largest arts festival with an international line-up of shows that focus on diversity and on mental health.
The venue, at the historic Hepburn House drill hall, is run by the Army in association with Summerhall and will present a wide variety of productions from Scotland, elsewhere in the UK and overseas.
It will be the second time the Army has had its own Fringe venue and it hopes to build on the foundations laid in 2017 when Stand Bywon a Fringe First and 5 Soldierswent on to a successful UK and US tour.
This year's programme welcomes work such as Shell Shock, written and performed by former Brittas Empire and Allo, Allo sictom actor Tim Marriott.
It is adapted from Kosovo and Iraq veteran Neil Blower Watkins' acclaimed autobiographical novel about a veteran with PTSD. Created in association with military and mental health charities, Shell Shock is a multiple-award winning production that is thought provoking and poignant, "comic and convincing" (InDaily), and "fabulously witty" (Clothesline).
There is also The Troth, by Akademi, a physical dance work about love and loss which follows the fate of World War I south Asian soldiers from rural Punjab who find themselves in the trenches of Belgium 100 years ago.
Other productions bring influences and insights from Fijian, Icelandic and Polish perspectives. Shows such as Forget Me Nots, a gay love story set in Iceland in World War II, aim to encourage debate about LGBT+ issues.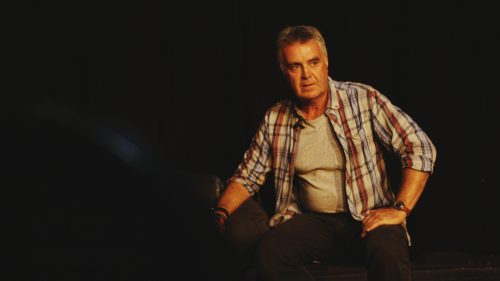 Many performances will be followed by audience discussions with panels of performers and serving soldiers. All the shows are independently produced and are not directly commissioned by the Army.
Brigadier Robin Lindsay, newly installed commander of 51 Infantry Brigade and Headquarters Scotland, said: "Army@The Fringe is an exciting opportunity for audiences to explore our world and values through a different lens. It was important to us that we built on last year's successful launch with a programme that is equally strong in quality but more diverse and international.
"Our productions for 2018 will offer a range of artistic insights which will act as catalysts for lively after-show discussions, and I'm sure audiences will enjoy the unique experience our venue offers.
"We are delighted to present it with Summerhall, which ensures the artistic rigour and quality of the programme."
Army@TheFringe is presented by Army Headquarters Scotland as a way of engaging with wider society through the arts and initiating discussion about soldiering.
It also offers an insight into military life by being presented at Hepburn House, which is a real Army Reserve Centre in Edinburgh's New Town that is being converted into a Fringe venue from 10-25 August.
The venue is staffed by soldiers who run the bar and front of house services, and who mingle with the public before and after shows.
See www.armyatthefringe.org for more.
The shows at this year's Army@TheFringe include:
·      The Troth, from Akademi
·      Forget Me Nots, from Rokkur Friggjar
·      InValid Voices, by Helen-Marie O'Malley
·      Shell Shock, by Neil Blower
·      Wired, by Lesley Wilson
·      Cezary Goes to War, Komuna Warszawa