National Museum of Scotland  | Chambers Street | EH1 1JF | Open 10:00–17:00 daily
Modernist Jewellery | 1 Dec 2017–15 Jul 2018 | Exhibition Gallery 4, Level 1, Grand Gallery | Free
Discover a generation of designers and makers who embraced innovative and diverse influences, from the natural environment to non-precious materials. This small display will highlight pieces from British and Nordic designers, that would go on to influence a new wave of jewellery production.
Art of Glass | 6 Apr–16 Sep 2018 | Exhibition Gallery 2, Level 3 | Free
Over the last 50 years, Britain has had a significant impact on how glass is perceived as an art form. Both national and international artists have based themselves here, drawn to the teaching and world-renowned facilities the UK offers.
Presented in partnership with The National Centre for Craft & Design, this exhibition examines the diverse work of established and emerging glass artists working in Britain today. Explore how they are embracing the medium of glass in new and exciting ways, pushing the boundaries of techniques and challenging the perception of glass as merely a material for creating functional objects. Featuring a selection of innovative works, Art of Glass reveals an inspirational snapshot of glass art today.
Supported by a Jonathan Ruffer Curatorial Research Grant from Art Fund
Hidden Gems: Scotland's Agates | 4 May-2 Sep 2018 | Exhibition Gallery 4, Level 1, Grand Gallery | Free
The deceptively simple exteriors of agates conceal an enormous spectrum of colour and texture. Discover how and why these beautiful semi-precious Scottish gems have captivated collectors past and present.
National War Museum Edinburgh Castle, EH1 2NG | Open 09:45–17:45 daily
The Poppy: A Symbol of Remembrance | 30 Mar 2018–27 Jan 2019
Included in Edinburgh Castle admission
This exhibition examines the history of the poppy and its emergence as a symbol of remembrance. Through a variety of objects, photographs and interviews, the exhibition will explore the manufacture of poppies in Scotland, the charitable work of the poppy appeal and present a reflection on recent debates about what some regard as the politicisation of the poppy as a symbol. The Poppy: A Symbol of Remembrance coincides with the centenary of the conclusion of the First World War, and concludes a commemorative programme of events and exhibitions relating to the conflict.
 At the National Museum of Scotland 
Tim Peake's Soyuz Spacecraft | 17 May–4 Aug 2018 | Hawthornden Court Free (there is a £5 fee for the Space Descent VR experience)
See the Soyuz spacecraft used for astronaut Tim Peake's return from the International Space Station and experience his journey back to earth in the accompanying virtual reality adventure.
Presented by Samsung and the Science Museum Group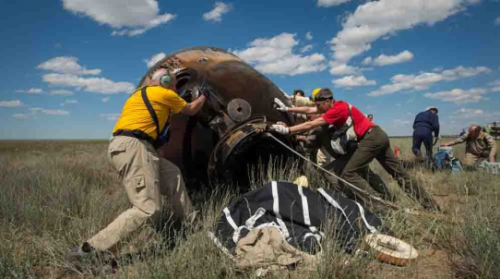 Space Descent VR with Tim Peake | 17 May–4 Aug 2018 | Hawthornden Court | 10:30–16:00 | £5 (advance booking recommended)
Suitable for ages 13+
Experience Tim Peake's journey back to earth in the Soyuz space capsule in this virtual reality adventure. Tim Peake is your guide for this out-of-this-world virtual reality mission that puts you in the pilot's seat of a Soyuz capsule – just like the one that brought him home. Using the latest state-of-the-art VR technology, you'll get a 360° look inside a Soyuz capsule and experience the thrill of being an astronaut as you retrace Tim's journey back to Earth from the International Space Station.
Presented by the Science Museum Group. Supported by Samsung
For adults
Craft Scotland Conference – New Ways of Seeing | 7 Jun – 8 Jun 2018 Auditorium, Level 1. Entry via Chambers Street
£125, £70 Conc, £95 early bird
The Craft Scotland conference offers makers, curators, industry specialists and those interested in contemporary craft the opportunity to get inspired, share knowledge, and make connections.
Study Afternoon: The Fettercairn Jewel | 12 Jun 2018 | 14:00 – 16:30 Auditorium, Level 1. Entry via Chambers Street | £10, £8 Members & Conc
Acquired in 2017, this rare locket conceals secrets which may shed new light on the Renaissance in Scotland. Join our study afternoon as curators and conservators discuss their work into unravelling the mysteries of this precious object. In partnership with Royal Collection Trust
National Museum of Flight East Fortune Airfield, East Lothian, EH39 5LF
Awesome Bricks | 16 Jun – 17 Jun 2018 | 10:00-17:00
Early Bird prices, until Sunday 3 June: Adult £12/Concession £10.50, Child £8.50 (under 5s free), Family of 4 £32
Ticket prices from Monday 4 June: Adult £14/Concession £12 Child £9 (under 5s free), Family of 4 £37
National Museums Scotland Members free
Join in with for two days of brick-tastic adventures and master the art of building with LEGO® bricks. Build awesome structures in the big brick pit, see amazing displays made by LEGO® enthusiasts and join renowned brick artist Warren Elsmore and team for an exciting big build.