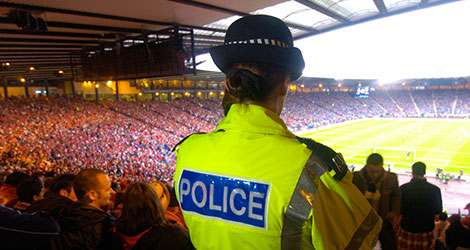 Police have issued a statement thanking vast majority of these fans who attended the Aberdeen v Hibs game at Pittodrie on Saturday afternoon.
Most were extremely supportive of officers on the ground however, a very small number of people were charged in connection with various offences before and during the game despite repeated warnings that anti-social behaviour of any kind would be robustly dealt with.
A 29-year-old man from Edinburgh was arrested and charged following a disturbance at a bar near the stadium before the match (there were no reports of anyone being injured) and for also allegedly being in possession of a Class A drug.
A 44-year-old man from Edinburgh was charged and issued with an anti-social behaviour ticket for allegedly urinating in the cemetery near the stadium, while a 59-year-old man from Aberdeen was arrested and charged in connection with making alleged sectarian and offensive comments during the match itself.
A 19-year-old man from Aberdeen was arrested for the alleged possession of alcohol within the stadium, while a 59-year-old man was charged in connection with an alleged assault within the grounds (no one was injured).
Meanwhile a 16-year-old teenage boy from Edinburgh was also charged after a car was vandalised in the Park Road area in the lead-up to the match.
Stewards ejected three people from the grounds during the game, while six people were refused entry mainly for alcohol-related issues and/or unacceptable behaviour.
Match Commander Chief Inspector Murray Main said: "I hope the quick, robust action taken by officers and stewards at the weekend serves as a clear reminder to those who choose to behave in an anti-social or otherwise unacceptable manner at football fixtures.  We will do everything we can to ensure they face the full consequences of their actions whether that's before, during or after a game.
"The overwhelming majority of people who turned up were extremely supportive and helped the match pass without any significant disruption. Unfortunately, there is often a handful of people who think of themselves above the law and choose to behave completely inappropriately. In this case a number of people were quickly identified and arrested and will be reported to the Procurator Fiscal.
"With another high profile match in Aberdeen tomorrow night, I want to remind the public that there is absolutely no place for anti-social behaviour in any form. I would ask that everyone supports our officers and the football stewards working in the ground as we make every effort to ensure everyone gets in and out of the stadium, and the city, safely.
"By committing crime or behaving illegally or inappropriately you are letting yourself, your family, your club and fellow supporters down.  Remember, your actions are your responsibility."