The deal for a new bike hire scheme for Edinburgh has been agreed, and  the contract will be signed this month.
200 of the new bikes will be on the city's streets by this summer with more to come as and when they are manufactured by Stratford upon Avon based cycle company, Pashley.
The new bicycles will be a mix of e-bikes and ordinary bicycles with three gears specially calibrated for Edinburgh's hills.
I met Transport for Edinburgh, George Lowder who was very happy to show off Jeff and Rob two of the prototypes which have been delivered to the council by Serco ahead of the deal being completed (and I had a wee shot on one too!) They are very similar to the Dublin Bikes which I have used in the past. The bike itself is a little heavier than a normal bike, but still easy to use – and with a handy parcel shelf in front.
The first half dozen bikes have been given the name of the person who built them, and who knows, perhaps the others might get names too!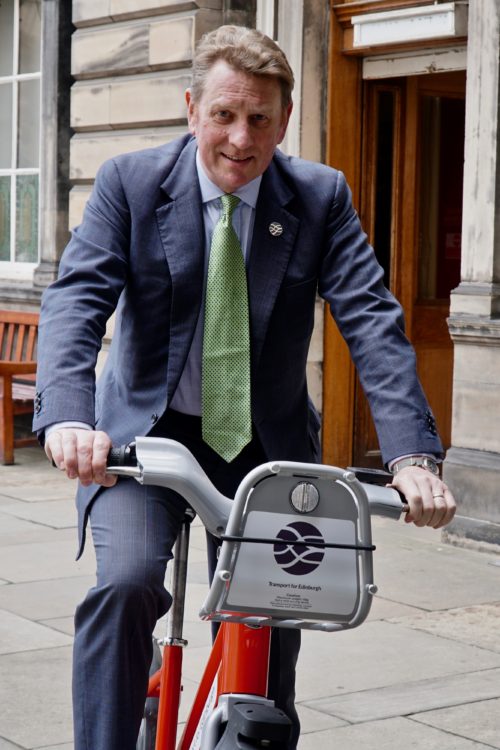 The bikes will be parked in docking stations in a similar way to the Dublin Bikes which are such a success.
The city council already spends at least 10% of its transport budget on improving cycling in the city for those who rider their own bikes, and one of the administration pledges is to reduce congestion. The next cycling scheme will be the City Centre West to East Link (CCWEL) project which is expected to begin in 2019. There were two public drop-in sessions last month which is part of the consultation process. This route affects many individual places on the way including Roseburn, Melville Crescent and Randolph Place.
The council did consider a bike hire scheme over 10 years ago but shelved it because of the cost.
Now the council is set to strike a deal with Serco who have run the London Bikes since 2010. The scheme has doubled in size since then and now has 12,000 bikes covering 800 docking stations. Serco also run the Caledonian Sleeper which will introduce new carriages later this year.
Both Labour Councillor Gordon Munro and Green Councillor Claire Miller happened to be in the quad when we were taking photos and since they are not only both cyclists, but also supporters of the move we included them in the photos!
Councillor Munro very much approves of the colour of the new bikes. Councillor Miller represents the City Centre where the bikes will first be situated and she is particularly pleased about the introduction of the bike hire scheme.
George Lowder is clearly pleased to have got this scheme over the line and it would appear that he is happy with the deal done with Serco. More details are expected very soon.