An Edinburgh mum of three who placed the 400 millionth order with Just Eat has won a free flight to the US on the side.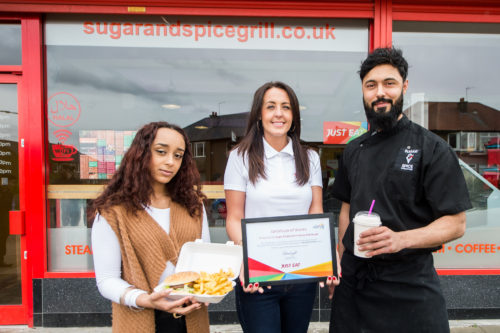 Gabriella Hicks from Edinburgh, who placed Just Eat's 400 millionth order said: "I use Just Eat regularly, so to have placed its 400 millionth order is a lovely surprise.  I ordered a cheeseburger from my favourite takeaway and now I've won a flight to America, I am beyond thrilled."
Mrs Hicks ordered cheeseburger from Sugar & Spice Grill House on Colinton Mains Drive. Little did she expect what would come as an extra to the order. The restaurant also wins something as they get an electric scooter to help with their deliveries. They also get a bespoke advertising campaign to raise awareness of the takeaway.
Sugar & Spice Grill House is one of Edinburgh's highest rated restaurants on Just Eat and is also a Just Eat Local Legend.  Just Eat Local Legends are rewarded on a number of factors, including a loyal customer base who reorder time and time again, meaning they're loved locally, and come highly recommended.
Graham Corfield, UK Managing Director of Just Eat said: "We couldn't have reached our 400 million milestone without our loyal customers and dedicated restaurant partners.  We're giving our restaurant partner a brand new electric scooter, which will help them be more eco-friendly when delivering food.  We also hope Gabriella enjoys her trip to the States – the country that's home to the all-American cheeseburger that got her there."
Just Eat customers have lodged three orders per second in the UK over the last year. With 10.5 million customers they have grown since 2006 when they first set up a deal with Verona Pizza in London to deliver their meals. This is a business which keeps on growing with 100 million orders being placed in the last 11 months alone.