The council will decide later today to move forward with exploring how a Low Emission Zone would work in Edinburgh.
This is one of the administration commitments in their business plan, but The Scottish Government also  demanded introduction of trial zones in four major Scottish cities  in 2018. At the time this was announced in December last year the Conservatives claimed the time scale was unrealistic and of concern to motorists.
The decision today recommends that the LEZ is established to protect residents against the harms which come from poor air quality.The zone could be set up on a combination of geography and vehicle restrictions.
The council agrees that by reducing carbon emissions across the city they would help improve health across the city, particularly that of the young, the elderly and those with breathing and cardiovascular conditions.
The council has computed from World Health Organisation figures that 205 people die prematurely each year as a result of poor air quality.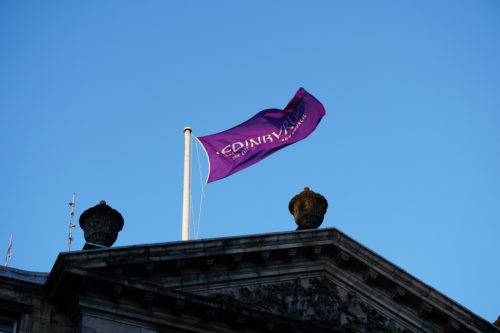 The Scottish Government wants the air in Scotland to be the best in Europe according to its 2015 report Cleaner Air for Scotland.
There are no specifics set out in the plans and further discussion on the measures will take place at the City Chambers on 9 August when the Transport and Environment Committee next meets. This will also encompass discussion around the Central Edinburgh Transformation Project and the City Transport Strategy to ensure all of these are aligned.
Friends of the Earth Scotland Air Pollution Campaigner Emilia Hanna said: "It's good news for the City and for people's health that Councillors are progressing plans for a Low Emission Zone for the capital. Edinburgh has on-going illegal and unsafe levels of air pollution years after health deadlines, and Low Emission Zones have been identified as a key way to keep the most polluting vehicles out of the most polluted places. Many modern European cities now have Low Emission Zones, and it's time Scotland's capital caught up. With 200 early deaths every year from toxic air, and air pollution linked to heart attacks, cancer, and stunted development in children and babies, the Council is doing the right thing to tackle it via a Low Emission Zone.
"It is important that Edinburgh's Low Emission Zone is ambitious enough to make deep reductions in air pollution. We want to see an LEZ that restricts the most polluting buses, vans, and lorries from the outset, followed by cars shortly after, and covers a wide area of the City. The Zone must be coupled with continued improvements to our public transport, walking, and cycling networks, so that drivers are encouraged not to drive unless they really need to."