Cocktail bar BABA – an extension of the popular Levantine inspired restaurant BABA on 130 George Street – has launched its summer cocktail menu early boasting expertly crafted cocktails that bring unique and refined flavours with a Levant twist for those already set for summer celebrations.
Mr BABA's bar on Edinburgh's George Street has launched a visionary summer cocktail menu, alongside a carefully curated wine list from the eastern Mediterranean and a mezze bar food offering.  Together, the creative food and drink combinations are set to take locals and visitors alike on a journey of discovery with innovative flavours, aromas and artistry.
Cocktails are all inspired by the eastern Mediterranean and contain a twist on traditional favourites. Gin-based cocktails include the Olive Oil Negroni – sacred juniper gin, absenteroux, rosehip cup, campari, extra virgin olive oil (£9.00); Almond Blossom – saffron gin, lemon, almond, rose, egg white (£7.50); and Sesamartini – sesame gin, dry vermouth, orange and mandarin bitters, served with halkidiki olives (£8.50) Other cocktails inspired by the Levant region include the whisky based Barberry Sour (£8.50) and vodka-based twist on the classic Bloody Mary, the Bloody Mariam (£8.00).
The destination cocktail bar has its own street entrance, and unique interior design which signals the inimitable identity of the space within. A specially-commissioned mural of the 'host', Mr Baba, a fictitious character based on a vintage photograph found in a souk in Turkey, provides the backdrop to the bar counter.
Ellen Stott, BABA Manager, said: "Cocktail bars should be a place to escape, explore and experience. We take all elements into consideration with each cocktail we create to ensure every new taste experienced at BABA takes our guests on a journey. As well as the chemistry and the artistry of presentation, there's also geography under consideration – inspirational ingredients and where they come from is very much at the heart of everything we do and serve at BABA, from the food, to the cocktails, to the wines."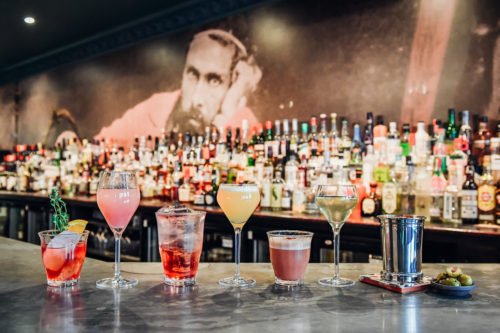 All of Mr BABA's cellar wines have been carefully selected from the eastern Mediterranean including Cyprus, Lebanon, Turkey and Greece. Wines include Blanc de Blanc, Chateau Ksara, Bekaa Valley, a white wine from Lebanon's oldest winery, and Agiorgitiko, Erythros, Domaine Papagiannakos, Attika, a refined winemaker from Greece.
Other offerings at the BABA bar include a selection of 24 rums, 30 gins and 36 varieties of whisky, from Scotland to Japan, including Bunnahabhain 18 year, The Macallan Rare Cask and Ailsa Bay.
Another unique offering at the bar is bespoke cocktails – Bar Manager Kelsey Wood explains: "At BABA we know there's still a time and place for a just-for-you drink carefully personalised to your specifications by an attentive drinksmith. We have created an incredible menu of levant inspired cocktails but always make the time to work with customers on a unique refreshing drink to their liking if that's what they are looking for to get into the spirit of summer."
The bar interior has been designed by award-winning designers at Goddard Littlefair, and the PRINCIPAL hotel design team. The bar itself, refurbished with a re-finished, dark-stained, timber bar front and re-used zinc bar top, is replete with the signs of ageing and character from its previous life. The bar ceiling is painted in a rich teal tone, with multiple antique framed mirrors attached to it, reflecting the activity beneath.
The interconnecting spaces within the restaurant pay homage to period elements of the buildings such as the Georgian-era tiling designs infused with Levantine influences such as a vibrant colour scheme, industrial 'distressed' design finishes, rugs hanging on the walls, vintage travel posters, and lots of mirrors to refract interesting views.