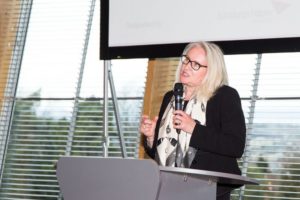 More than 150 bright young minds from across Edinburgh and the Lothians came together last week to celebrate entrepreneurial success.
Pupils from 17 schools across the region were rewarded for their hard work and dedication in the 2017/18 Young Enterprise programme at a presentation and awards ceremony at Edinburgh Napier's Craiglockhart campus, with the University sponsoring the event.
The youngsters were united in their efforts in the programme, which encourages students aged 16 to 18 to set up and run their own company over the course of one academic year.
The budding entrepreneurs elected a board of directors, raised share capital and marketed and financed a product or service of their own choice, developing skills and getting invaluable practical experience.
Over the course of the evening, 14 awards were handed out and the Young Enterprise teams delivered well-polished presentations on their experiences. The ceremony culminated with the 'Best Overall Company' award, which was presented to Negotium
from
Boroughmuir High School.
Gail Boag, Dean of the Business School, said: "Edinburgh Napier University Business School was delighted to host the event in recognition of the great work Young Enterprise do, supporting young people across three themes of employability, enterprise and empowerment.
"I particularly enjoyed hearing from the teams about their various business ideas, the successes and the challenges encountered along the way. Their confidence and enthusiasm shone through and every team member should be very proud of their achievements."
At the awards ceremony, the pupils also heard an honest and inspiring account of starting a business from young entrepreneur and Edinburgh Napier alumna Sydney Chasin, whose popcorn-alternative sorghum snack brand lil'POP was launched with a big bang last month.
Dr Kirsteen Grant, Young Enterprise board member, judge and presenter of the 'Best HR Director' award, said: "Young Enterprise provides young people with a fantastic platform to experience the process of starting and running a small business. The Young Enterprise journey equips them with key employability and transferable skills, for example, around people and financial management and customer service."
Photo  Gail Boag delivering her opening address
Photo credit:
Olga Tjukova, Young Enterprise