I walked into an Irish bar in Manhattan which is festooned with Saltires and who was sitting on a bar stool but….Alex Salmond..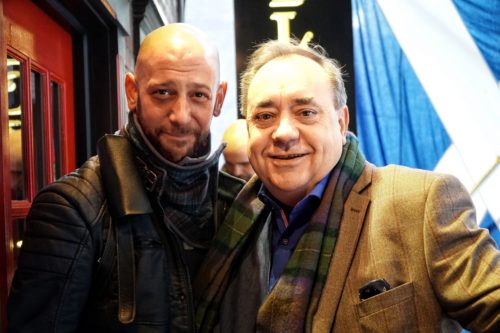 The former First Minister is in the States with a production team and a film crew working on interviews for his show on RT. His interview on Friday night was with Howie Nicholsby of 21st Century Kilts in Thistle Street who is himself a former Grand Marshal.
But he has been to Tartan Week many times before, except during election weeks.
Alex told me that he achieved a lifetime ambition yesterday by singing on the stage at Carnegie Hall after filming an interview there. Only a small audience of his team got to hear him singing 'When Irish Eyes are Smiling', but he gets to brag about the experience nonetheless.
And we can now exclusively reveal that he will speak with 'an extra special and very surprise guest', the former Catalan minister, Professor Carla Ponsati on his touring talk show which was a sellout success at last year's Fringe, and which has a couple of dates in Dundee and Edinburgh later this month.
"I am sure that folk in Dundee and Edinburgh at the end of this month will be most interested in what she has to say."
And off he went, posing for a few selfies with people in the bar, and heading for the nation's capital for more political interviews (the boring stuff), but no meeting with President Trump appears to be planned.
Walked into a bar and met….. #NYCTW @AlexSalmondShow pic.twitter.com/HYRJSwX8kC

— Edinburgh Reporter (@EdinReporter) April 7, 2018