Later this month Riddle's Court will be the venue for  a major live music event featuring Edinburgh-based Sink along with folk songwriter Jemima and the Fuse.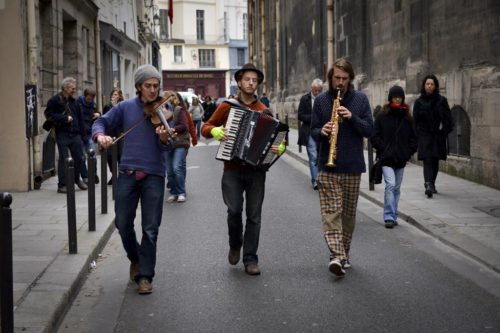 The venue has been used in the past for Fringe shows, but this is regarded as a new beginning after extensive renovations to the fabulous building were completed last year.
Sink are a dynamic well known band who will use the venue to produce improvised and pre-written material. Movement around the building may well feature, so bring your dancing shoes!
The band is formed from three instruments accordion violin and soprano sax and you can get a little taster here.
Sink appeared at Latitude Festival's BBC Introducing Stage by Radio 3 DJ Max Reinhardt, and they have been extensively showcased on BBC Radio 6 music.
Jemima and the Fuse grew up in the Highlands and sings traditional songs as well as her own material. Tim Lane percussionist will accompany her.
CLICK HERE FOR TICKETS for the Riddle's Court Sessions concert on 22 March 2018 at 7.00pm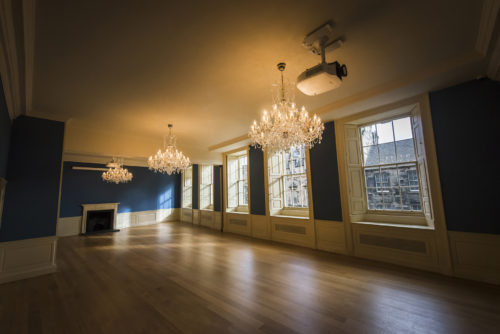 THE VENUE
You can be forgiven for not knowing about the venue as it is tucked away down a close at the top of The Royal Mile, but only just as it is one of Edinburgh's real jewels and well worth a visit.
It has south facing rooms featuring fabulous decorated ceilings and interiors which have all been brought into the 21st century and are now available for hire for meetings, events and weddings.
Scottish Buildings Historic Trust who run the building are also involved in the Custom  House project in Leith. The charity runs a diverse learning programme at both venues including walking tours, lectures and workshops. They have an exciting lecture series coming up in May/June but we are as yet sworn to secrecy!
VIVENDO DISCIMUS (By living we learn)
The Patrick Geddes Centre is a key part of what goes on at Riddle's Court. It is a centre for learning and embodies the legacy of Geddes who died in 1932. As an educator, conservationist, town planner, sociologist, philosopher, botanist and ecologist he worked at the University of Edinburgh and at Camera Obscura (formerly the Outlook Tower).
Education was central to his approach to regeneration of the Old Town where he made many improvements to the living conditions.He is regarded as a major influence on town planning.
Regarded as a great philosopher the Patrick Geddes Centre nurtures learning through 'Hand, Heart and Head'. Learning by doing is central to the education programmes which are conducted there.
As a Friend of SHBT you would be invited to the Annual Reception and receive special newsletters and invitations as well as discounts on room hire.
Read more below: