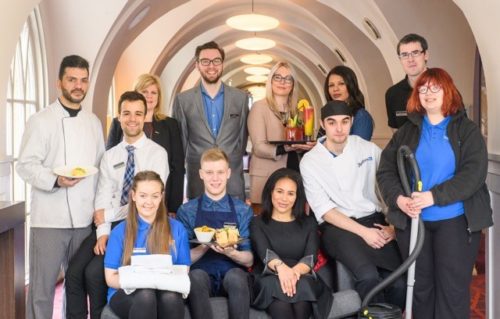 2018 is Scotland's Year of Young People and the hospitality industry is eager to be recognised for the opportunities it offers for young people to gain skills and a rewarding career.
The Radisson Hotel Group have announced a pilot partnership with Hub International, a Glasgow-based hospitality training provider to help encourage people in Edinburgh and elsewhere to consider a career in hospitality.
Over the past six weeks, 15 candidates have been undergoing an employability programme based at Radisson Blu Edinburgh on the Royal Mile and its 5-star sister hotel, the Radisson Collection Hotel, Royal Mile Edinburgh. The candidates have been gaining an insight into practical skills and certification in key hotel functions.
The candidates, from Edinburgh and Midlothian, were identified initially by Hub International who worked with Job Centre Plus, local schools and charities. Next month, those who successfully complete the programme are likely to move in to full-time employment in the hotels. They will then progress with further hospitality training through the Modern Apprenticeship programme with the opportunity to complete Scottish Vocational Qualifications (SVQ's).
Providing advice and guidance have been Helen Vass, Winner of BBC2's Bake Off Crème de la Crème, David Monaghan and Simeon Rosset.
Sarah Clark, Director of Human Resources for Radisson Blu Edinburgh, commented: "It's no secret that Scotland's hospitality industry has a pressing need to identify, train and retain individuals with the desire to pursue a rewarding career in the sector.
"This pilot partnership programme with Hub International reflects a step-change in our approach to ensuring Radisson Blu Edinburgh and Radisson Collection Hotel, Royal Mile Edinburgh can consistently develop the skills of individuals throughout Edinburgh and beyond who are interested in a hospitality career.
"I am pleased how this initial pilot has progressed and we would hope to see these candidates progress to full-time employment with Radisson Hotel Group."
Stephanie Wade, CEO of Hub International, added: "I often hear that young people don't want to work in hospitality. In my experience, this isn't true. They just need a chance to understand what hospitality entails and someone to believe in them.
"It really helps if the young person's first experience of work is a positive one, with a good employer that will invest time in training and development. The Hi! Hotel School is a high energy, fast track employability programme which gives youngsters insight to the industry, practical skills, qualifications, and experience, coupled with inspiring role models to lead them in to these great careers.
"It's an approach that has proven to be a hit with the candidates, with 100% of the trainees who complete the programme eager to start their apprenticeships with the hotel group. Just months ago, these young people were unemployed, lacking in confidence and self-esteem and would never have believed they could secure employment in top hotels. Now they see a future and a career. It's great to find an employer that's as passionate about helping the unemployed back on their feet as I am. It's an absolute pleasure to partner with Radisson Blu Edinburgh and Radisson Collection Hotel, Royal Mile Edinburgh."
Email info@iangeorgesonphotography.co.uk
Mobile 07921 567360
Facebook @iangeorgesonphotography