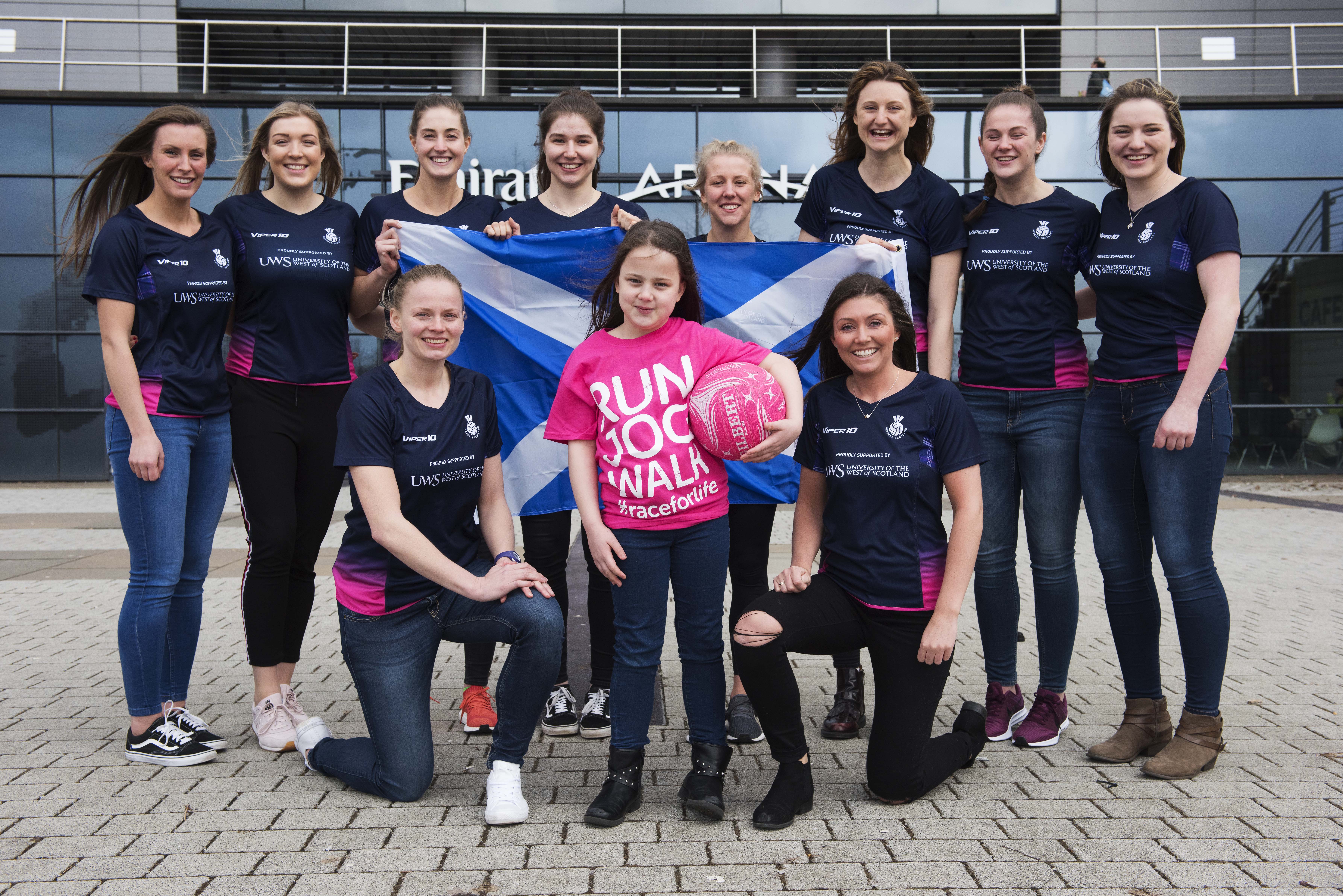 Scottish netball stars are going for gold in the Commonwealth Games cheered on by one of their bravest fans.
Nine-year-old Amy Reid who lost a kidney to cancer was treated to a VIP tour of the Emirates Arena Stadium in Glasgow by the Scottish Thistles national netball team.
Amy has been invited to be the captain's mascot on their return from the Commonwealth Games.
The visit was organised to boost awareness of Cancer Research UK's Race for Life events this spring which raise millions of pounds to fund crucial research.
Every hour, four people are diagnosed with cancer in Scotland and members of Netball Scotland have pledged to take part in Race for Life Glasgow on May 20 at Glasgow Green and they are urging other women and girls across Scotland to sign up.
Claire Browne, Thistles' captain, said: "We were all moved and inspired by Amy's courage and bravery."
Amy of Coatbridge, North Lanarkshire, endured a life-saving stem cell transplant and her family have raised funds for Cancer Research UK by taking part in the 5K at Race for Life Glasgow every year since Amy was diagnosed with the disease in September 2012.
This year, as Amy takes her place on the start line along with her mum Laura, 39, and sister Sophie, two, she'll also be cheered on by her dad Robert, 41, and brother, Gary, 19.
Amy's mum, Laura said: "Amy has kept us strong through it all. At the time we couldn't see a light at the end of the tunnel. We thought Amy was never going to get through this. It was frightening. Now looking at her, I can't believe she was ever so ill. Her recovery has been amazing."
Cancer Research UK Race for Life organisers are appealing for women and girls to stride out to beat cancer sooner this spring with Scotland's first Race for Life 5K of the year kicking off in Stirling and South Queensferry on May 13, closely followed by 5K, 10K and Pretty Muddy 5K events across the country, everywhere from Glasgow to Aberdeen, Fife to Falkirk, Dundee to Irvine.
To enter Race for Life today visit raceforlife.org or call 0300 123 0770.