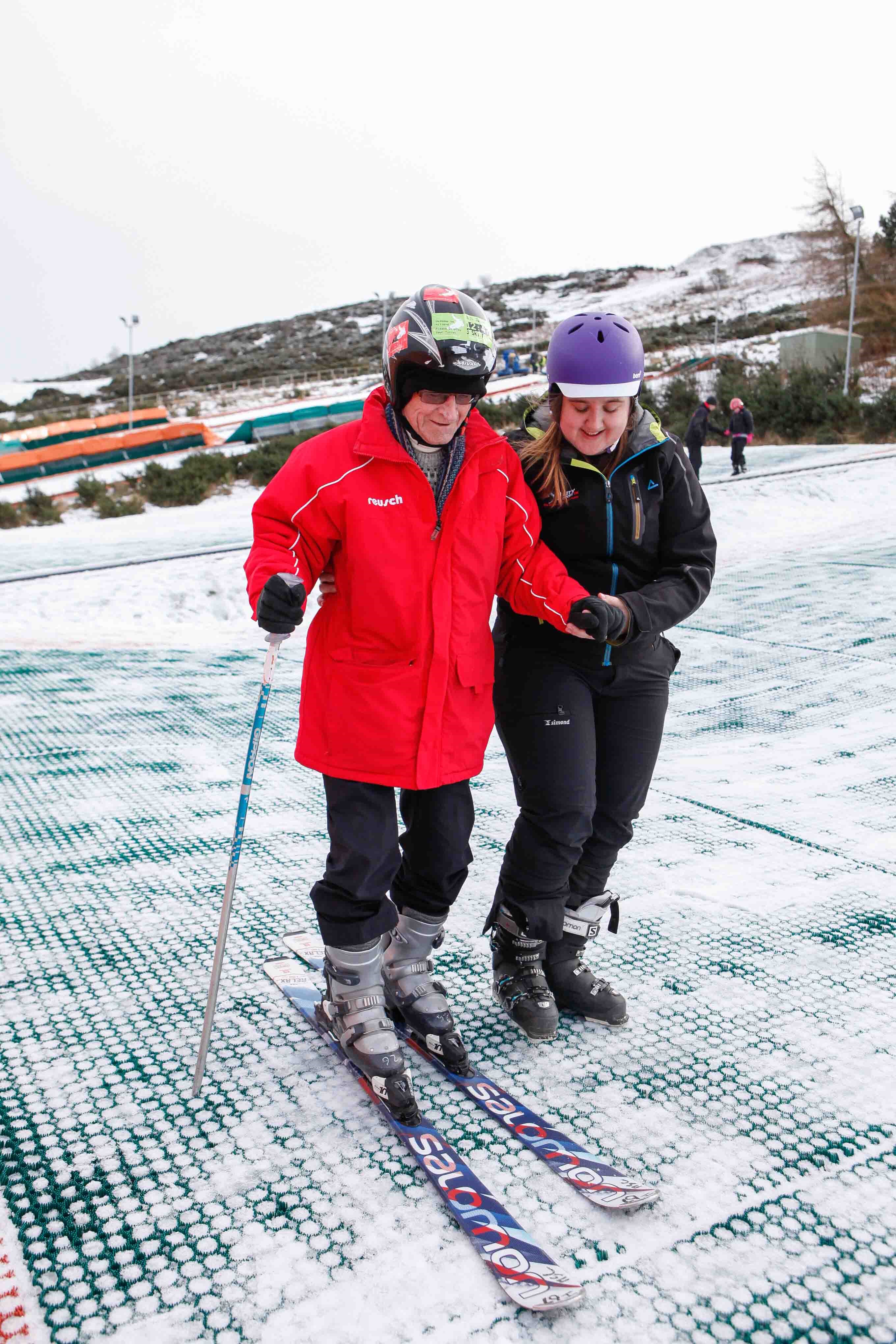 A blind Second World War veteran has taken to the slopes for the first time only two days after his 96th birthday.
Gordon Mills, of Edinburgh, had his first ski lesson at Midlothian Snowsports Centre.
Gordon said: "It was a little harder than I imagined, but extremely worthwhile. I enjoyed it very much.
"My lack of sight was a bit of a challenge, but the feeling was quite amazing."
Gordon served in the Royal Air Force from 1941-46, taking part in the Burma Campaign. He was later attached to the Navy and then served in 300 Parachute Squadron of the Royal Engineers (TA).
The great-grandfather of six began to lose his sight around 20 years ago due to age-related macular degeneration (AMD) and joined Scottish War Blinded in 2014.
The charity gives free support to ex-service men and women of all ages, no matter if they lost their sight during or after service.
But Gordon's sight loss hasn't stopped him living an adventure-packed life which has included trying hot air ballooning, paragliding and flying in a glider.
Lauren Henderson, instructor for Disability Snowsport UK (DSUK) said: "He was absolutely brilliant.
"Gordon is the oldest person DSUK has ever instructed. To try skiing for the first time at 96 is an incredible thing and he really rose to the challenge."
Last year Gordon also took on a 70ft abseil at the Edinburgh Indoor Climbing Area.
Now he is looking forward to trying off-road 4×4 driving with Scottish War Blinded, as well as going up in a glider once again.
Gordon's wife, Yvonne, aged 74, described her husband as an adrenaline junkie.
She said: "Nothing fazes him. He's more afraid of wasps than he is of extreme sports."
If you or someone you know could benefit from Scottish War Blinded's activities and support, call us free today on 0800 035 6409 or contact us online at www.scottishwarblinded.org