Ahead of the new legislation coming into force in May, Edinburgh law firm Gilson Gray are running a training programme which you can take part in from your desk. This will ensure that you are au fait with the new data protection legislation, General Data Protection Regulation (GDPR).
This training is designed to be affordable and comprehensive, and has been developed with training company Apex Training. It is the first of its kind to be City & Guilds accredited.
All businesses and organisations must comply with the GDPR requirement to protect personal data. The new laws give more control to consumers over the data held by organisations.
You can now demand to know what information is held, who it has been passed to and for what purpose it is used. Any breaches incur a significant fine of up to a 20 million euro maximum. There is also the possibility that individuals can claim compensation for breach of privacy.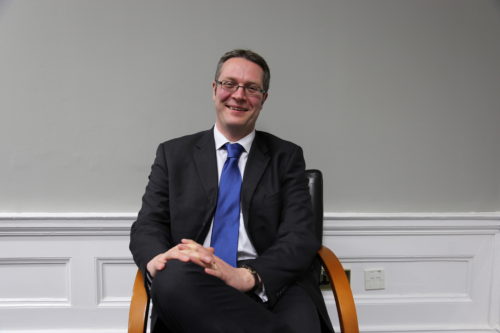 Derek Hamill, Head of Corporate Law at Gilson Gray, said that although the deadline for compliance is looming, many businesses are unsure of what they need to do – or how to do it.
Derek, who holds a Masters in IT and Telecomms Law, said: "GDPR will affect every customer-facing organisation, yet the majority are unaware of the legislation with just a few months to the deadline for its introduction.
"No one should believe this is only of concern to big businesses. Virtually everyone – such as care homes, marketing firms and even hairdressers – holds data and so need to comply.
"GDPR raises the privacy bar. Organisations must be able to locate the personal date they use, understand its purpose and appropriately secure it — no matter where the data is stored or how it is shared. And they need to be sure they have consent when they use that data.
"This is not an IT problem. It is a cultural issue. While there is a need for urgent action at senior level, it is also important that staff at businesses and organisations know their responsibilities.
"Our GDPR training package provides a tool to give employees knowledge and understanding to comply with the new legislation.
"As well as being uniquely City and Guilds accredited and highly cost-effective, the training has been developed to combine the required legal know-how via Gilson Gray with the expert training skills of Apex Training.
"The training product also underlines the philosophy of how we do things at Gilson Gray, to be the best law firm in the country by constantly challenging convention and to seek new ways of working to improve the service we give to our clients."
Justin Skelton, Managing Director of Apex Training, said: "The GDPR training which we have developed working with Gilson Gray gives employers a huge amount of security because it covers all the critical aspects which staff need to know about on a daily basis and tests their knowledge at the end of the course.
"The City & Guilds accreditation means that the knowledge testing is extremely robust and demonstrates that the employer has been careful to ensure their people receive training which is thorough, effective and credible.
"The e-Learning contains interactive and video elements which help to build learner engagement and bring the topic to life. So employees don't just learn about GDPR – they are engaged and interested in how this affects them and the company they work for."
The training course costs £179 +VAT per user. The hour-long course is undertaken at an individual's desk which ends with an on-line exam, after which they get an e-mail confirming the exam results for audit trail purposes.
Gilson Gray has also created a Data Protection team, formed from its Corporate and Employment departments, to provide a strategic support and guidance service to businesses and organisations to navigate through the GDPR requirements.
Gilson Gray has also teamed up with GCI, the UK's leading Managed Technology Service Provider, to run free half day seminars in Edinburgh on how to prepare for GDPR. More details from www.gilsongray.co.uk.
Gilson Gray is based in Glasgow (160 West George Street) and Edinburgh (29 Rutland Square) and has a radical client-focused strategy.