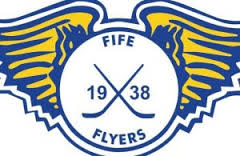 Elite League: Braehead Clan 3, Dundee Stars 4
Dundee Stars snapped a seven-game losing streak to shock Braehead Clan and hand themselves a play-off lifeline.
The Tayside team earned the much-needed win thanks to a third period double from Marc-Olivier Mimar with the game-winner coming less than nine minutes from time.
The sides were level at 1-1 after the first session but then Clan led 2-1 and 3-2 by the end of the middle period.
Mimar's goals came after 45 and 51 minutes and moved the Tayside team to within three points of Clan with two games in hand.
Elite League: Fife Flyers 5, Nottingham Panthers 4 (after penalty shots)
Peter LeBlanc claimed the game-winning penalty shot as Fife Flyers edged Nottingham Panthers 5-4 at Kirkcaldy.
The sides were level at 2-2 after the first session and 3-3 after the middle period.
They were still tied at 4-4 at the end of regulation, Carlo Finucci having clamed three of Flyers goals with Ricards Birzins the other.
The sides could not be separated after overtime but ice cool LeBlanc slotted his penalty shot as three Panthers missed.