One of Edinburgh's hottest jazz spots pays tribute on Thursday 1 March 2018 to the musician who almost single-handedly changed the direction of jazz in the 1940s and early 1950s, alto saxophone legend Charlie
Parker.
Playtime started up in the Outhouse in Broughton Street Lane in 2014 to allow four of Scotland's leading jazz musicians – alto saxophonist Martin Kershaw, guitarist Graeme Stephen, bassist Mario Caribe and drummer Tom Bancroft – to try out new material and pay homage to the creators of jazz whose musicianship and compositions were such an important part of their own development as players.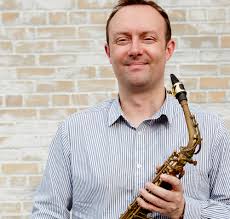 Every second Thursday the quartet and a series of guests,which has included pianist Brian Kellock and Scottish National Jazz Orchestra saxophonist Paul Towndrow, meet in the Outhouse's loft, often playing to packed audiences.
"We've paid tribute to most of the jazz greats now," says Martin Kershaw, who has played various saxophones and clarinet with the Scottish National Jazz Orchestra for almost twenty years. "But of all the
musicians who helped to shape jazz as an art form, Charlie Parker must rank as one of the most important."
Parker died aged just thirty-four in 1955 and was the subject of the biopic Bird, directed by Clint Eastwood, a jazz aficionado, in 1988. Along with trumpeter Dizzy Gillespie he created the bebop style of jazz, playing new melodies at very fast tempos often over the chord changes of already popular songs. George Gershwin's I Got Rhythm became one of the standards to be used in this way  known in
music eduction as a contrafact.
Although Parker has been dead for over sixty years, his influence is still felt strongly today.
"His classics, including Now's the Time, Yardbird Suite and Anthropology, are still rites of passage for young musicians who take up jazz," says Kershaw. "I remember finding my way through them as an alto saxophone student and they're still a challenge but also very satisfying to play. We're
really looking forward to playing his music to jazz fans and maybe introducing some new people to the exhilarating tunes Parker left for those who want to pick up the bebop baton."