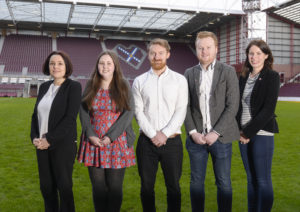 Big Hearts, the official charity partner of Heart of Midlothian FC, have announced a new staffing structure. Having recently appointed Caryn Kerr as their new Fundraising and Development Manager after three years as General Manager, Big Hearts now have five full-time employees which will help the family focused charity with their ambitious plans.
With a new strategic plan about to be finalised and a strengthened team, Big Hearts are determined to build on what was a record-breaking year for the charity in 2017.
As well as Ms Kerr, the other members of the team are Craig Wilson, General Manager, Charlotte Cailliez, Communications and Fundraising Officer, Innes Shirreff, Volunteer Development Officer and Kirsty Roebuck, Project Administrator.
Big Hearts has a range of programmes to help families in need and receive grants to help them achieve this. But they are a charity with a difference as they encourage not just Hearts supporters but anyone to give their time to help with their projects rather than donate cash.
Caryn Kerr, commenting on her new role, said:
"Many vulnerable people – young and old – are involved with Big Hearts every week and maintaining our existing programmes in the long run is a core objective. I'm thrilled to be appointed in this role where I will focus on establishing a range of income streams to sustain Big Hearts' activities and help fund future ones. It's a new step in strengthening our organisation, ensuring families and individuals in need will be able to access support through Big Hearts for years to come."
Craig Wilson, Big Hearts' General Manager said:
"We are delighted at the progress of Big Hearts and our future is an exciting one. We want to help even more families over the next few years and the shape and commitment of our new staff team will help us make a considerable difference to those who need our help. It's a real honour to lead such a fantastic charity and work with such a committed group of people; our staff, our trustees, our partners and of course our incredible group of Big Hearts Supporters."
If you want to get involved with this worthwhile cause, click on the Big Hearts website.