The Edinburgh School of Food & Wine served up a special seafood cookery class where parents and their children learned how to make a series of recipes created by MasterChef winner Jane Devonshire as part of a Back to School campaign by Fish is the Dish. From mackerel to mussels, families in Edinburgh were shown the fun and creative ways to enjoy cooking with seafood together, as well as learning about the many health benefits of eating two portions of seafood each week.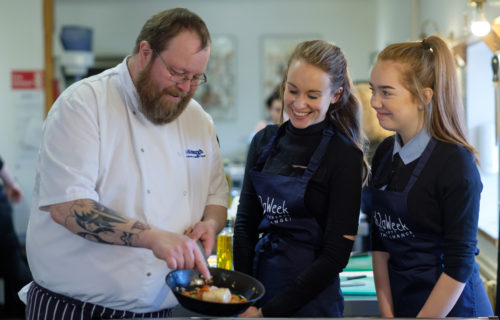 The Edinburgh School of Food & Wine's expert chef, Chris Stewart, taught families how to fillet, prepare and serve a whole variety of different species from smoked haddock to roast cod. The Edinburgh parents and children who attended the class were given a demonstration by expert Chris, and then got the chance to work together to prepare, cook and plate up their own range of delicious suppers inspired by Jane Devonshire including Spicy Prawn and Chorizo Frittata and Monkfish Medallions with Mediterranean Vegetable Stew.
The Edinburgh School of Food & Wine cookery class was the third of the Back to School programme – part of the 'Fish 2 a Week' health campaign – encouraging the UK to add seafood to their menu twice a week, as part of a healthy, balanced diet.  Variety is key and the Fish 2 a Week campaign aims to encourage people to try alternative, tasty species, create new recipes and enjoy some favourites.
Chris Stewart, cookery class host and chef, said: "People can often be put off by the idea of cooking fish, but our students soon realised how simple, healthy, delicious and fun it can be to cook with these fantastic ingredients.  It was great to see parents and kids cooking together to create something for the whole family to enjoy and I hope these dishes will become firm favourite family suppers."
Julie Wilson from Edinburgh said: "We had a great time at the class. It was great to see the kids, parents and grandparents getting involved, trying new dishes and experimenting with different recipes – I can't wait to cook them again at home!"
Seafish's Chief Executive Officer Marcus Coleman said: "Our Back to School classes are the perfect way to show families in Edinburgh how to enjoy a whole host of simple seafood suppers. Through our Fish 2 a Week campaign, we aim to demonstrate to the nation that by eating more seafood, we can lead healthier lives. Eating two portions of fish each week has many health benefits for adults and children and it's great to be able to educate people from a young age and get them involved in the whole process from preparation to cooking and then enjoying the results!"
Fish is the Dish has designed the roadshow to highlight the many health benefits associated with eating more fish, such as improved sleep, stronger bones and healthy skin, nails and hair.  Eating two portions of fish per week has been shown to increase brain function and boost mood, while omega-3-rich seafood has also been linked to improvements in children's concentration, reading skills, and behaviour.
The Fish 2 a Week website is packed with recipe inspiration to help people find ways to eat more seafood, more often.
Visit: www.2aweek.co.uk