Artist John Byrne has created a Christmas Card for the First Minister in 2017 which is cheeky as well as festive, and dates back to his own boyhood in Paisley.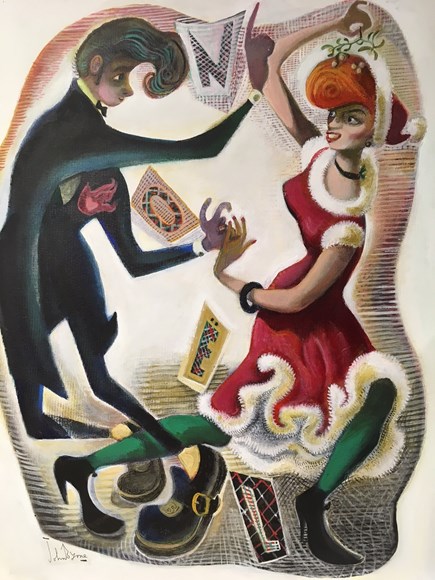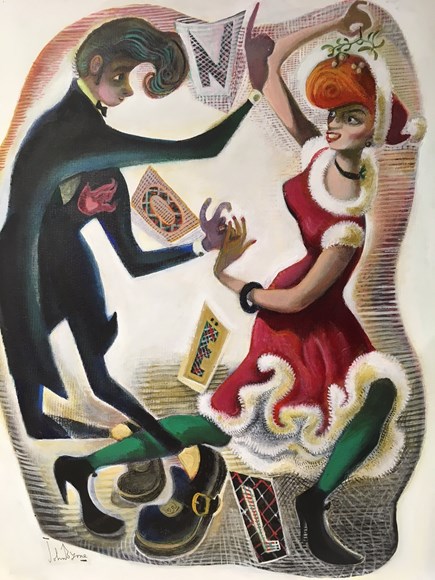 'Say It With A Kiss!' is an original artwork in Byrne's celebrated trademark style. It features a couple about to share a kiss under the mistletoe.
The artwork will be auctioned next year with the proceeds going to four charities – Food Train, SCIAF, Scottish Women's Aid and Teapot Trust.
SCIAF and children's art therapy charity the Teapot Trust were chosen by John Byrne, while Food Train, which provides a range of services, to older people including grocery shopping and befriending and Scottish Women's Aid were selected by the First Minister.
First Minister Nicola Sturgeon said: "I'm absolutely thrilled to have such a beautiful painting by John Byrne for my Christmas card this year. He is one of our most celebrated artists and this work has a wonderful festive feel while maintaining John's inimitable style.
"The four charities that will benefit from the sale of the painting do fantastic work on local, national and international levels and I'm very pleased that the card can support such a wide range of good causes."
John Byrne, while best known as a playwright for his trilogy The Slab Boys, is a renowned artist, with several of his works exhibited in the Scottish National Portrait Gallery.
He said: "I was both surprised and delighted to be commissioned by the First Minister to produce the artwork for this year's Official Christmas Card and got to work straight away – I had a notion to paint a young couple from my boyhood days in Paisley, having a great time jiving to the music of Jimmy McCracken's 'Big Band' at the Town Hall c1957 dressed in the style of the day, with a nod to the Festive Season."