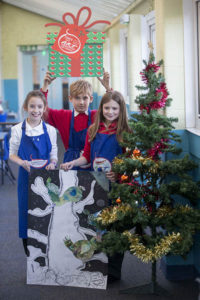 Last week, Stenhouse Primary School enjoyed a fun-filled day of art as the Tesco Bank Art Competition for Schools arrived in Edinburgh.
Primary six students at the Edinburgh school got involved in the creative sessions led by the National Galleries of Scotland education team. The workshop focused on charcoal and inks using techniques including collage, frottage, brushed chalk and wet-on-wet splatters to create a wonderful tree full of birds. These workshops are designed to help more schools get involved in the competition, and bring Scotland's national collection to children across Scotland. The theme for this occasion was inspired by two paintings, Saint Bride by John Duncan and Yellow Birds in the Tree by Scottie Wilson.
The Competition, which is run by the National Galleries of Scotland (NGS) and supported by Tesco Bank, attracts thousands of entries every year from children across Scotland. Using the themes provided by the Competition which vary dependent on age, the children can create their own completely unique artwork. Children from nursery age all the way through to S3 are able to take part making the Competition hugely accessible. Last year alone more than 7,900 children entered, and in total more than 47,000 young artists have been inspired by the Competition since the partnership began in 2011.
The annual exhibition of winning entries starts in the Scottish National Gallery of Modern Art and moves on to tour in specially-chosen sites across Scotland. The exhibition provides a much-deserved opportunity for some very talented young people to showcase their work in public. On top of this last year's winners also received art materials, vouchers and workshops for their schools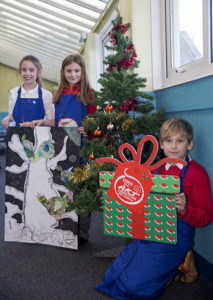 Linda McClelland, Playfair Co-ordinator at National Galleries of Scotland, said:
"The travelling roadshows give us a wonderful opportunity to visit schools all over Scotland meeting children and their teachers. After exploring some of the rich treasures of art held within our national collection it is exciting to watch the children produce their own work inspired by what they have seen.  Travel costs can make a visit to the National Galleries of Scotland impossible for many schools so these kinds of touring workshops are invaluable in support of art education today and we are grateful to Tesco Bank for their support in making it happen."
Gillian Fairweather, Community Manager at Tesco Bank, added:
"We are very excited that the Tesco Bank Art Competition for Schools was able to bring the national collection to Stenhouse Primary School today, and that the workshop gave pupils the chance to unleash their artistic skills. It's a pleasure to partner with the National Galleries of Scotland and work together to give thousands of children the opportunity to showcase their creative talents. We really hope the children enjoyed today's workshop and are inspired to enter the competition."
Images courtesy of the organisers