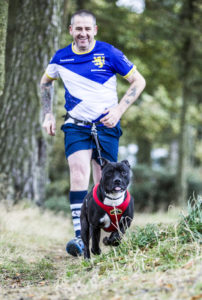 The Scottish SPCA was delighted to receive a visit from members of a local canicross group who wanted to help promote the joys of owning a staffie for the charity's annual Staffie Awareness Week.
Scotland's animal welfare charity was visited by Bob McCleod, Kevin and Jen Broadbent who have all represented Scotland in the sport.
Edinburgh Animal Rescue and Rehoming Centre Manager Diane Aitchison said, "We were delighted to welcome the canicross runners to our centre in Edinburgh. "Rescue dogs make wonderful pets when in the right homes and Staffies in particular are such an enthusiastic breed that they do well in a whole range of family homes.
"Tyson, a resident at our centre for over 260 days, is such a loving character. He really just wants a good cuddle, a few treats and somewhere warm to cosy up and snooze!"
Diane continued, "It's quite sad that Tyson hasn't found a new forever home yet as he really is a superstar and would make a wonderful companion.
"He was so excited to get a shot with the canicross team and took a real shine to Bob who gave him a few turns trying out the harness. He proved to be a natural!"
Gilli McCleod, who'd arranged the visit, added, "It was important to us to help promote the Scottish SPCA and the value of rescue dogs. We've taken part in various canisports over the years and seen our own, and other rescue dogs, being highly successful winning numerous gold medals. We know several staffies who excel at canicross and bikejor!
"We really believe in the value of rescue dogs and canicross is the ideal sport for dogs that maybe don't have the best recall but have lots of energy, love to pull, and would benefit from a good run around outdoors.
"Tyson didn't hesitate for a second – he was enthusiastic, yet polite, and had great fun. I really hope that anyone out there thinking of rehoming gives Tyson or other staffies in the Scottish SPCA's care a visit!"
Photo by Peter Devlin