Unique 'energy' of Scottish community foundation captured by art installation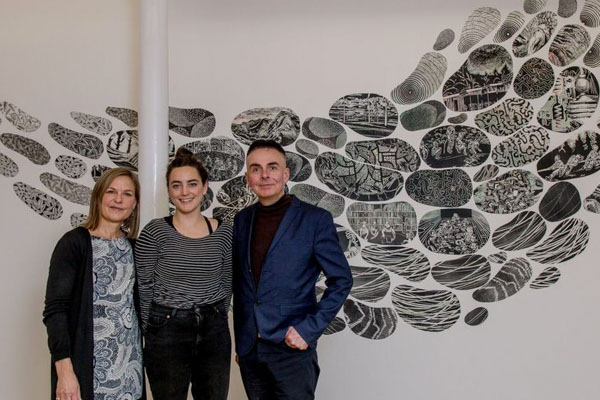 A new art installation was unveiled on Tuesday (29th November) at a special event in Edinburgh marking the culmination of an 'artist in residency' programme designed to embed creativity into business and encourage skills sharing between the sectors.
Over the last six months, Dumfriesshire-born artist Natasha Russell has been in residence at the Edinburgh office of independent charity Foundation Scotland learning about its people, the projects it funds, and its ambitions and priorities with the aim of creating a holistic and permanent visual representation of the organisation as part of Scottish charity Arts & Business Scotland's 'Creativity at Work – Artist in Residency Programme'.
The unique installation, entitled 'Murmurations', has transformed a neutral room into an inspirational and stimulating event space by bringing together snippets of imagery which reflect various aspects of Foundation Scotland and the projects it supports. Supported by The Gateway Exchange Trust and William Grant Foundation, the installation has been created through linocut printing onto thin, strong Japanese paper, which is then printed in tiles of various sizes and mounted directly on the wall.
The 'Creativity at Work – Artist in Residency Programme' is managed by Arts & Business Scotland and funded via Creative Scotland. Natasha's installation is the final project to be completed as part of the initial Creativity at Work programme, which has now ended. Due to its success and the positive impacts the residencies have had on those businesses and staff engaged, Arts & Business Scotland plans to launch a renewed Creativity at Work programme in January 2018.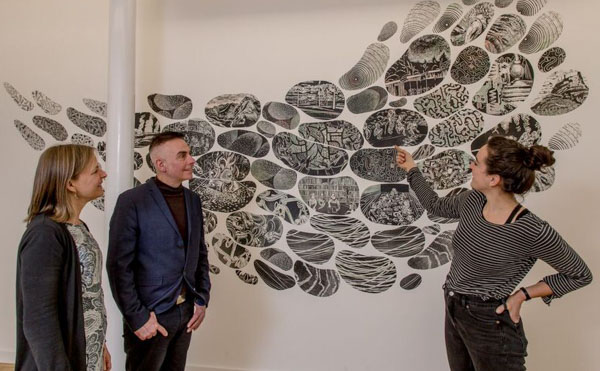 The Creativity at Work programme seeks to encourage creative thinking in business at a time when creativity is rising quickly up the agenda of business board rooms in this country and internationally. Published last year at the World Economic Forum in Davos, the Future of Jobs report predicts that creativity is set to become the third most important skill for businesses by 2020.
Images courtesy of Alex Bruce (Orbit)