Young people from across Scotland will support the world's biggest ever sleepout and fundraise for Social Bite's work to end homelessness, as part of an exclusive Young Scot fundraising challenge.
On Saturday 9 December 2017, Social Bite will welcome 9,000 people to a mass 'Sleep in the Park' in Princes Street Gardens in Edinburgh. Participants will be joined by some of the world's biggest stars including Liam Gallagher, Sir Bob Geldof, John Cleese and Deacon Blue.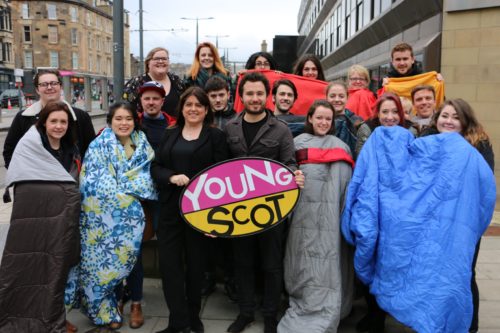 Young people aged 16-26 can support the cause as part of Young Scot Rewards and are being asked to raise at least £50. Thanks to the partnership between Social Bite and Young Scot the initial £50 deposit is being waived so there are no barriers for young people wanting to take part in the 'Sleep in the Park'.
Thanks to a £100,000 from four philanthropists, 2000 tickets for 'Sleep in the Park' have been made available to young people from a variety of organisations. So far, 1500 have already been claimed.
To sign up for Sleep in the Park, young people should visit https://rewards.youngscot.org/rewards/1379-apply-social-bites-sleep-in-the-park . Cheering on the young people will be fundraising team from Young Scot HQ. To donate to the Young Scot HQ fundraising page, visit http://uk.virginmoneygiving.com/young-scot.
Josh Littlejohn of Social Bite said, "We are really grateful to the team from Young Scot for spreading the word amongst young people throughout Scotland to sign up to Sleep in the Park. The fact that four generous philanthropists donated £100,000 to pay for 2,000 young people means this is a great opportunity to take part for free if you are at high School or University, so I would encourage young people from across the country to get involved."
Louise Macdonald, Chief Executive of Young Scot, said: "Young Scot is incredibly proud to team up with Social Bite and support its work to end homelessness. By fundraising for Sleep in the Park, young people across Scotland will raise awareness and money. Social Bite wants to make Scotland an example for the whole world to follow – young Scots play a vital part in that."
Participants must be aged 16 or above to take part in the sleep out challenge. Those aged 16 or 17 must be accompanied by an adult aged 21 or above.
Young Scot Rewards is the national youth rewards programme that gives over 100,000 users across Scotland points for making choices that have a positive impact on themselves, their communities or the environment. Points can be exchanged for bespoke money-can't-buy experiences or exclusive rewards such as sports kit and tech products.
(Our advice? Take two sleeping bags…… )