Last Christmas the 30,000 gin baubles which Pickering's Gin harvested were simply not enough to meet demand. 30,000 sold out in 82 seconds.
This year they have managed to collect 1,000,002 baubles by hiring more staff alongside 19 part-time elves. Working round the clock they will be able to fill the baubles with gin to meet expected demand, as they started working on them in January! .
This is what you need on your Christmas tree this year. They come in all colours and they are now harvested and ready for delivery to all their customers near and far. Each one contains 50ml of Pickering's gin just ready to be opened on Christmas Day and mixed with tonic or used in a cocktail recipe.
The Edinburgh Reporter was invited to the launch of this year's harvest at the Dominion Cinema on Monday evening where we had a special taste of the gin and also a preview of the advert which Pickering's will use to let people know it is time to buy a bauble! The 'film' features Matt and Marcus the co-founders of Pickering's Gin and you can see them harvesting the gin baubles for this year.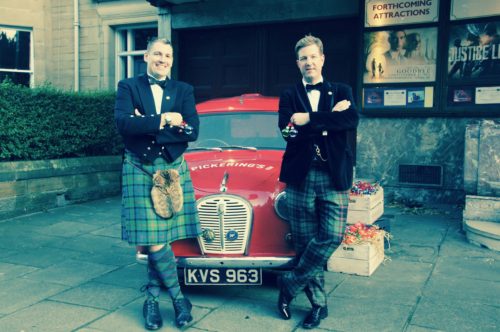 You will be able to see 'The Great #GinBaubles Harvest!'  at a cinema near you later today.
"Please note that this video content is advertising an alcoholic product and is therefore unsuitable for children and platforms targeted specifically to those under 18. Any competitions must only be open to entrants over the legal drinking age."
Matthew Gammell, co-founder of Pickering's Gin commented: "People thought we were mad to set up a distillery in the old animal kennels of the former Edinburgh Vet School in 2013. They thought we were even madder to attempt filling 20 thousand Pickering's Gin Baubles a day on-site in 2017, but we've gone and done it!"
Marcus Pickering, co-founder commented: "The idea for the baubles started in 2014 as a bit of fun for our local Christmas fair, now they're the must-have Christmas decoration. Others may follow but we were most definitely the first to add that gin sparkle to trees around the country.
"We seem to have really captured the imagination of the gin lover and our baubles have now become a staple of our distillery. Christmas starts very, very early at Pickering's HQ and we're excited to finally unveil our biggest ever crop of Pickering's Gin Baubles."
Co-founder Matthew Gammell added: "As well as bringing the baubles back to the UK market we have exported the Gin Baubles to Denmark and Australia to spread the ginny, bauble-shaped merriment.
"We are thrilled to once again bring the Original and Best Gin Baubles to the UK and to pastures new overseas."
The baubles will be available online at bit.ly/buybaubles and 200+ outlets around the UK.
Pickering's Gin Baubles are retailed in a gift pack containing six differently coloured plastic baubles (RRP: £30.00).