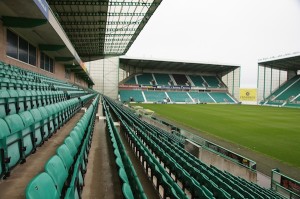 Hibs' midfielder Marvin Bartley believes that last week's draw with Celtic in Glasgow will give the team confidence going into today's clash with second top Aberdeen at Easter Road this afternoon.
The popular Englishman insists that the Hibs' players are every bit as good as their opponents and he is looking to take all three points.
Hibs go into the game in 6th place however after Rangers' victory over St Johnstone last night, a draw will see them leapfrog the Saints and possibly move to fourth depending on Motherwell's result.
Speaking ahead of the game, Bartley said: " We believe that we can get something from every game as we proved last week against Celtic.
"I believe in myself and my team mates so I think we will run Aberdeen close. I think we have players who are just as good as their players.
"We will take massive confidence from last week's game.  Going into the game we were quietly confident on our own ability and we knew that when we did get the ball, we could score.
"We showed we could go there and score two goals.
"The bigger clubs come to us and expect to win which makes it a much more open game. Teams toward the bottom of the table might come and sit behind the ball which makes it harder for us.
"The only game it hasn't clicked for us this season is the Hamilton game.  We had a couple of draws which we probably should have won which we dominated.
"We have only lost one game this season and we are a new team to this league having come from the Championship so by rights we should be a lot lower than we are.
"For me it's the first time playing against a lot of these teams although a few of the other boys have a bit of experience in this league.