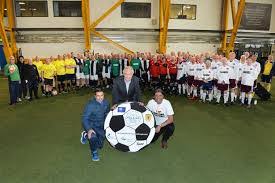 With three games remaining, Hearts 56 have increased their lead at the top of the inaugural Scottish Walking Football league to two points over Gala Fairydean Rovers.
The Edinburgh side beat Stirling 2-0 in the opening game of Wednesday's session then drew 2-2 with Ayr United before being awarded all three points when Fife Wanderers were unable to field a team.
Second placed Gala Fairydean Rovers won two games but lost 5-4 in a nine goal thriller against Greater Glasgow United.
Hearts 98 won all three games and narrowed the gap at the top.
League games are played at Ravenscraig Sports Centre in Motherwell and ten teams from throughout Scotland take part.
The matches last 18 minutes each and three games are played during each session.
The competition is open to men and women aged over 50 and so far has proved to be a huge success with some fantastic football on display.
The final round of fixtures take place on Wednesday 22nd November.
Hearts 56 have 40 points whilst Gala Fairydean Rovers have 38 and Hearts 98 are on 37 points.
All three teams face each other on the final day which adds to the excitement.
The full results from Wednesday's session are as follows.
Game 13
Tulibody Community FC 2 v 1 NL
Stenhousemuir 1 v 8 Hearts 98
Stirling 0 v 2 Hearts 56
Ayr United 1 v 0 Glasgow Sport
Fife Wanderers 0 v 2 Galafairydean Rovers
Game 14
Galafairydean Rovers 5 v 1 Tulibody Community FC
Glasgow Sport 2 v 0 Fife Wanderers
Hearts 56 2 v 2 Ayr United
Hearts 98 2 v 1 Stirling
NL 2 v 1 Stenhousemuir
Game 15
Tulibody Community FC 1 v 2 Stenhousemuir
Stirling 5 v 0 NL
Ayr United 1 v 4 Hearts 98
Fife Wanderers 0 v 2 Hearts 56
Galafairydean Rovers 4 v 5 Glasgow Sport