Gilded Balloon is proud to present a brand-new, year-round home for comedy, theatre and cabaret right in the heart of the city's West End
Headlining Gilded Balloon's inaugural winter programme will be Morag Fullarton's critically-acclaimed, sell-out show A Bottle of Wine and Patsy Cline, which will be housedin the Rose Theatre's Main Theatre. Morag Fullarton, the show's writer and director, said "I'm absolutely delighted that Edinburgh audiences will get the chance to see Gail Watson's virtuoso performance in this fantastic new venue!"
By arrangement with the Òran Mór in Glasgow comes the Edinburgh premiere of A Bottle of Wine and Patsy Cline, a celebration of the singer's legendary life.
From her humble beginnings in the Hillbilly dance halls of Virginia, to her eventual rise to fame in the early sixties, the production will see tour de force Gail Watson reprise her role as Patsy, performing 'with breath-taking accuracy' Cline's greatest hits, including Crazy, Sweet Dreams and Walking After Midnight.
Watson, who starred in Doris, Dolly and the Dressing Room Divas at the Rose in August, will lead the cast for the duration of its run from the 30th of November until the end of the year – and theatregoers can expect to receive a wee bottle of wine with every ticket!
Coinciding with this, award-winning comic Dylan Moran will open Gilded Balloon's programme in The Basement Theatre on 23 November 2017playing two dates from his latest tour, Grumbling Mustard.
Gilded Balloon's Artistic Director, Karen Koren, said "After an amazing Fringe debut, I am delighted to be presenting a year-round programme in The Basement Theatre – and we couldn't be happier that Dylan Moran will be launching our wonderful winter season. We'll also be presenting larger-scale seasons of work in the Rose's Main Theatre. The fabulous 'A Bottle of Wine and Patsy Cline' will be the first of many, many more to come!"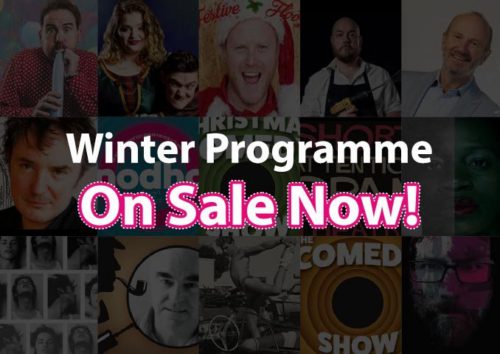 Highlights of The Basement Theatre's winter programme include Fred MacAulay's In Conversation, a chat show featuring recent guests such as Kirsty Wark, Ian Hislop and Jan Ravens; Whose Line Is It Anyway?'s Stephen Frost hosting his uproarious, immersive Celebrity Murder Mystery Play, where the audience turns sleuth to unravel an irreverent whodunit; and Short Attention Span, The Basement Theatre's regular scratch night for new writing in theatre and performance.
Meanwhile, The Comedy Show will see the best and biggest names in comedy will take to the stage each weekend for an all-new comedy line-up show, with acts including Jay Lafferty, Jojo Sutherland, Scott Agnew and Gary Little.
The Basement Theatre will play home to innovative and alternative LGBT+ nights, featuring Civil Disobedience's Mattachine – part-cabaret, part-social club and all-decadence for Edinburgh's lavender gentlemen and lilac ladies – and a fundraiser for World Aids Day exploring equality in a bystander society as the far right looms ever closer.
Gilded Balloon's Basement Theatre programme will also see handpicked, returning hits from the 2017 Fringe, including Captivate Theatre's critically-lauded Brave Macbeth; anarchist cook George Egg in DIY Chef; Gary Lamont in yuletide extravaganza Festive Floozy; Chris Henry's children's show, Balloonatics, and 2016 Edinburgh Comedy Award winner Scott Gibson in Like Father, Like Son.
A Bottle of Wine and Patsy Cline
Main Theatre, The Rose Theatre
Thurs 30 November – Sat 30 December 2017
Not 4-5, 11-12, 18, 21 & 25-26 December
20:00–22:00, Sun 17:30–19:30
£22.50 (£21.50) weekdays; £24 (£23) weekends
Tickets are on sale NOW and INCLUDE a wee bottle of wine!
Tel: 0131 622 6552 or book online at gildedballoon.co.uk
For A Bottle of Wine and Patsy Cline and The Basement Theatre tickets, please visit gildedballoon.co.uk/programme