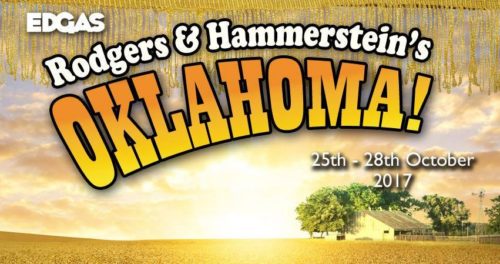 My parents had a record of the hits from Oklahoma! On the sleeve caricatures of Laurey and Curly danced through that corn as high as an elephant's eye, a bright golden haze on every meadow. But while Oklahoma! is a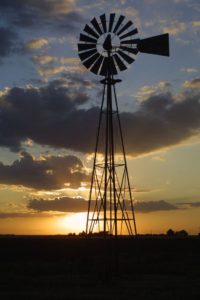 musical full of light-hearted fun, it also has scenes of intense emotion and sadness, and a dramatic development that sets it apart from the big production numbers of the inter-war years. Edinburgh Gilbert & Sullivan Society's powerful and nuanced production, showing at the Church Hill Theatre this week, tells this story of love, lust and loneliness.
The curtain rises on a typical homestead of the early 1900s in 'the territory', newly settled country yet to be admitted to the Union of the USA. EDGAS's sets are always clever, and here the inclusion of an iconic water-pumping windmill places us firmly in the land of cows, corn and cowgirls.
Laurey (Annabel Hamid) lives on the farm with her tough-as-old-boots Aunt Eller (Samantha Currie); their hired hand Jud (the outstanding Michael McFarlane) stays in the smokehouse. Laurey's would-be beau Curly McLain (Craig Young) wants to take her to the 'box social' – a bizarre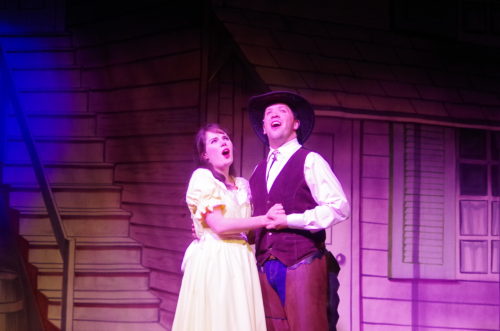 event at which men bid for picnic hamper meals prepared by the girls, the winner getting to eat the meal with the girl who cooked it.
Oscar Hammerstein uses this seemingly innocuous arrangement as the pivot around which the plot revolves.
From the outset it is clear that Craig Young knows how to sing; a worthy successor to Howard Keel (whose Curly took London by storm at the Theatre Royal in 1947), Young has a magnificent voice complemented by great stage presence, and his Oh, what a beautiful mornin' is a stunning opener.
He's a young man in a new land, life is full of possibilities for him, and for America. Laurey shoots him down over and over again in her attempts not to look too keen, but he just keeps bouncing back; he's the kind of person who'd either cheer you up or drive you to distraction (The Simpsons' Ned Flanders does occasionally come to mind…).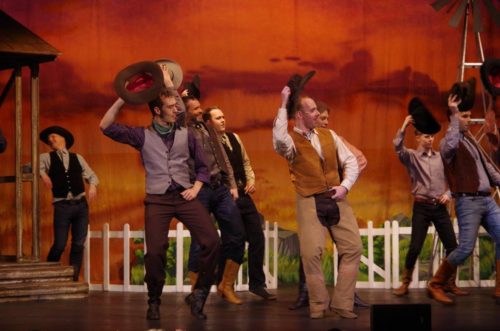 Curly isn't the only man with a mission; his friend Will (Colin Povey) has just come back from the Kansas City Fair, having won $50 to 'buy' Ado Annie (Leah Kincer, resplendent in yellow ribbons and bows), the girl of his dreams.
The hapless Will and the hopeless Ado Annie are a comic duo made in heaven – Annie can't decide between Will and the 'exotic' Persian pedlar Ali Hakim (an hilarious performance by Peter Tomassi, whose East End spiv, complete with shiny suit and red sweater, would give Del Boy a run for his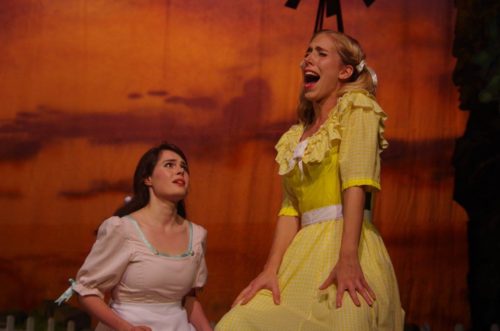 money).
Annie's father, gun-toting farmer Andrew Carnes (David McBain) is a wily old fox who just wants her married off to the highest bidder.
Kincer is perfect as Annie – ditzy but good natured, unable to stop herself falling for boys (I cain't say no) but never unkind to anyone ('With or without the mistletoe/I'm in a holiday mood').
Povey really shines in the dance numbers – as ever, well choreographed by Janice Bruce – his 'ragtime and two step' in Kansas City, a great ensemble number with lots of visual jokes, being especially impressive and very funny.
So everything's rolling merrily along for everyone…apart from Jud. A failure with women, a loser in life, Jud wants one thing – and that thing is Laurey. He's determined to take her to the social – something that Laurey stupidly facilitates by giving Curly the brush-off – and he'll win her basket – and her love – by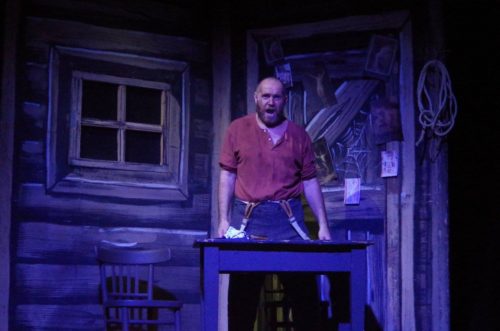 any means he can.
Jud could easily be played as a creepy thug, but Michael McFarlane does so much more with the role; in a thoughtful and moving performance he shows us the misery and despair of this outcast, unloved man.
Curly's visit to Jud's porn-bedecked smokehouse is the setting for one of the show's best songs Pore Jud is Daid, in which Curly suggests that Jud could commit suicide, and draws a verbal picture of his funeral.
McFarlane is a fabulous singer; the two men almost chant the words of this sad eulogy, and the device of swapping verse and chorus between them works to heighten our sense of foreboding and doom. Does Curly care about Jud's fate? It's hard to tell.
On the face of it he's maybe not the nice person we thought he was – he wants Jud out of the way at any price. As the music reaches a crescendo Jud breaks down and sobs, and we feel for this damaged, desperate fellow human being.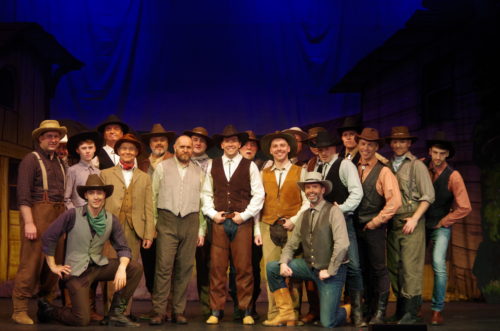 The 'dream sequence', as it is known, brings the first act to a close.
In theory it depicts Laurey's struggles as she tries to decide whether to marry Curly or Jud. The sequence is perhaps designed as a dark echo of Ado Annie's dilemma with Will and Ali, but there is no real possibility of Laurey loving Jud, a man whose obsessive ways apparently terrify her.
Instead, we are given further insight into Jud's tortured soul when the female chorus members, now dressed as strippers, one by one refuse his advances and run away.  Although some of the girls do look a little stretched by the can-can number, it's a joy to watch the beautiful dancing of EDGAS newcomer Debbie McConnell, who plays Laurey in this scene only.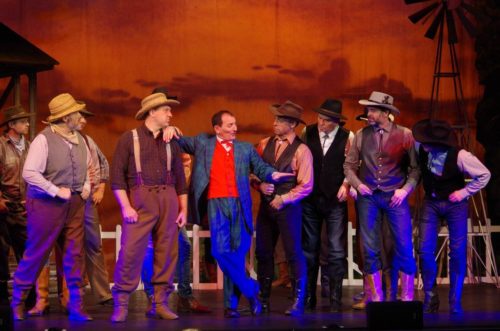 Act Two opens at the box social, with an energetic version of Farmers and Cowboys that soon descends into a brawl.
Unfortunately some of the actors' voices are a little drowned out by the (otherwise excellent) orchestra at this point, but their dancing is nonetheless impressive, and after the entertaining reappearance of Ali Hakim, Will and Ado Annie's relationship problems are finally – and with great hilarity – ironed out.
The orchestra once again threatens slightly to overwhelm Will and Annie's duet All Er Nuthin', but Povey and Kincer's uproarious dancing makes up for that, and before long the entire cast, led by Curly, is giving a rousing rendition of Oklahoma! that 'Brand new state (that's) gonna treat you great!'
In many musicals that would be the end. In this one it isn't, but you'll have to go and see it yourself to find out what happens next. You'll go home singing, but you may also go home thinking, about success and failure, and why some people are lucky in life and others just aren't.
Oklahoma! is at the Church Hill Theatre, Morningside Road until Saturday 28 October. Shows start at 7.30pm, with an extra matinée performance at 2.30pm on Saturday. Tickets here (or on the door, subject to availability).
All cast photos © Rona MacAulay.