Waldorf Astoria Edinburgh launches mini Jazz Festival
Following its success last year, the Waldorf Astoria Edinburgh – The Caledonian has announced the return of its 'Jazz Week Festival' from 4-8 October 2017.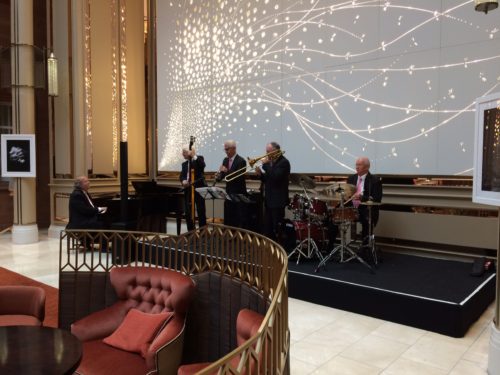 The hotel will host a range of events in Peacock Alley with world-famous jazz and swing band, Rive Droite Rive Gauche. Flying in from France for the event, the jazz orchestra is made up of five musicians who have travelled the world performing with some of the greatest French and American jazz artists.
The festival will include jazz-themed evenings of cocktails, oysters, gin & dancing.
The programme of activity throughout the week will run as follows:
Wednesday 4th October, 6-8pm: Cocktails & Jazz
Featuring three bespoke cocktails named after jazz legends including The Franklin,The Sinatra and The Fitzgerald, this event will include a 'nine o'clock pop', an interactive sabrage demonstration.
Thursday 5th October, 6-8pm: Oysters & Jazz
An evening of oysters, fizz & jazz, this event offers a variety of deals on shucks, including 12 oysters for £15 or oysters for two with a glass of bubbles for £30. The event will also include a sabrage demonstration.
Friday 6th October, 7.30-11pm: Jazz Dinner Dance
On Friday, Peacock Alley will set the stage for a special dinner dance to the sounds of Rive Droite Rive Gauche. Prices start at £35 per person for a three course meal or £89 per couple for a three course meal and a bottle of wine.
Saturday 7th October, 5-9.45pm: Gin Tasting and Jazz Party
An exclusive Edinburgh Gin tasting will be held at 5pm, before guests are invited to enjoy dinner at the hotel before dancing the night away. The 'nine o'clock pop' will also feature with guests having the opportunity to try out sabrage.
Sunday 8th October, 12-3pm: Afternoon Tea & Jazz
On Sunday, the hotel's autumnal afternoon tea offering will be accompanied by jazz music all afternoon. Prices start at £40 per person for a traditional afternoon tea.
Events must be booked in advance. For further information on deals or to make a booking, please call reservations team on 0131 222 8945 or email Caledonian.marketing@waldorfastoria.com